Trevor Lawrence Took a Parting Shot at Urban Meyer After James Robinson's 18-Carry Performance: 'I Thought It Was Great'
Following the long-awaited firing of Urban Meyer, there was quite a bit of discourse regarding the Jacksonville Jaguars' chances of picking up their third win of the season in Week 15. They were playing the lowly Houston Texans, and Trevor Lawrence and company seemed thrilled at the idea of playing under the guidance of a new head coach for a change.
In particular, James Robinson, the team's starting running back, seemed poised to take a giant leap forward in terms of productivity. Even though the 23-year-old is one of the better downhill runners in the league, Meyer had taken a stark dislike toward him in recent weeks. Meyer even went as far as to bench him for veteran Carlos Hyde before his firing.
The Jaguars lost, but James Robinson was rightfully involved again
Ultimately, the Jaguars were unable to begin post-Meyer life with a win. However, they still showed encouraging signs of development.
For starters, James Robinson (rightfully) became a focal part of the offense again. He rushed for 75 yards and one touchdown on 18 carries. He also picked up an additional 13 receiving yards on three catches.
Since he averaged 4.2 yards per carry during the AFC South showdown, the Jaguars could have given Robinson even more touches. However, the team's struggling defense was getting torched by Davis Mills and the Texans offense. This forced the Jaguars to lean on Trevor Lawrence and his arm late in the game — a strategy that failed.
Regardless, Lawrence took time after the game to voice his thoughts on Robinson returning to the starting lineup.
Trevor Lawrence took a subtle shot at Urban Meyer following Robinson's big day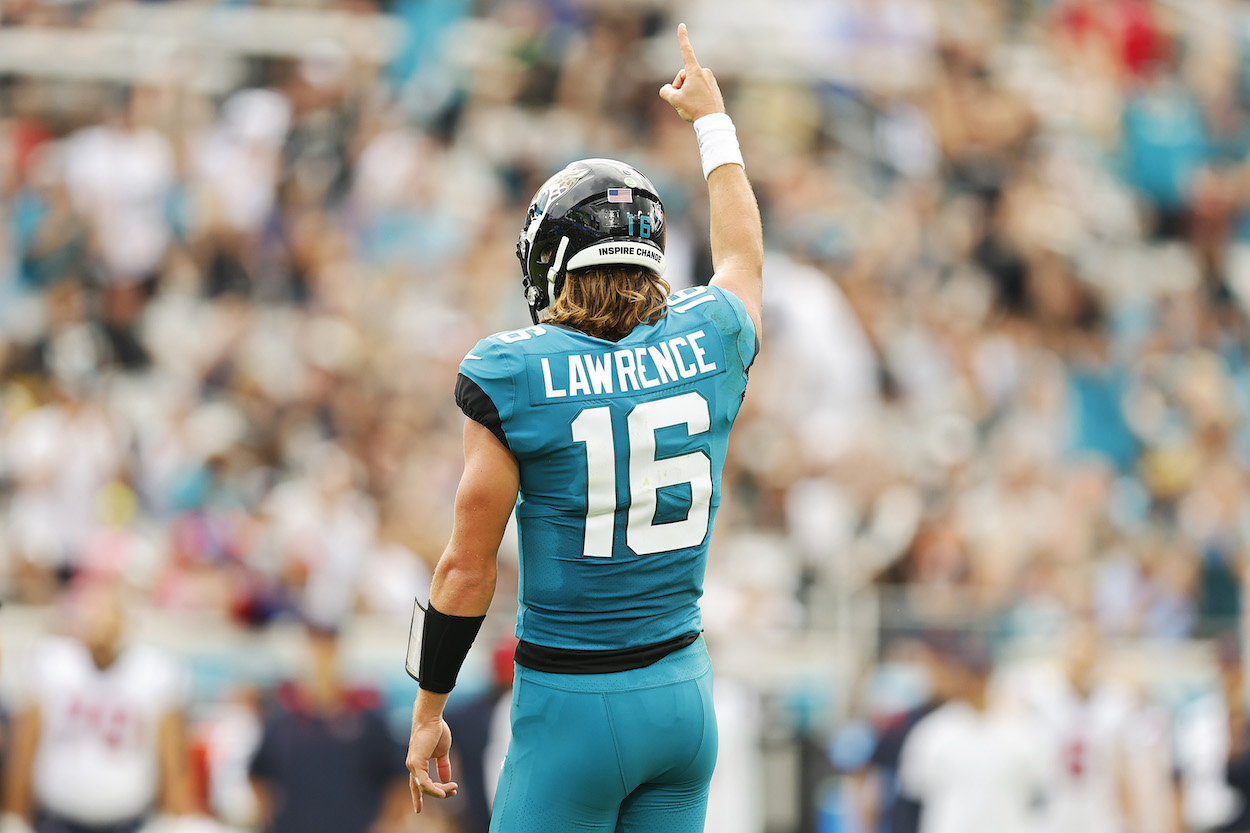 "I thought it was great," Lawrence said when questioned about Robinson's heavy involvement. "Obviously, we've already talked about how good a player James is and just continuing to build on that. It was great to see James, obviously, very involved."
Lawrence was one of Robinson's most prominent supporters when former Jaguars coach Urban Meyer benched him. The rookie quarterback clearly wasn't happy being asked to win and lose games every single week with his arm, especially considering the high rate of success Robinson has had running the football for two straight seasons.
There's been speculation that Lawrence isn't a fan of Meyer. His comments on Robinson's involvement post-Meyer being "great" suggest as much.
Trevor Lawrence still has a ways to go before he's clear of Urban Meyer's damage
Despite the frustrating loss, it does feel like Lawrence and the Jaguars took a step in the right direction Sunday. Establishing an actual run-first scheme should help Lawrence quite a bit moving forward, as it takes the pressure off him as he continues to learn and read NFL defenses.
However, this doesn't mean Lawrence and the Jags are 100% clear of Meyer's wrongdoings quite yet. The team still has a ways to go before being considered a functional organization again.
While he was only in town for a handful of months, Meyer did some severe damage to Jacksonville.
All stats courtesy of Pro Football Reference.