Trevor Lawrence Is on the Verge of Making Jaguars History Despite His Underwhelming Rookie Season
Article Highlights:
Jacksonville Jaguars quarterback Trevor Lawrence should break the team's rookie passing yards record in Week 17
The first overall pick needs only 37 passing yards to break the record Gardner Minshew set in 2019.
Lawrence must use the season's final two weeks to enter 2022 on the right foot
Trevor Lawrence knew playing for the Jacksonville Jaguars wouldn't be anything like the three seasons he spent dominating college defenses at Clemson. However, not even the most cynical of Jaguars fans likely imagined things would have been this disastrous.
Lawrence threw three interceptions in his first career game and has underwhelmed all season. Part of that blame lies with former head coach Urban Meyer, but the rookie is responsible for his poor throws and an early tendency to try doing too much on a terrible team.
Still, Lawrence nonetheless has the opportunity to go where no Jaguars rookie quarterback has gone before when he takes the field against Bill Belichick and the New England Patriots in Week 17.
Trevor Lawrence should break the Jaguars' rookie passing record in Week 17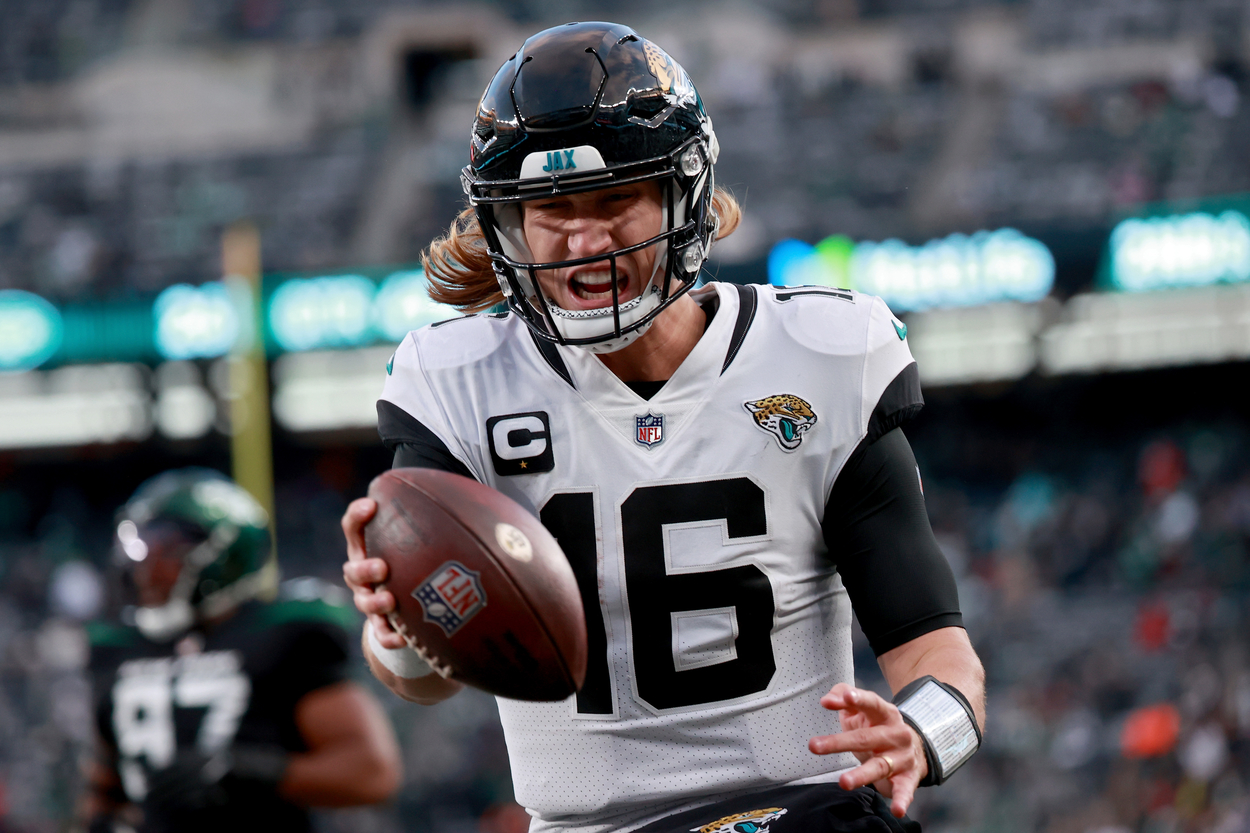 Lawrence entered Week 17 with a 58.7 completion percentage, nine touchdowns, and 14 interceptions in 15 games. The Clemson product has somehow thrown only one touchdown pass in his last eight games, numbers which look even worse in the modern pass-happy era.
For as underwhelming as his numbers are right now, Lawrence has 3,225 passing yards to his name. He only needs 47 more to break the Jaguars' rookie record; Gardner Minshew, Lawrence's former teammate, threw for 3,271 yards in 2019.
Lawrence has an outside chance at becoming only the third quarterback in Jaguars history to throw for 3,700 yards in a single season. Blake Bortles did it in 2015 (4,428) and 2016 (3,905) after Mark Brunell began the club with a 4,367-yard showing in 1996.
Unlike Lawrence, who might need 17 games to get to 3,700 yards, Bortles and Brunell accomplished the feat in a 16-game season. However, the fact he's managed to make it this far is worth celebrating, so don't even think of involving the dreaded asterisk.
Lawrence will still fall well short of breaking the Jaguars' rookie touchdown record
After throwing three touchdown passes in Week 1, Lawrence only has six in his last 14 games. Barring interim head coach Darrell Bevell lowering the sliders to rookie mode, Lawrence likely isn't going to shatter the Jaguars' single-season touchdown passing record: 35, set by Bortles in 2015.
What about the single-season rookie passing record? Minshew tossed 21 touchdown passes in 2021, so that's out of reach. With four touchdowns in the next two weeks, Lawrence would at least pass Blaine Gabbert (11 in 2011) and Bortles (12 in 2014).
Six touchdown passes would propel Lawrence past Byron Leftwich, who threw for 14 scores in 2003, for second place behind Minshew. Interestingly, the Jaguars recently requested permission to speak with Leftwich, who is currently in his third season as the Tampa Bay Buccaneers' offensive coordinator, for the team's head coaching vacancy.
However, if Lawrence does not throw a touchdown in the Jaguars' final two games, he will join Gabbert as the only quarterbacks in franchise history who started at least 10 games in a single season yet didn't throw for more than 10 touchdowns in that time. Gabbert threw nine touchdowns across 10 starts in 2012, his penultimate season in Jacksonville.
Don't let Lawrence's rookie struggles fool you into thinking he's destined to become a bust
There's no need to sugarcoat things. Lawrence has not had a good rookie season by any stretch of the imagination, and he's on pace to end the year having thrown more interceptions than touchdowns. Remember, this is a quarterback who threw 90 touchdowns against 17 interceptions in 40 college games.
Does any of this mean Lawrence is destined to be a draft bust? No. Ideally, for all parties, the Jaguars will hire either an innovative young offensive mind or an experienced head coach to turn things around and develop the golden-armed rookie in ways that Meyer failed to do before his overnight dismissal in mid-December.
Lawrence should benefit from an offseason with a head coach willing to publicly rally around the young quarterback. Jacksonville must address the offensive line — Alabama left tackle Evan Neal would be a perfect fit — and attempt to find an explosive receiver through the draft.
The best thing Lawrence can do is try to end his rookie year on a positive note. If he's able to throw four touchdown passes and no interceptions in his final eight quarters, it'll be far easier to forget about many of his, shall we say, forgettable performances.
If all else fails, at least Lawrence will hold the Jaguars' single-season rookie passing yards record. What fun.
Like Sportscasting on Facebook. Follow us on Twitter @sportscasting19.