Trevor Lawrence's Postgame Comments After Getting Humiliated by the 49ers Should Have Jaguars Fans on Edge: 'We Got Our Butt Kicked'
Heading into Week 11, Trevor Lawrence and the Jacksonville Jaguars were coming off another loss. However, it was a productive loss. They kept things close with the Indianapolis Colts to the closing moments, only losing due to a Lawrence fumble during the fourth quarter.
Seeing as the Colts are now 6-5 and surging into the AFC playoff picture with a win over the Buffalo Bills, it's safe to say the Jaguars can feel good about competing with them.
That is, if the Jaguars weren't reeling from a new embarrassing loss themselves.
The 49ers crushed the Jaguars 30-10 in Week 11
Despite a modest amount of optimism in Jacksonville following a string of productive weeks, the Jaguars crumbled back to their old ways against the San Francisco 49ers in Week 11. The Niners won by a score of 30-10, jumping out to a massive 20-3 first-half lead.
The 49ers racked up 333 total yards on the afternoon, averaging an eye-popping 5.0 yards per play. Jimmy Garoppolo threw two touchdowns, and the 49ers' rushing attack combined for 171 yards.
The Jaguars, on the other hand, struggled to move the ball all afternoon long. They finished with a measly 200 yards of total offense and lost two fumbles.
Lawrence, in particular, who's been struggling all season long, only passed for 158 yards. He failed to throw a touchdown for the third straight game. It was undeniably a frustrating afternoon for the No. 1 overall pick.
Trevor Lawrence gets real about the ugly loss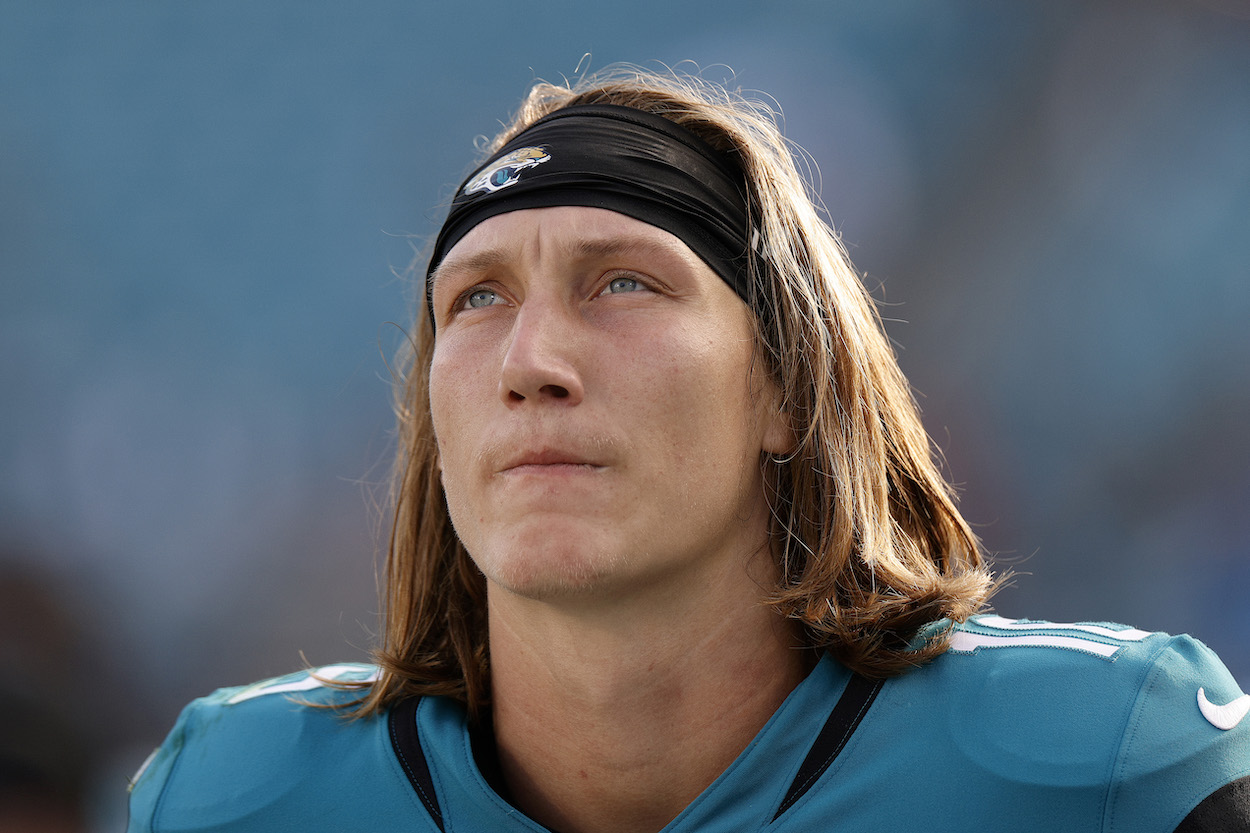 After the embarrassing loss, Lawrence didn't mince his words. He was frustrated over yet another defeat and offered little positive takeaways from the affair.
"I'm not going to sit up here and say all the positive things that came out of it. There's not much of it today," Lawrence said. "We got our butt kicked. It didn't look good all the way around."
It's hard to disagree with Lawrence for what it's worth. The Jaguars looked outmatched at every step of the game, and the 49ers haven't been an exceptionally well-run team this year either. The Jaguars should have made it a far more competitive contest.
Trevor Lawrence's comments should raise concern for Jaguars fans
The Jaguars' 2021 season has been an up-and-down rollercoaster ride since the moment they hired Urban Meyer. Few thought they would be a playoff-caliber team during Lawrence's rookie season. However, there was hope they could start building and developing for the future sooner rather than later.
With Lawrence talking about his team still getting their "butt kicked" in Week 11, it's proving hard for Jaguars fans to feel good about the direction of their team moving forward. This Week 11 loss to an average Niners team is a brutal reminder of just how far away Jacksonville is from competing.
Lawrence is frustrated, and Urban Meyer is still struggling to show up and deliver as the team's head coach every week. There's still time for the Jaguars to turn things around this season and finish strong. However, it's feeling more and more likely they're doomed for another year of rebuilding in 2022.
All stats courtesy of Pro Football Reference.