Why Trevor Siemian Will Be the Denver Broncos Starting QB
In the National Football League, it's extremely unusual for a team to win a Super Bowl and then go on to experience a complete overhaul of their quarterback depth chart during the offseason. But that is exactly what the Denver Broncos went through over the last couple months.
After defeating the Carolina Panthers in Super Bowl 50, the Broncos honored Peyton Manning as the legendary quarterback rode off into the sunset and retired from the game of football. Then a couple of days later (literally), Brock Osweiler, who was the presumed heir apparent to Manning, completely shunned the Broncos — reportedly ignoring phone calls from General Manager John Elway and head coach Gary Kubiak — and signed with the Houston Texans during free agency. While it seemed like a forgone conclusion that Osweiler would seamlessly step in for Manning as the team's starting quarterback, there was an incident at the tail end of the 2015 regular season that set off a chain of events ultimately leading to him signing with Houston.
As it turns out, Osweiler's feelings were irreparably hurt when the team pulled him in favor of Manning, who had just returned to the team after rehabbing multiple injuries for close to two months, during their Week 17 game against the San Diego Chargers. We're not really sure why Osweiler, who was struggling mightily at the time, was so upset about his benching — especially given that it was in favor of a Hall of Famer rather than some random journeyman — but that's a story for another day.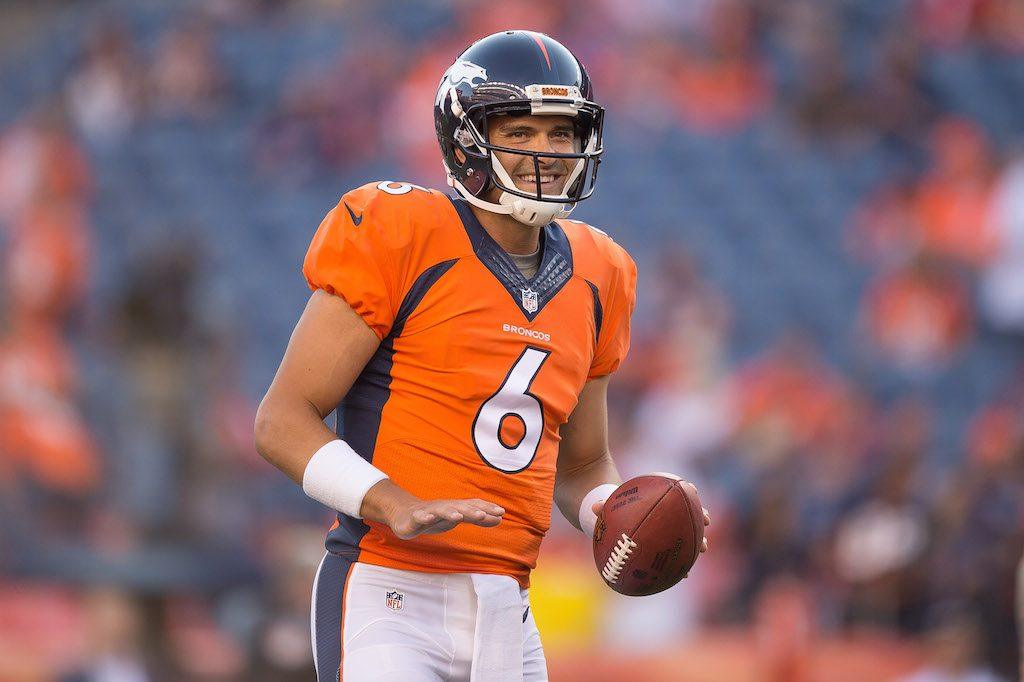 That event resulted in the Denver Broncos going into free agency with just one quarterback, who happened to have a grand total of zero NFL starts and pass attempts on his career resume. Former Northwestern signal caller Trevor Siemian, who until recently was a relatively unknown seventh-round pick from the 2015 NFL Draft, is now the longest-tenured (with the franchise) quarterback on the Broncos' roster. After an entire offseason of Organized Team Activities (OTAs) and mini-camps, training camp, and two preseason games, it looks as though Siemian will lead the Denver Broncos in their quest to repeat as Super Bowl champions in 2016.
Denver did acquire (via trade) another well-known veteran quarterback shortly after being spurned by Osweiler. However, up to this point that move is looking more and more like a colossal bust. In exchange for 29-year-old quarterback Mark Sanchez, the Broncos sent a conditional draft pick to the Philadelphia Eagles that they will only surrender if Sanchez makes their roster. At this point in time, the only hope Sanchez has for sticking around is if the Broncos decide that they want to have the presence of an experienced backup on their team as they attempt to defend their world championship.
In just over two quarters of preseason game action, Sanchez has completed 66.7% of his passes for 219 yards, one touchdown, and one interception. During that time, though, it became painfully obvious that Sanchez still has yet to overcome the turnover issues — he has three already this preseason — that have plagued him throughout his six-year NFL career. With the defense the Denver Broncos have in place, the last thing they need is a starting quarterback who cannot protect the ball.
Denver's third option at the position is rookie Paxton Lynch, who is far and away the most physically gifted quarterback of the bunch. Given the fact that the Denver Broncos traded up in the first round of the 2016 NFL Draft to land the former Memphis signal caller, it goes without saying that he is the team's future at the most important position on the field. While Lynch may have the skill set to one day develop into a franchise quarterback and perennial Pro Bowler, he simply isn't mentally ready to be a starting quarterback in the National Football League.
As a refresher, Lynch is coming from a college system where he rarely huddled, and almost never lined up under center. Both are staples of a pro-style offensive system. Seeing as how even the sharpest of quarterbacks in NFL history — guys like Manning and Tom Brady — all needed time to adjust to playing in the NFL, it's only natural that Lynch would stand to benefit from a "redshirt" year.
Heading into training camp, the battle to be the Broncos' starting quarterback in 2016 appeared to be a two-horse race between Siemian and Sanchez. After two preseason games and numerous practices, the battle is still ongoing, but Siemian has pulled ahead and Lynch appears to have passed up Sanchez.
It has already been announced that Siemian will be the team's starter for their third preseason game against the Los Angeles Rams this Saturday. Knowing this, and also knowing the significance that NFL teams place on their third preseason game, it is abundantly clear that the 23-year-old is the front-runner to be the team's starter for the Week 1 Super Bowl 50 rematch against the Carolina Panthers.
If he can do an adequate job of managing the game, while also making the necessary plays to convert on third down and in the red zone, on Saturday night, this competition will be over. Siemian will have rightfully earned the Broncos' starting quarterback job — at least until he falters or Lynch is deemed ready. If Siemian completely implodes against the Rams, however, the Broncos may be forced to throw Lynch to the wolves. As history has shown, that scenario could either make or break the young quarterback's NFL career.
Statistics courtesy of Pro-Football-Reference.