Top 2021 NFL Draft Prospect Trey Lance Already Has a Very Important Figure on the 49ers Doubting His Chances
Kyle Shanahan and the San Francisco 49ers have invested their future in Trey Lance.
Lance, the standout quarterback from North Dakota State, went third overall in the 2021 NFL draft. Despite never playing an FBS team in his 17 college starts, Lance impressed the 49ers enough to where they chose him over Justin Fields or Mac Jones.
Lance is arriving in San Francisco with big expectations, but he might have to start his 49ers tenure by proving his head coach wrong.
Kyle Shanahan is already doubting Trey Lance
RELATED: Kyle Shanahan Is Actually Hoping Jimmy Garoppolo Is 'Pissed Off' at the 49ers Trading Up to Take a QB in the NFL Draft
If the San Francisco 49ers have their way, Trey Lance might not play in 2021.
That isn't exactly shocking news. Lance only started 17 games in college and will likely benefit from not being thrown into the fire the way that Trevor Lawrence and Zach Wilson will on the Jaguars and Jets, respectively.
Still, Lance might have preferred that Kyle Shanahan, his new head coach, didn't sound so pessimistic. Shanahan and John Lynch, the 49ers' general manager, did a joint interview on ESPN with Scott Van Pelt. During that discussion, Shanahan all but said that he doesn't expect much from Lance as a rookie.
"It's going to be very hard for a rookie to come in and beat Jimmy Garoppolo out. He's a very good player. That's why I like the situation that we are in. Now, we'll see where Trey's at. We'll see how he does at OTAs. I love that we're getting those. I love that he's going to be here tomorrow. But Jimmy's our quarterback right now."

Kyle Shanahan
Of course, all of this is lip service. The 49ers could enter Week 1 with Garoppolo as the starter, or they can see if any teams are still interested in acquiring his services.
John Lynch took a different stance regarding Lance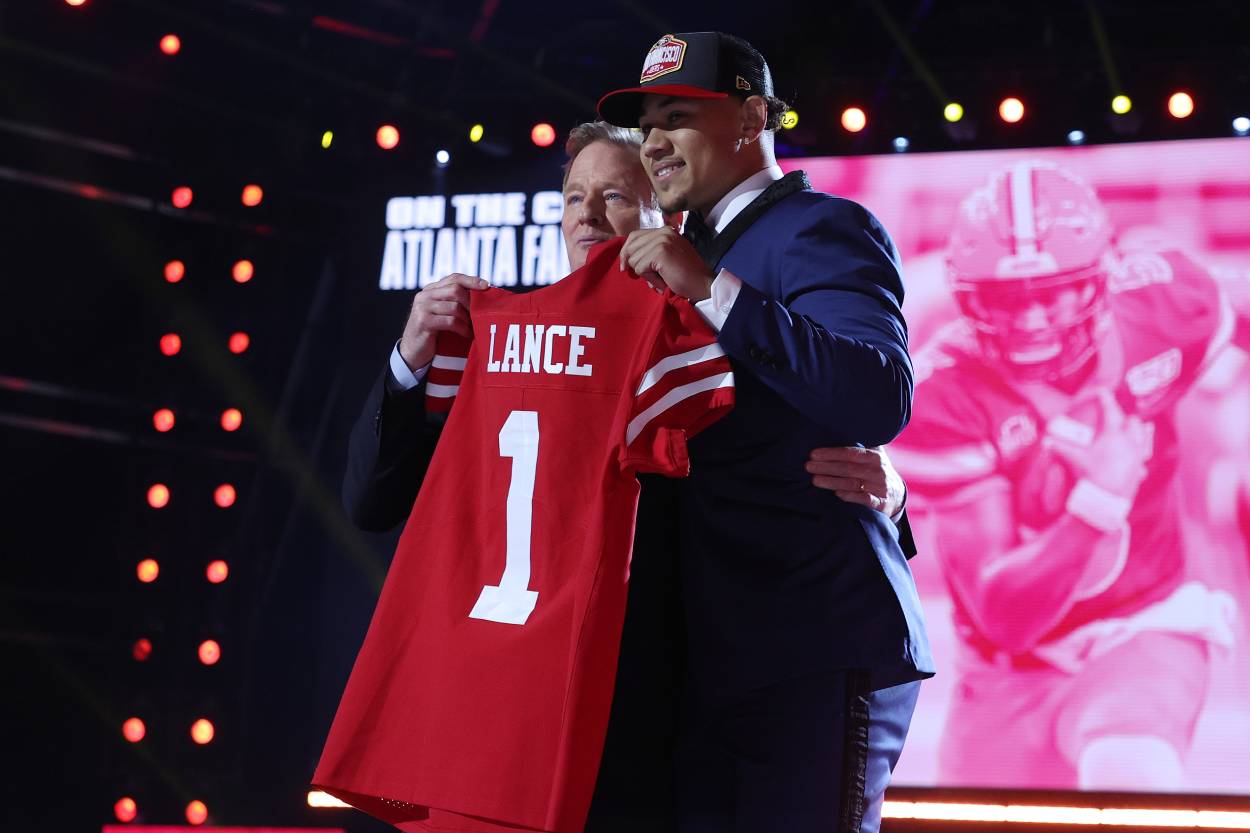 RELATED: The San Francisco 49ers Are Holding 2 Quarterbacks Hostage Until the Last Possible Moment
There is a night and day difference when comparing Shanahan's comments about Lance to what Lynch said.
During that interview with ESPN, Lynch deferred to Shanahan and the coaching staff on who will play quarterback. However, Lynch shared a more optimistic perspective on Lance's immediate future in San Francisco.
"When Trey's ready, he's ready, but until then, we've got a guy that we know can win with this team, that can win with this system," Lynch said. "That's all that he's done when he's played with us."
Lynch confirmed the 49ers still "have a lot of love" for Garoppolo.
Could the 49ers realistically use a redshirt on Lance?
RELATED: Trey Lance Has Always Been and Still Remains a Mystery Ahead of 2021 NFL Draft
For any 49ers fans worried about their first-round pick not playing much as a rookie, we have one response: Patrick Mahomes.
No, that is not to say that Lance will be recording 50-touchdown seasons anytime soon. But Mahomes didn't play much as a rookie, save a Week 17 start, and look how that turned out after the Chiefs traded Alex Smith.
The 49ers have Josh Rosen and Nate Sudfield on the active roster as reserve quarterbacks. If Shanahan and his staff feel that either of those quarterbacks should be the true backup, that may not be a legitimate black mark against Lance.
But, the quarterback carousel is always moving. All it takes is one injury for Lance to step in, lead the 49ers to the playoffs, and prove Shanahan utterly wrong in the process.
Like Sportscasting on Facebook. Follow us on Twitter @sportscasting19.