Trey Lance and the Best Week 5 Fantasy Football Waiver Wire Names To Help Save Your Team
The fantasy football season is a quarter of the way finished after the fourth week of the NFL season has come to a conclusion after the Los Angeles Chargers Monday night victory over the Las Vegas Raiders. There were once again some key injuries across the league and some head-scratching stat lines.
If your fantasy football team needs some help, it is time to be aggressive on the waiver wire before the season becomes a lost cause. Here are some hot names to target on waivers, with San Francisco 49ers quarterback Trey Lance being one of the biggest names to watch.
Quarterbacks to target on the fantasy football waiver wire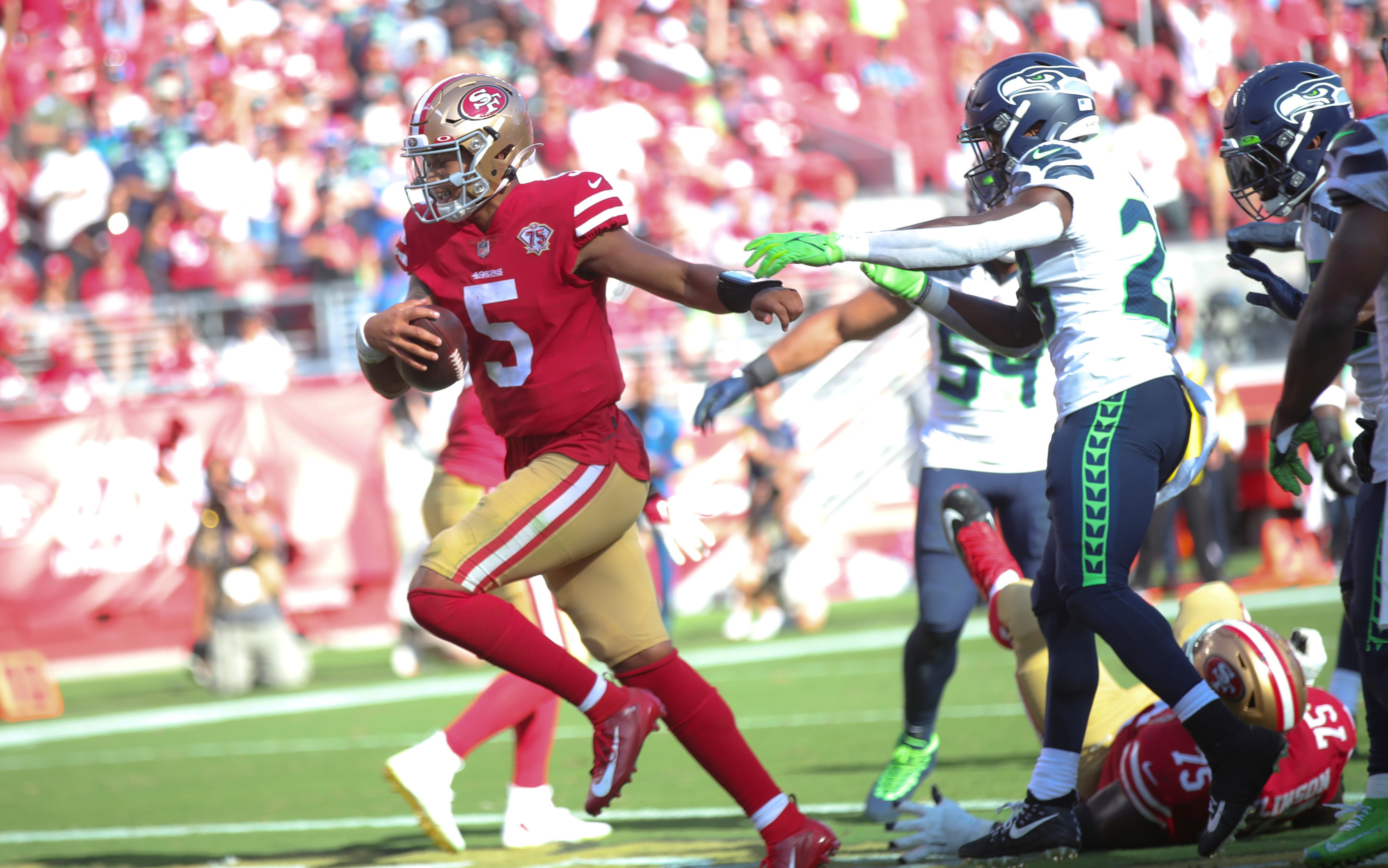 The quarterback situation is a bit dicey. Some of the big names like Ryan Tannehill and Ben Roethlisberger have been disappointing options. If you need a quarterback, it shouldn't be difficult to find one, especially in leagues with one QB. He isn't on this list, but if Sam Darnold is still there for some reason, go grab him right now.
#3: Daniel Jones, New York Giants, 35% rostered (Sleeper)
Yeah, this isn't the most attractive option, but the former Duke gunslinger has been playing quite well despite the Giants 1-3 record. In Week 4, Jones tossed for 402 yards with two touchdowns in an overtime victory against the New Orleans Saints.
The schedule isn't too favorable with games against the Dallas Cowboys, Los Angeles Rams, and Carolina Panthers on the docket. However, the Giants should be playing from behind essentially every week, making Jones a streaming option.
#2: Taylor Heinicke, Washington Football Team, 20% rostered
Heinicke has been playing exceptionally well since Ryan Fitzpatrick landed on the IR. The 28-year-old is posting big numbers and is certainly making a case to keep the job even when FitzMagic returns to the fold.
Heinicke posted 290 yards with three touchdowns in the latest victory over the Atlanta Falcons and players the New Orleans Saints and Kansas City Chiefs the next two weeks in games that should be high-scoring.
#1: Trey Lance, San Francisco 49ers, 47% rostered
This is the top option. With the injury to Jimmy Garoppolo putting his status in flux, Lance is the guy to target– and not just for this week, either. Lance has league-winning potential despite his shaky performance against the Seattle Seahawks.
Moreover, he tossed two scores on Sunday in the second half, and one can only imagine how much he can do with a ton of first-team reps and some consistent snaps.
Damien Williams leads the targets for running backs
David Montgomery suffered a knee sprain and is out for at least four weeks as the Chicago Bears try and overcome the loss of their starter. With that, Damien Williams– and possibly rookie Khalil Herbert– will be thrust into action. The running back position in fantasy football is always hit or miss, especially with injuries popping up week after week. Oh, and if Cordarrelle Patterson is somehow still there, grab him now!
#3: Kenneth Gainwell, Philadelphia Eagles, 44% rostered
The rookie from Memphis has been playing well as of late. The usage of Miles Sanders has been a concern for Sanders' owners, and Gainwell should continue to see more usage and touches, especially if the Eagles play from behind.
Gainwell had six catches and three carries for a touchdown against the Kansas City Chiefs and he is definitely a player to stash at least.
#2: Latavius Murray, Baltimore Ravens, 52% rostered
The Ravens shockingly had Ty'Son Williams as a healthy scratch and promoted LeVeon Bell to the active roster. It was Murray who led the way against the Denver Broncos with 18 carries for 59 yards and a score, and the fact Williams was a healthy inactive show how much they trust him going forward.
Murray is clearly the best of the veterans, and the Ravens are going to do their best to run the ball. This makes Murray the guy, at least for now.
#1: Damien Williams, Chicago Bears, 12% rostered
If you are in leagues with FAAB, toss whatever you have to grab him. With the injury to Montgomery, Williams is set to lead the Bears' backfield for the foreseeable future and it isn't often you can get a quality starting option on the fantasy football waiver wire.
After Montgomery went down on Sunday, Williams had eight carries for 55 yards and a score. Yes, he is dealing with a thigh injury, although the latest reports have suggested he should be good to go. If he is there, don't think twice, grab him now.
The wide receiver options to target on the waiver wire include some veteran pass catchers
The wide receiver position is always the creamiest of the crop. Josh Gordon is set to get on the field for the Kansas City Chiefs and frankly should have been picked up already. Emmanuel Sanders exploded in Week 3 and needs to be rostered immediately as well. Here are some other options to consider.
#3: Kadarius Toney, New York Giants, 12% rostered
The first-round pick finally got some decent targets in the Giants' shocking OT victory. He finished with six catches on nine targets for 78 yards and the chemistry between him and Jones was a positive sign. If Darius Slayton and Sterling Shepard miss more time, that will mean more targets for Toney.
The success in Week 4 might force the hand of Jason Garrett to include him going forward, so roll the dice and hope it pays off.
#2: Jamison Crowder, New York Jets, 26% rostered
Yes, this isn't Corey Davis or Elijah Moore. Crowder finally made his season debut and caught seven passes for 61 yards and a touchdown as the Jets played from behind and somehow upset the Tennessee Titans.
Up next is a game against the Atlanta Falcons in London and there should be heavy targets for Crowder, especially if Moore continues to miss time.
#1: Darnell Mooney, Chicago Bears, 56% rostered
Mooney is one guy a lot of people had high hopes for. However, he was nonexistent through the first few weeks of the season. Week 4 was a different story as Justin Fields leaned on Mooney time and time again, finishing the game with five catches for 125 yards.
Allen Robinson has had a rough start to the year but is destined to bounce back. The Bears face the Las Vegas Raiders and Green Bay Packers and Fields might lean on Mooney more and more if he continues to be the starter.
Stats courtesy of Pro Football Reference
Roster percentages via Sleeper
RELATED: Fantasy Football Sleepers: Which Quarterbacks Drafted as Backups Could Reach QB1 Status?