Top 2021 NFL Draft Quarterback Prospect Trey Lance Is About to Join Cam Newton and Kyler Murray in an Exclusive Club
At this point, it seems safe to assume that former North Dakota State quarterback Trey Lance will go fairly early in the 2021 NFL draft.
Lance, who dominated at NDSU in 2019, is this year's hot quarterback name from the FCS level. When Lance hears his name called in the draft, he is on pace to join Cam Newton and Kyler Murray, among others, in a very select club.
Trey Lance will likely be an early pick in the 2021 NFL draft
RELATED: Who Are the Top Quarterbacks in the 2021 NFL Draft After Trevor Lawrence?
At 6 feet 4 inches and 224 pounds, Trey Lance is ready to make his mark in the NFL.
Lance completed 65.4% of his passes in college for 2,947 yards, 30 touchdowns, and only one interception. The dynamic quarterback also ran for 18 touchdowns in three seasons.
Lance served as the Bisons' starter in 2019 and didn't throw an interception in 287 attempts. North Dakota State moved most of its 2020 season to the spring of 201, which limited Lance to one game last fall.
Lance completed 15 of 30 passes for 149 yards, two scores, and an interception in a 39-28 victory over Central Arkansas. He also ran for 143 yards and two touchdowns on 9.5 yards per attempt in that game.
Lance will join Cam Newton and Kyler Murray in a rare group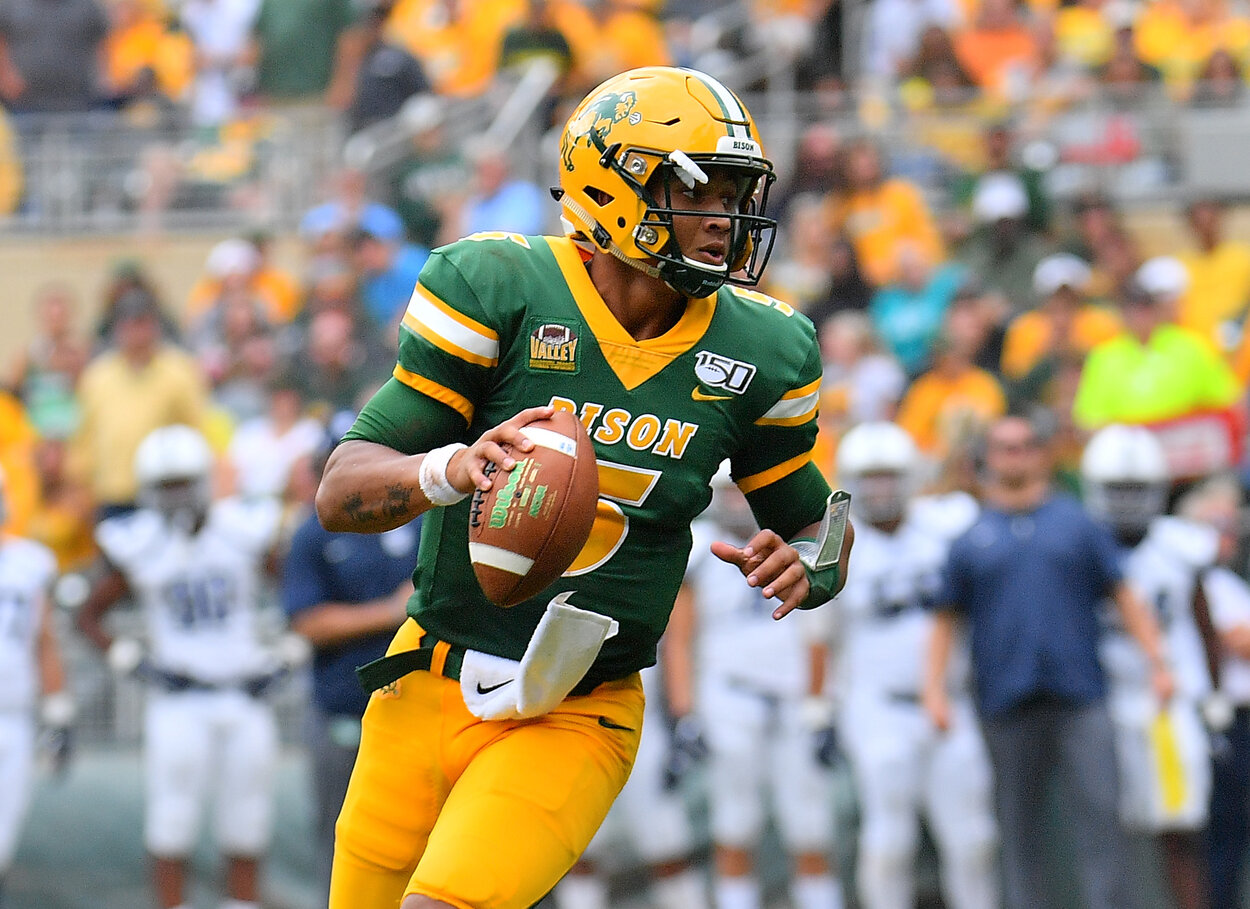 RELATED: Cam Newton Gets Some Deep NFL Advice From an Unlikely Source
Having started only 17 games in college and none against an FBS team, Trey Lance is a relatively raw quarterback prospect.
Earlier this year, ESPN Stats & Information research found that since 2006, six quarterbacks have been taken in the first round with fewer than 20 college starts.
Mitchell Trubisky (13 starts in college, second overall pick in 2017): Trubisky battled inconsistency in his four years with the Bears and was benched numerous times. He signed with the Buffalo Bills this offseason and will now serve as Josh Allen's backup.
Cam Newton (14 starts, first overall pick in 2011): A dynamic dual-threat quarterback and one of the most productive No. 1 overall picks in recent NFL history, Newton made three Pro Bowls and won the 2015 NFL MVP while with the Carolina Panthers. Newton now plays for the New England Patriots.
Dwayne Haskins Jr. (14 starts, 15th overall pick in 2019): Washington cut Haskins midway through the 2020 season after frequent off-field issues. Haskins is now on the Pittsburgh Steelers.
Mark Sanchez (16 starts, fifth overall pick in 2009): Sanchez won four playoff games in his first two seasons with the New York Jets. He threw 86 touchdowns to 89 interceptions in 10 NFL seasons and now works for ESPN.
Kyler Murray (17 starts, first overall pick in 2019): Murray is one of the NFL's top young quarterbacks and scored 61 touchdowns in his first two seasons. He earned Pro Bowl honors after the 2020 season.
Ryan Tannehill (19 starts, eighth overall pick in 2012): Tannehill was a capable starter in six healthy seasons with the Miami Dolphins. Since joining the Tennessee Titans before the 2019 season, Tannehill is 18-8 as a starter with 55 touchdowns to 13 interceptions.
That list has enough standouts, or at least reliable starters, to have prospective buyers optimistic about drafting Lance.
What does Trey Lance bring to the NFL?
RELATED: NFL Draft Trivia: Which Teams Have Picked the Most Quarterbacks in the First Round?
In theory, the numbers and history supporting those inexperienced quarterbacks can bode very well for Trey Lance.
NFL Media's Lance Zierlein compared Lance's skillset to that of Buffalo Bills star quarterback Josh Allen. Zierlein specifically praised Lance's maturity, size, and ability to take care of the football.
"While his recognition of coverage danger is a plus, he's currently more of a 'yellow light' quarterback who needs to find a 'green light' risk-taking mentality to become a playmaking talent in the NFL. An offensive coordinator willing to blend his run/pass talent with a play-action attack could get the most out of Lance, who should become a good NFL starter."

Lance Zierlein
Lance is projected to go within the first 15 picks, which could allow him to make more history. Depending on where he is selected, Lance could become the first draftee born in 2000 or later. Lance turns 21 on May 9.
The 2021 NFL draft begins Thursday, April 29, and ends on Saturday, May 1.
Like Sportscasting on Facebook. Follow us on Twitter @sportscasting19.