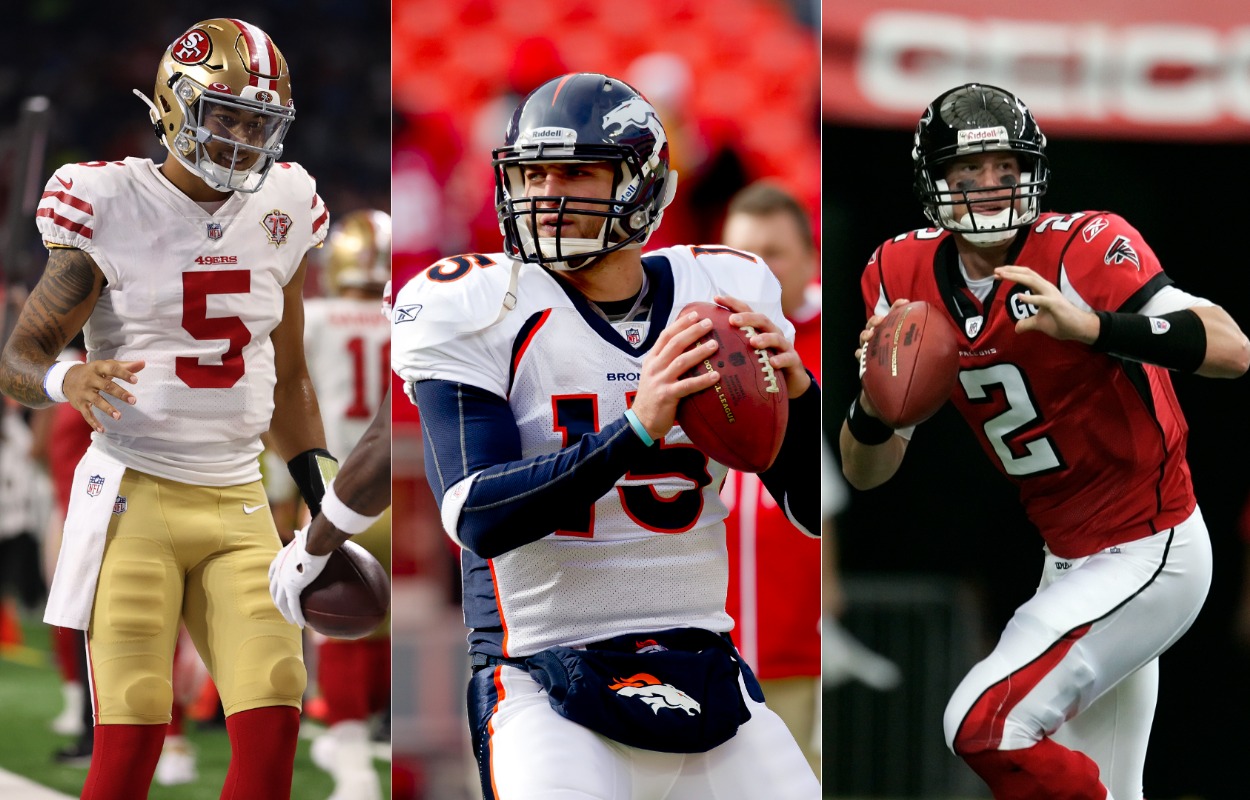 Trey Lance Didn't Start in His NFL Debut Yet Still Managed to Make Matt Ryan and Tim Tebow Proud
San Francisco 49ers rookie quarterback Trey Lance opened his NFL career by following in Tim Tebow and Matt Ryan's footsteps.
San Francisco 49ers fans are still waiting for Trey Lance to take over the starting quarterback role. In what proved to be good news for those with a lack of patience, they don't need to hold on much longer to see their rookie reach the end zone.
The better news? Lance managed to make history in his debut despite only throwing a single pass.
Trey Lance threw a touchdown on his first NFL pass
49ers head coach Kyle Shanahan stuck to his guns all offseason and stuck with Jimmy Garoppolo as his starting quarterback. At least through one week, the fifth-year head coach looks like he made the right call.
Garoppolo completed 17 of his 25 pass attempts for 314 yards and a touchdown in the 49ers' 41-33 road victory over the Detroit Lions. A 49ers offense that struggled at points last year totaled 442 yards of offense on the road.
Those who played Garoppolo in fantasy football missed out on him having a second touchdown throw, however. Shanahan inserted Lance, the third overall pick in April's draft, in at quarterback on a 1st-and-goal situation at the Lins' 5-yard line in the first quarter. The rookie connected with receiver Trent Sherfield on the 49ers' first touchdown of the year.
Lance, who turned 21 in May, became the first quarterback selected in this year's draft to throw a touchdown in the NFL. However, he also accomplished another notable feat in the process.
Matt Ryan and Tim Tebow each accomplished the feat earlier in their careers
When you woke up on Sunday, Sept. 12, 2021, you likely didn't imagine you'd hear Trey Lance's name in the same conversation as Matt Ryan and Tim Tebow within the next few hours.
Well, that's what makes sports so fun.
As we know, Lance threw a touchdown on his first NFL pass attempt. Before he did so, the most recent player to accomplish that feat was Tebow when he was a rookie for the Denver Broncos over a decade ago. After playing sporadically in the season's first two months, the rookie threw a 3-yard touchdown pass in a 49-29 victory over the Kansas City Chiefs on Nov. 14, 2010.
Ryan, the third overall pick in 2008, started his career in style against the Lions that September. The rookie threw a 62-yard touchdown pass to wide receiver Michael Jenkins only 1:27 into the Falcons' 34-21 victory.
At least Lance avoided the fate which befell Brett Favre, Jameis Winston, and Sam Darnold, all of whom had their first passes intercepted and returned for touchdowns.
When will we see Lance take over the 49ers' starting job?
The good news for 49ers fans is they won't need to wait to see Lance's first NFL touchdown. However, no one is sure when they'll experience the rookie's next score.
The starting job belongs to Garoppolo, and he did nothing in Week 1 to encourage Shanahan to push Lance up the depth chart ahead of the 49ers' Week 2 showdown against Jalen Hurts and the Eagles. Barring an injury or something completely unexpected, the two-time Super Bowl champion will make his second straight start.
The best tip we have for 49ers fans is patience. Garoppolo has played well when he's been healthy since arriving in a 2017 trade. If the team's offense struggles moving forward and Shanahan feels the 49ers will benefit from a change in the lineup, he'll make that move when the time is right.
Lance will eventually get his opportunity, and he'll have the chance to follow Ryan as a perennial Pro Bowl quarterback. But for now, he's ready to contribute where he can, which sounds good enough for him and the 49ers.
Like Sportscasting on Facebook. Follow us on Twitter @sportscasting19.