Trey Lance Just Received a Massive Boost to His 49ers Starting Debut Which Could See Jimmy Garoppolo Benched for the Rest of the Year
Trey Lance has yet to start a game for the San Francisco 49ers this season.
Despite being taken third overall this past spring (after the 49ers traded the farm to move up and get him), San Francisco utilizes a conservative approach to their new franchise quarterback. Like how the Kansas City Chiefs gave Patrick Mahomes a full year to develop behind Alex Smith, the 49ers seemingly believe Lance will benefit from serving as Jimmy Garoppolo's backup.
While it seems plausible Lance will be under center on a full-time basis at some point this season, the timeline may be accelerating.
Trey Lance will start for the 49ers this weekend
Garoppolo is currently dealing with a strained right calf and will be unavailable for the 49ers' Week 5 showdown with the Arizona Cardinals. Garoppolo missing Friday's practice sealed the deal regarding his lack of availability.
This leaves Lance as the primary option at QB.
The first-round rookie did end up playing a considerable number of snaps during the 49ers' Week 4 loss against the Seattle Seahawks due to Garoppolo's injury. Lance performed admirably well, tossing two touchdowns to go along with 198 yards of total offense. However, Lance primarily achieved these numbers during "garbage time." Plus, Seattle has one of the worst defenses in the league.
Regardless, Lance is preparing to start on Sunday. While facing an undefeated team in your first career start is certainly less than ideal, Lance just received some promising news which should make his life a whole lot easier against a vicious Cardinals pass-rush.
All-Pro left tackle Trent Williams will be active for the 49ers
With JJ Watt and Chandler Jones screaming off the edge for Arizona, it's reasonable to assume Lance will be in some serious trouble on Sunday. However, with All-Pro left tackle set to return to the lineup for San Fran, Lance's debut just got considerably easier.
Williams hurt his shoulder during the team's Week 4 loss, and it was unclear if he would be available for Week 5. He didn't participate during the 49ers' Wednesday practice.
However, Williams improved greatly between Wednesday and Thursday and was actually a full participant during Thursday's practice. "Trent was good," said 49ers head coach Kyle Shanahan. "He was able to go out there and practice today, so he'll be good to go on Sunday."
Williams is arguably the best left tackle in football. Lance no longer having to worry about his blindside is great news for the rookie QB.
What if Trey Lance plays well?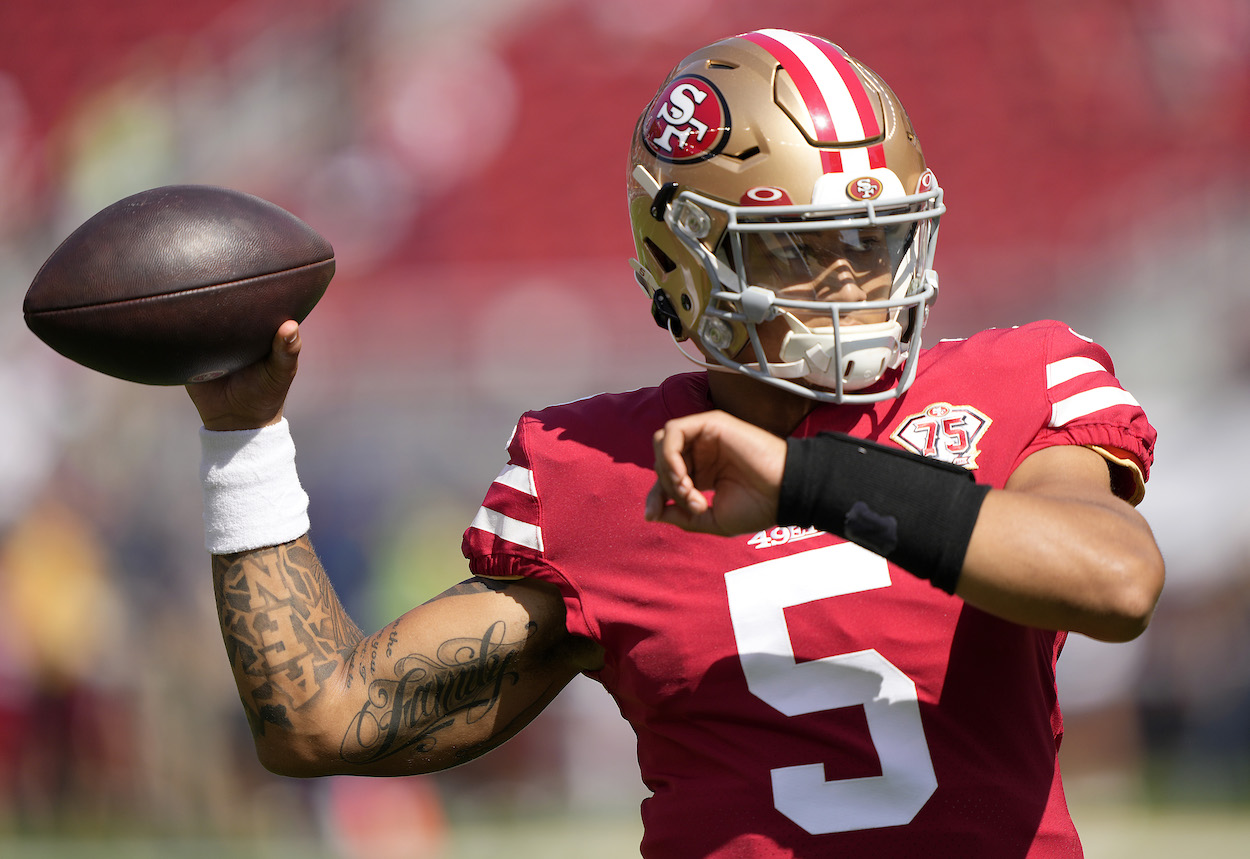 With Williams now a lock to play on Sunday, one final question emerges.
What if Lance plays well? Would the 49ers really bench him again?
Taking things one step further, what if Lance pulls off the unthinkable and beats an undefeated team during his first career start? It'd be near impossible for Shanahan to justify going back to Garoppolo.
Only time will tell if Lance plays well during his first career NFL start. However, a strong performance from the rookie could easily signal the end of the Garoppolo era in San Francisco.
All stats courtesy of Pro Football Reference.
RELATED: Aaron Rodgers Has a Powerful Message for 49ers Fans Which May Have Them Second-Guessing Trey Lance's NFL Future