Trey Lance Has What It Takes to Make the San Francisco 49ers' Matchup With The Arizona Cardinals Interesting
A quick glance at the NFC West standings may tell the casual observer that the San Francisco 49ers (2-2) have little shot to beat the Arizona Cardinals (4-0) this upcoming weekend in the prime-time afternoon game on FOX. The casual observer may, in fact, end up being right because the Cardinals currently look like the cream of the crop in arguably the NFL's toughest division.
With that said, an injury to starting quarterback Jimmy Garoppolo has forced the Niners into potentially starting rookie quarterback Trey Lance ahead of schedule. The irony of it all is that even though Lance may not be 100% ready to be a starter in the NFL, he does give the 49ers the best chance on the road in Glendale this weekend.
Trey Lance fits the modern archetype of an NFL quarterback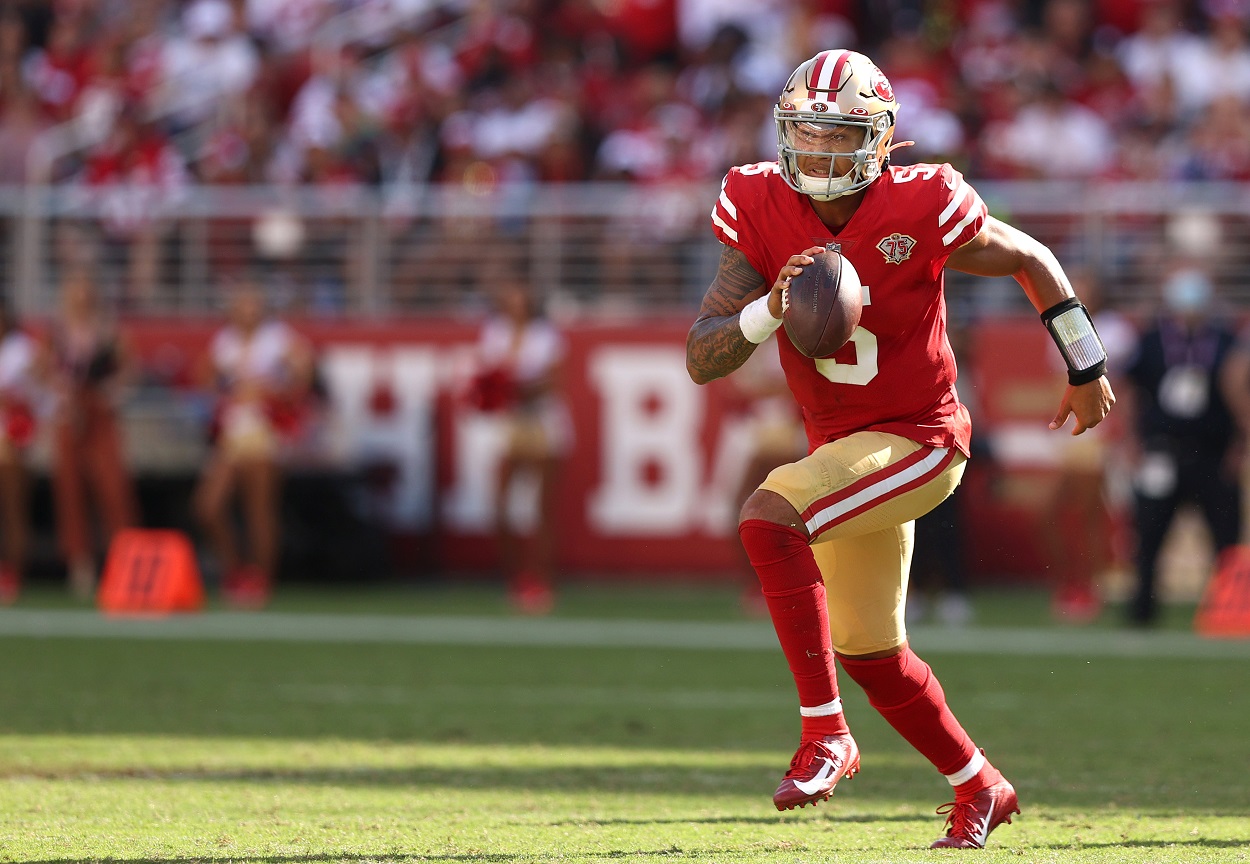 There's a reason 49ers general manager John Lynch mortgaged the farm to move up in this past NFL draft and pick Lance No. 3 overall out of North Dakota State. While raw and coming from a non-Power Five school, the 6-foot-4, 224-pound quarterback looks like he was built in a lab to play modern-day NFL football. The 49ers traded three first-round picks to move up and get him as a result.
The NFL is undoubtedly a quarterback-driven league, but that position has notably evolved from the days of pocket-passers like Peyton Manning or Drew Brees. Sure, there are always exceptions to the rules (see: Brady, Tom), but elite quarterbacks in today's league almost need to be able to pressure defenses with their athleticism and running ability. At the very least, they must be able to make something out of nothing when a play breaks down.
Arizona quarterback Kyler Murray is a perfect example.
The Cardinals are undefeated so far this season, and Murray has been a major reason why. He's the ultimate dual-threat quarterback, and he may finally be hitting his stride in his third season. The Cardinals shocked the NFL world this past weekend by putting a beatdown on the Los Angeles Rams, and overall, Murray has looked elite. Through four games, he's thrown for 1,273 yards and nine touchdowns while also rushing for three more scores.
Lance, though a rookie, has shown the potential to do much of the same for the 49ers. In college, he threw for 2,947 yards and 30 touchdowns in just 19 career games. He also rushed for an impressive 1,325 yards and 18 touchdowns.
The Cardinals are an offensive-minded team with a head coach not known for defense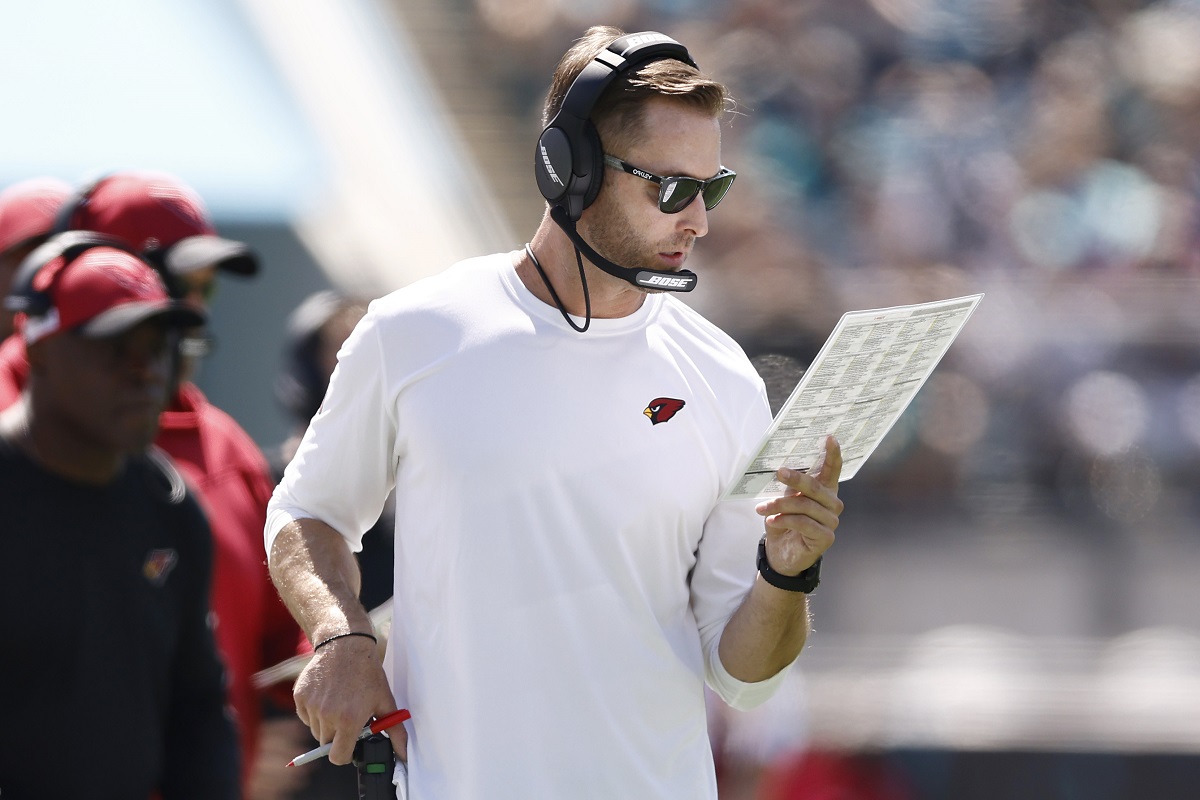 Arizona head coach Kliff Kingsbury made his name as an offensive mastermind at the college level, but his Texas Tech teams were notoriously bad at defense. A football team often takes the identity of its head coach, and while that's probably not as true in the NFL as it is in college, the Cardinals are certainly spearheaded by their offense.
That's not to say Arizona is hapless on defense.
Signing J.J. Watt this offseason has provided the Cardinals with leadership and safety Budda Baker is a three-time Pro Bowler. It's going to take more than just four wins to prove that a Kingsbury-led team can be equally impressive on defense as it is on offense, though.
The 49ers are just the opponent to test this theory as well. San Francisco head coach Kyle Shanahan is known as arguably the most creative and effective play-caller in all of football, and with a chess piece like Lance in at quarterback, he'll have the opportunity to really open up his playbook.
Even as a backup through three-and-a-half games, Lance has seen the field for the 49ers in packages Shanahan has created for him — and it's been effective.
Lance threw the first touchdown of his career against the Detroit Lions in Week 1, subbing in for Garoppolo on a 1st-and-goal play in the first quarter of San Francisco's season-opening win. Shanahan also used Lance to great effectiveness to score on a designed run against the Green Bay Packers.
Even through four wins, the Cardinals are giving up 21.3 points and 357.3 yards per game to opposing offenses, so you can bet Shanahan is going to do everything in his power to put the Kingsbury-led Cardinals to the test.
Even if Garoppolo can go, it's time to let Lance cook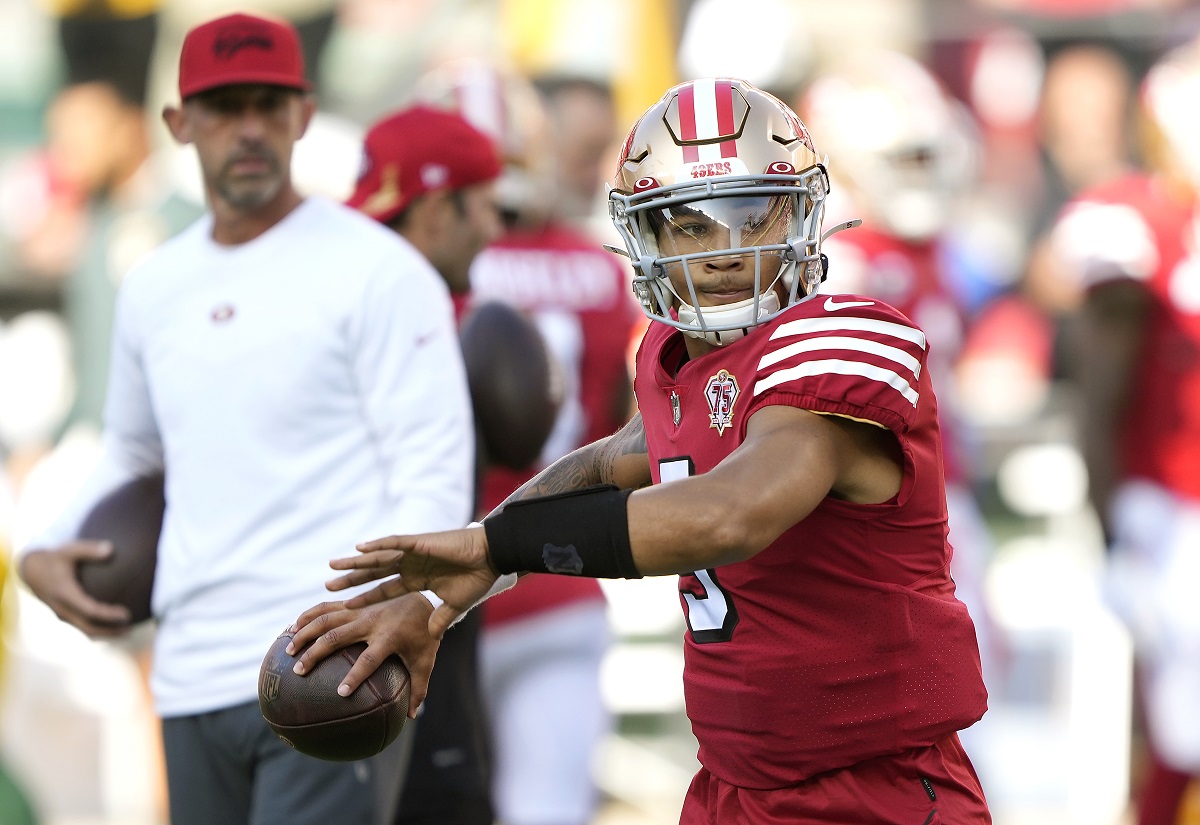 While it initially seemed like Garoppolo could miss time, it's worth noting that Shanahan hasn't yet ruled him out for this Sunday's game.
"It wasn't as bad as we thought it might've been. Seeing him today, he's in a lot of pain. He's still sore. Hopefully, by the time he comes in Wednesday, if it's getting better, then he'll have a good chance," Shanahan said, according to Kyle Madson of NinersWire.
It could also go the other way, according to Shanahan. But either way, this is the perfect opportunity for the 49ers to let the reins loose on the Trey Lance era. That's especially true now that the team has the chance to game-plan for him as the starter.
Lance was admittedly a bit shaky during his extended playing time in a loss to the Seattle Seahawks this past weekend, but he also flashed some incredible potential. On multiple instances, he used his escapability in the pocket to extend plays, and he showcased a strong arm. He'll need to reel in the accuracy a bit, but some of that could have been nerves. He's also a rookie, remember.
He finished the day completing nine of 18 passes for 157 yards and two touchdowns. He also ran seven times for 41 yards and ultimately provided the 49ers the spark they needed to make it a close game despite the loss.
And perhaps that's the biggest takeaway. Lance provided a spark.
Garoppolo has nothing to apologize for as a quarterback, but the one thing he generally isn't is exciting on the field. He's a game manager, and while that's okay, is he really the quarterback Shanahan needs to pair with his extraordinary ability to call a football game?
Lance, on the other hand, looked dynamic, albeit raw. With a week to prepare for the Cardinals and for his first potential NFL start, he certainly gives the 49ers the best chance to pull off an upset.
Stats courtesy of Pro Football Reference
RELATED: Trey Lance and the Best Week 5 Fantasy Football Waiver Wire Names to Help Save Your Team