Tristan Thompson Just Sent Grayson Allen Retaliatory Warning Prior to Bucks-Bulls Matchup: 'We Gon' Have Issues'
Grayson Allen has been a critical piece of the Milwaukee Bucks' title defense this season, but his reputation as a dirty player came back to haunt him earlier this year in a matchup with the Chicago Bulls.
Allen fouled Chicago guard Alex Caruso on a breakaway layup, Caruso ended up with a broken wrist, and the Bulls have been without their defensive ace since Jan. 21.
Tristan Thompson was a member of the Sacramento Kings at that point, but he's made it clear he has his current teammates' back heading into a March 4 rematch between the two rivals.
Thompson sent a stern warning to Allen that retaliation may be coming his way.
Grayson Allen broke Alex Caruso's wrist during a Bucks-Bulls game on Jan. 21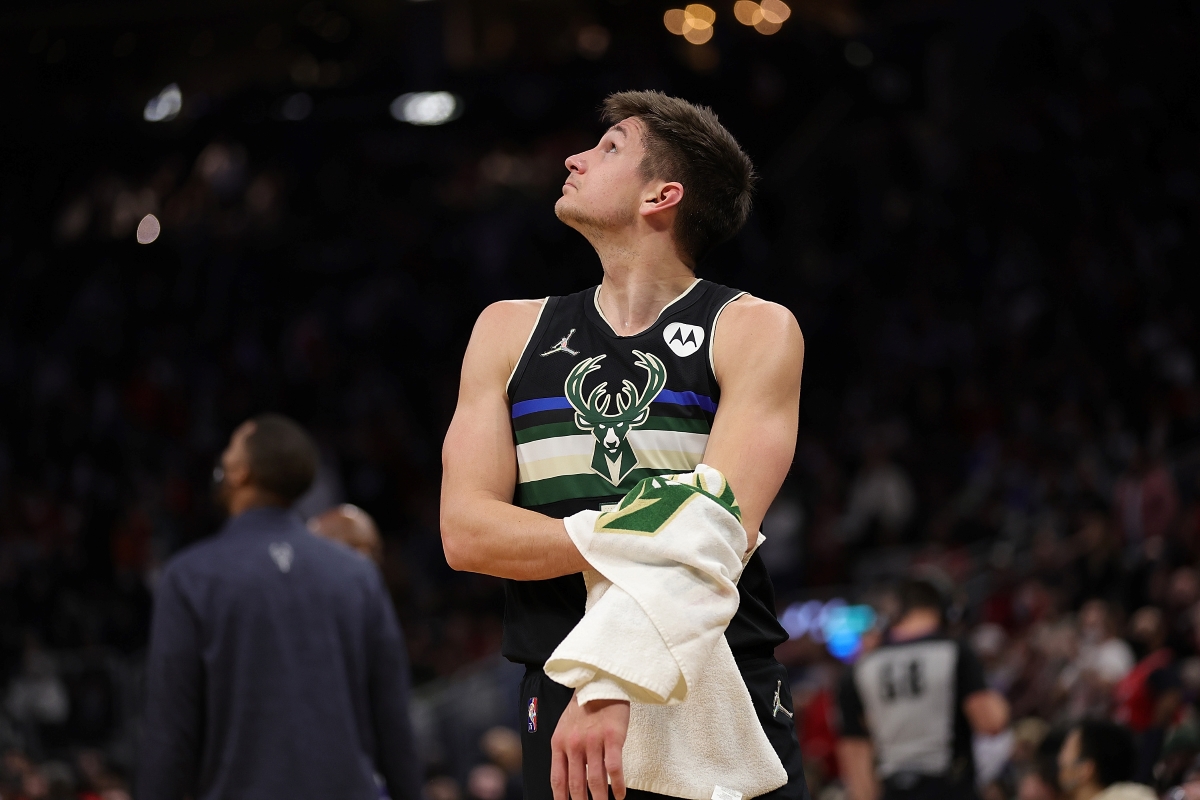 Chicago was rolling as one of the NBA's best teams in January before injury problems struck. One of those issues came when Allen hammered Caruso on a layup attempt during the two teams' last meeting on Jan. 21.
The Bulls got a steal, Caruso caught a pass on the ensuing fast break, and Allen came from behind with a hard foul that sent the former Lakers' guard to the ground.
Caruso left with a wrist injury, and Allen was ejected with a Flagrant 2 foul. Chicago's best backcourt defender had surgery shortly after and has yet to return to the court.
Bulls head coach Billy Donovan called the play "really dangerous" and said it could have jeopardized Caruso's career.
"It was very unfortunate how it played out," Allen wrote via Discord (h/t NBCSports). "I jumped to block it with my left and as I'm spinning went to grab the ball with my right hand not throw him down.
"It was a really hard fall and I'm glad he's okay. If I could do the play over again knowing he'd fall like that I wouldn't make the play."
Given his history as a dirty player, the former Duke Blue Devil didn't get the benefit of the doubt on that one, apparently even from afar.
Tristan Thompson let it be known that Allen should be watching his back
Thompson was a member of the Kings when the play in question went down. That was actually two teams ago for Tristan (he also had a brief stint with the Indiana Pacers).
The burly forward played a key role alongside LeBron James and Kyrie Irving with the Cleveland Cavaliers team that won the 2016 NBA Championship. He was the fourth overall pick in the 2011 NBA Draft but has never developed into more than a role player.
The Bulls brought him in to defend and rebound. The 6-foot-9, 254-pounder has played in 38 games this year — four with Chicago — and has averages of 6.5 points and 4.0 rebounds in 16.8 minutes.
Regardless, Tristan clearly doesn't care how long he's been in the Windy City. If Allen wants to go, he's ready to go.
Per Rob Schaefer of NBCSChicago, Thompson said in part:
S***. Take one of my dogs out like that, we're gonna have issues. … You gotta set the tone. That's what Bulls basketball is about, setting the tone.

I think guys have (it) in the back of their head. And if guys wanna play chippy let's play chippy. I like it. I like a little blood and sweat, so I enjoy it.

Chicago Bulls' forward Tristan Thompson on facing Grayson Allen and the Milwaukee Bucks
Four games in, the 30-year-old journeyman seems to know what Bulls basketball is about and just who to target.
The matchup has serious Eastern Conference ramifications, retaliation or not
Warnings, quotes, jokes, whatever aside, the game will have legitimate consequences in the East.
Heading in, Chicago is 2.5 games behind the first-place Miami Heat in the standings. Milwaukee is just one game back of the Bulls and is coming off a dramatic win over Miami.
Both teams have dealt with myriad injuries throughout the 2021-22 campaign, but both are still within shouting distance of the conference's No. 1 seed. Chicago is in the middle of a return to franchise form and is hoping to get healthy for a playoff push behind DeMar DeRozan, while the Bucks are trying to defend their NBA crown.
If things do get chippy, it could be because of the Allen-Caruso play. But both teams know there's more on the line than revenge. The East's top seed is up for grabs — that should outweigh the bloodlust of someone who joined the rivalry eight days ago.
All statistics courtesy of Basketball Reference.
RELATED: Alex Caruso Injury Update: Latest Instagram Post Creates Excitement For Bulls Return