Troy Aikman Alludes to His $7.5 Million Fox Paycheck in Response to Thoughts on a Dallas Cowboys Front Office Job
Being a quarterback is a job that opens doors after retirement. Hall of Famer Troy Aikman retired from the NFL after the 2000 season. But he has stayed in the spotlight since. Aikman went into broadcasting the season after his football career ended.
Despite his broadcasting job, which is now almost twice as long as his playing career was, Aikman is still closely associated with the Cowboys. He led the team to three Super Bowl titles, so Cowboys fans still hold him in high regard. In fact, there is longstanding talk about him becoming the Cowboys' general manager. This doesn't seem likely to happen, and money is a factor.
Jerry Jones may consider making Troy Aikman the Cowboys' general manager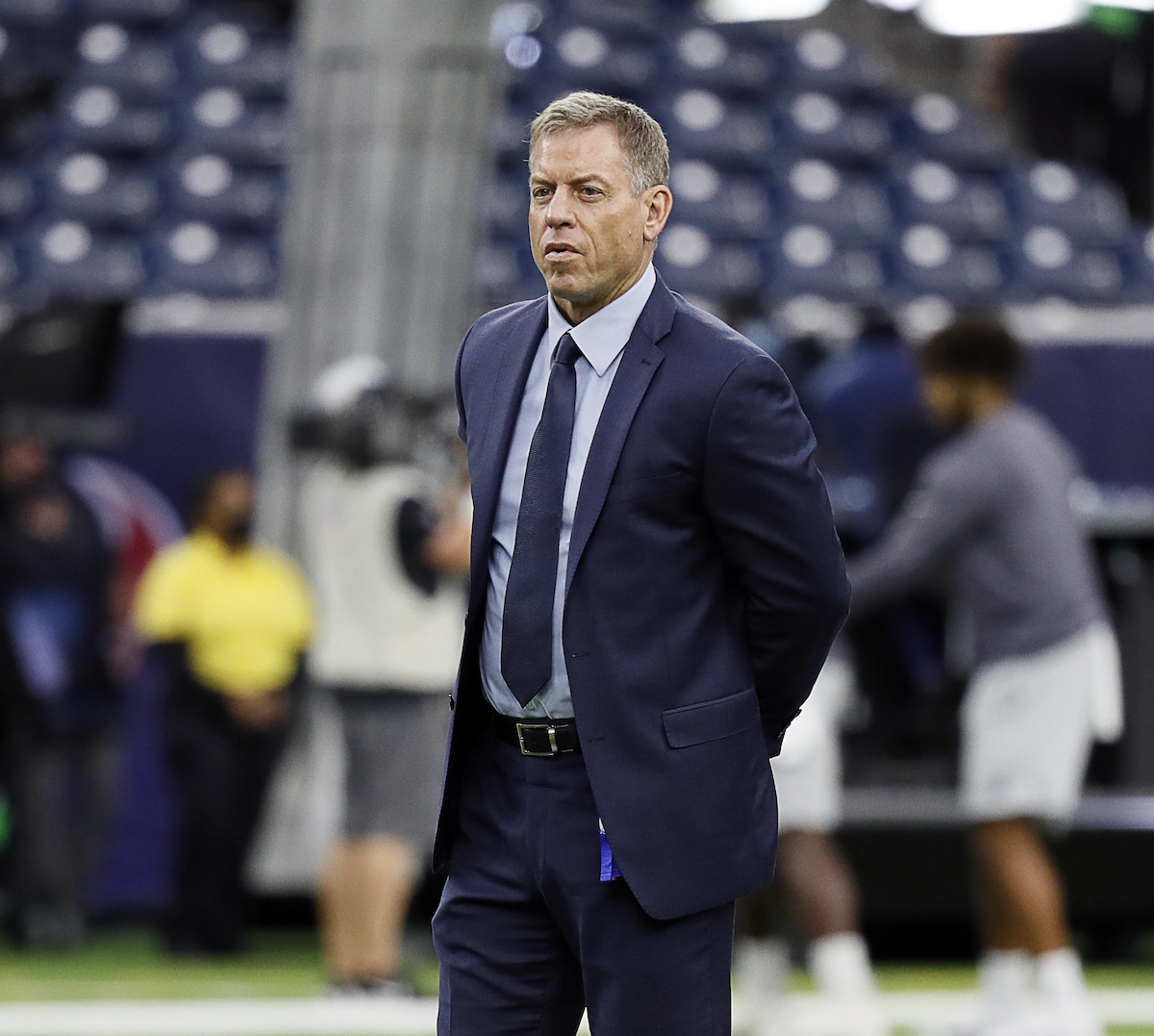 The topic of Aikman joining the Cowboys' front office is nothing new. Longtime owner Jerry Jones knows it's been nearly three decades since the Cowboys last won a Super Bowl. At 78 years old, he wants to earn another one sooner than later. Jones has previously said he "would do anything known to man to get back to a Super Bowl," let alone win one.
Hiring Aikman for a front-office role is an option to help achieve this goal. Jones has said he would "put Troy at the head of the list if we were gonna make a decision as far as football personnel." For his part, Aikman seems interested in one day becoming a GM.
The 54-year-old has discussed the possibility in the past, including 2019. Back then, Aikman said, "I've said many, many times, I still believe there's another frontier for me — maybe there's not — but I believe that there is, and I think that might very well be it."
If he's talking about another frontier beyond broadcasting, it would likely be joining a front office. But Jones probably wouldn't hire Aikman because, in the quarterback's own words, "it's a family affair" with the Cowboys. Jones' son Stephen is seemingly gaining more power with the franchise every year.
Reporters still ask Aikman about the Cowboys' front-office job
Even though it's unlikely that Aikman would ever join the Cowboys' front office, reporters continue to ask him if he would take the team's GM job. When talking with reporters about the Cowboys and Jones in July, one reporter mentioned to Aikman, "One of us may ask if you would ever consider bringing in an outside GM … for example, somebody like Troy Aikman."
In his response, he alluded to his job with Fox Sports and how lucrative it is for him. He stated, "That job I got is pretty good over there at Fox. You know how good that Fox job is, right?" He didn't rule out the possibility completely, though, adding "Maybe one day."
How much does Troy Aikman make at Fox Sports?
When Aikman talks about how "good" his job with Fox is, he may be alluding to the fact that he only works a couple of days a week during the season and doesn't have many other responsibilities in the offseason.
The real "good" part of his current career involves is money. When Tony Romo re-signed with CBS Sports for a massive contract last year, Touchdown Wire reported that Aikman "makes around $7.5 million a year," which is a nice payday considering his limited workload.
Aikman also doesn't need to worry about dealing with the scrutiny and criticism that fans and the media put general managers through. Between the millions he made as a player and the money he's earned in 20 years at Fox, Aikman's net worth is estimated to be around $50 million.
RELATED: Troy Aikman Looks Like He Wants to Leave the Broadcast Booth and Supplant Dak Prescott as the Dallas Cowboys' Quarterback