Troy Aikman Calls His Broadcasting 'Party Trick' a 'Gift to Myself' as He Comments on Monday Night Football
Troy Aikman has been a sports media mainstay for 20 years. During that time, he has become one of the most recognizable voices in NFL broadcasting. Even a generation that didn't grow up watching him play knows him. Even as Aikman starts the next phase of his career with ESPN, he still thinks of himself more as a player than a part of the media.
There are perks to being in front of the microphone, though. And no, Aikman doesn't mean just the money. His current job has left him with a new perspective on the game. And he has a "party trick" he gained thanks to his long-running broadcasting career.
How did Troy Aikman land his ESPN broadcasting contract?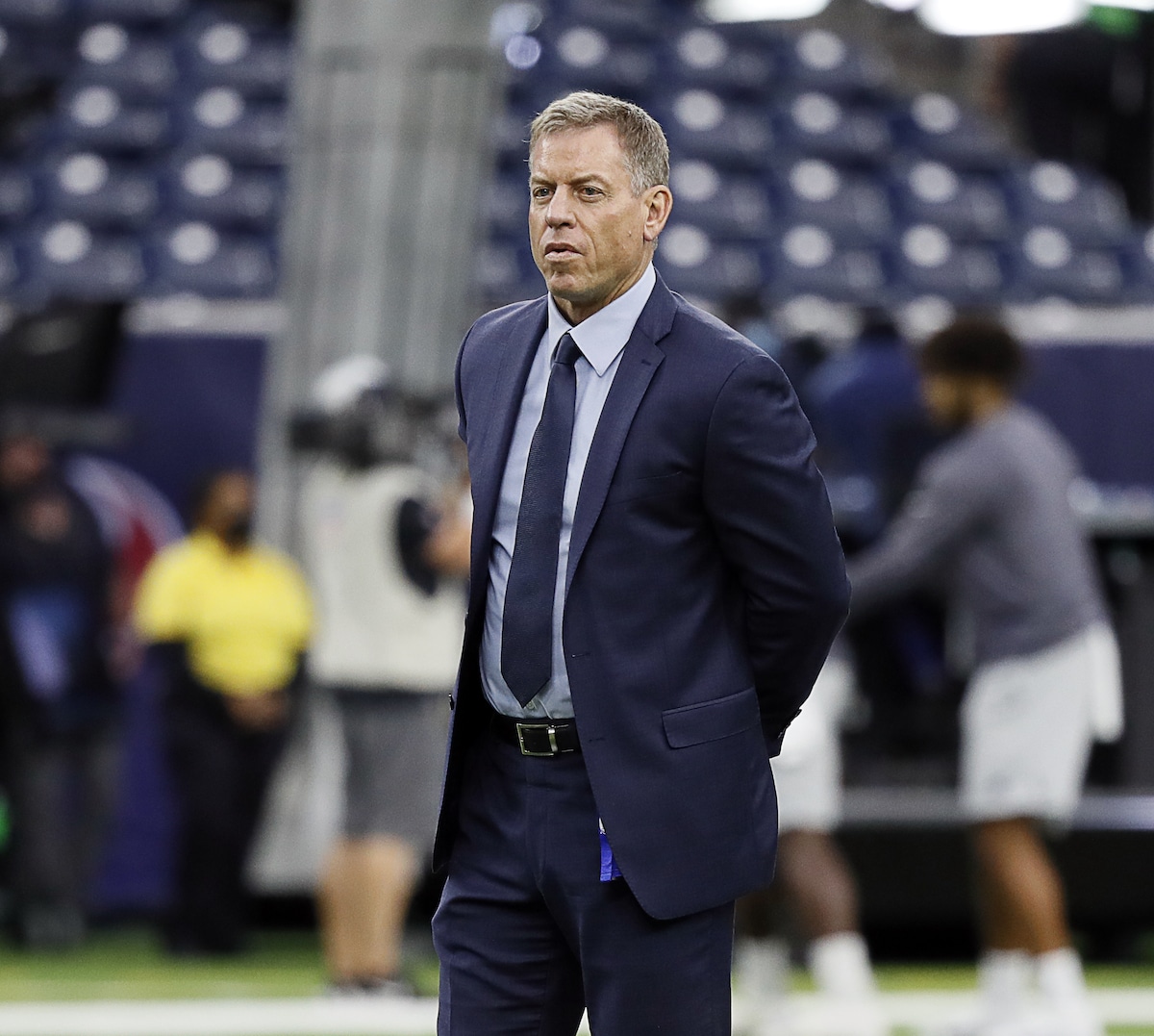 Aikman didn't take broadcasting seriously at the start. According to the Dallas Morning News, it began as a "fun gig" to keep the former Dallas Cowboys quarterback busy after his NFL career concluded in 2000. Two decades later, he regularly fields questions on whether he identifies more as a player or a color commentator.
ESPN certainly made a big bet on his skills as a broadcaster. After spending his long commentary career as announcer Joe Buck's Fox sideman, the pair became free agents in the 2022 offseason. The three-time Super Bowl champion enjoyed another major career accolade: a bidding war.
The winning offer from ESPN is massive. The former Cowboys star will enjoy a $90 million, five-year contract from the sports network. With competition for steady hands in the broadcasting booth heating up, this might not even be the biggest contract Aikman pulls in his career. He'll make more than he ever did as a player — but does he see himself as a broadcaster these days?
Aikman's 20 years of broadcasting experience have gifted him with a 'party trick'
Aikman recently opened up in a YouTube interview with sports entrepreneur Joe Pompliano on his broadcasting career. Despite years in the media, he sees himself as a former player. The former QB explained, "I respect the players and the coaches that do it. Because I know it's hard to do. And there's nobody who wants to win more than they do, and there's no one who puts in more time to win than I do. And I think the easy thing to do is be the critic."
This is how Aikman gets his interview subjects — active NFL players and coaches — to open up. He sees himself as a color commentator and a peer of the people he covers, not an oppositional journalist. Sure, it makes for many fluff interviews, but it also avoids the shields-up attitude many NFL personnel have when the microphones come out.
So what has the three-time NFL champion gained from his long-running position in broadcasting? An appreciation for the bigger picture of the many pieces that make up an NFL team — and a newfound ability to memorize the entire roster.
"You do become aware of players and numbers. And I remember when I first got into broadcasting, I was at a seminar, and Brian Baldinger was there, who's on NFL Network. I mentioned a teammate or some player — kind of an obscure player that not many people would've known — and he immediately said '64,' his jersey number," Aikman reminisced.
"And now I get it because when I'm watching a game that I'm not calling, as soon as I see a player do something, for the most part, I know who that is immediately by their number, even if it's someone that most fans wouldn't be that aware of. That's my gift to myself. It's not so much a party trick. I don't know that anybody gets impressed by it."
Aikman does not take his success as a broadcaster for granted
Aikman's salary is tied with Tony Romo's for the most well-compensated broadcasters in sports. He now enjoys the Monday Night Football slot, which fans have long hoped would return to its former glory someday soon. His broadcasting career, at this point, has as much cultural cache as his playing career.
But Aikman doesn't necessarily see it that way. He considers himself primarily a former player. While that might seem odd, given his 20 years in the broadcasting business, it does match up with his career.
Initially, he wasn't taken seriously on the job. He wasn't seen as a natural fit by many of his peers.  "There were people when I was coming out [of football and into broadcasting] — they didn't think that I would have a career when I went into broadcasting," the former QB told Huddle Up.
"There's others who have gotten into it that people thought would be fantastic, and it didn't work out so well for them. It really is one of those deals — it's almost like drafting a quarterback. You just don't know."