Troy Aikman Calls Out NFL Owners, Agrees With Tom Brady Concerning the League's Future: 'There's a Lot of Bad Football'
Troy Aikman won three Super Bowls as a quarterback for the Dallas Cowboys. After retiring, he moved to the broadcast booth, where he remains one of sports media's most revered and trusted voices. So suffice it to say, Aikman's is an opinion worth listening to when it comes to the NFL. 
Aikman made recent comments in which he doubted the quality of play in the NFL, mirroring the opinion of another great quarterback: Tom Brady. Let's take a closer look at what Aikman thinks about the skill level in the current NFL.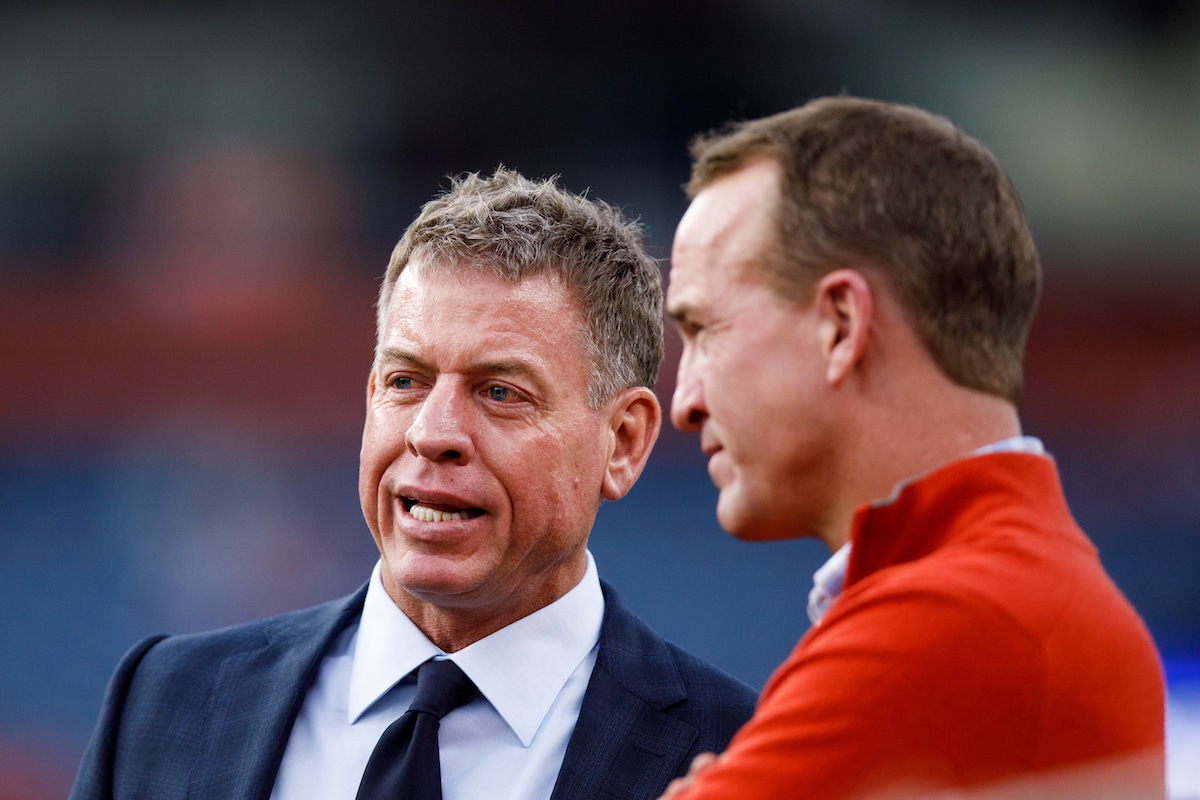 Troy Aikman believes the NFL focuses on two primary areas
On a recent appearance on Huddle Up, Aikman commented on his concerns about the quality of play in the NFL. He first discussed where he thinks the league's current attention lies. "There's two things, it seems to me, that the league is focused on," said the UCLA alum. "One: player safety, which obviously is important for the longevity and viability of our sport. But then the other part of that is revenue."
The former Cowboys quarterback went on to say, "It's a big business. And I think maybe lost in that is what about the game itself? What are we doing to steward the game itself? And that part of it, I will be honest, that part of it does concern me. If the decision-makers aren't as equally focused on the game itself and only view it as a business, what does that look like 10, 15 years from now?" 
It's a valid criticism. While Aikman no doubt understands the business side of the game, there's no question that a laser on focus has the potential to hurt the game. 
According to Troy Aikman, the NFL's current focus is hurting the game
Aikman dove deeper into the league's focus on revenue, talking about it concerning the league's collective bargaining agreement (CBA) with its players.
"In an attempt to increase revenue, and when we've had CBA negotiations between the owners and the players," said Aikman. "What's come of that is that the owners have continued to get their share of the pie, and the players, when they haven't gotten what they've wanted on the financial side of it, they've negotiated less time practicing, less time at the facility.
Cutting practice time might be better for the players in the short term, according to Aikman, but it also hurts the overall game.
"I'm a believer that if you're going to be good at anything, you've got to put in the time," Aikman continued. "So if you put less time into something, it only stands to reason you're gonna be less effective. So if we continue to have less time practicing, then it only stands to reason that the football is not going to be played at the same level. I think that's what we've seen."
It's hard to argue with the Hall of Famer's logic. It's the same sentiment expressed by Tom Brady. 
When it comes to the quality of NFL play, Troy Aikman agrees with Tom Brady
According to Sports Illustrated, Brady recently said, "I think there's a lot of bad football from what I watch," Brady said Thursday. "Poor quality of football, that's what I see." The legendary color commentator concurs.
"I don't think the football — Tom Brady, a month ago or so, said what he sees is a lot of bad football, and I would agree with that," said Aikman. "There's been a lot of bad football. There's been times this year when I've watched games, and I've thought to myself, 'Wow, this is professional football.' And yet we can't execute some of the simplest of things. And I think a lot of it's due to the lack of time that we've spent on the floor."
So will the NFL's quality of play improve? It might be hard with training time decreasing over the last decade, but it's something the league will need to seriously look at going forward. 
RELATED: Troy Aikman's Hall of Fame Career Came to a Devastating End on 1 Play
Related post url: