Troy Aikman Debunked a Big Myth About Tony Romo's Competitive Side
Being an NFL quarterback is a challenging job for many reasons. Fans and analysts alike form a mountain of opinions about players, leading to a shift in perception. Legendary Dallas Cowboys quarterback-turned-commentator Troy Aikman is familiar with that concept. That's why he went on the record to debunk a big myth about how fellow retired Dallas QB-turned-broadcaster Tony Romo viewed competition during his playing days.
Troy Aikman's NFL bona fides include three Super Bowl wins and a Hall of Fame induction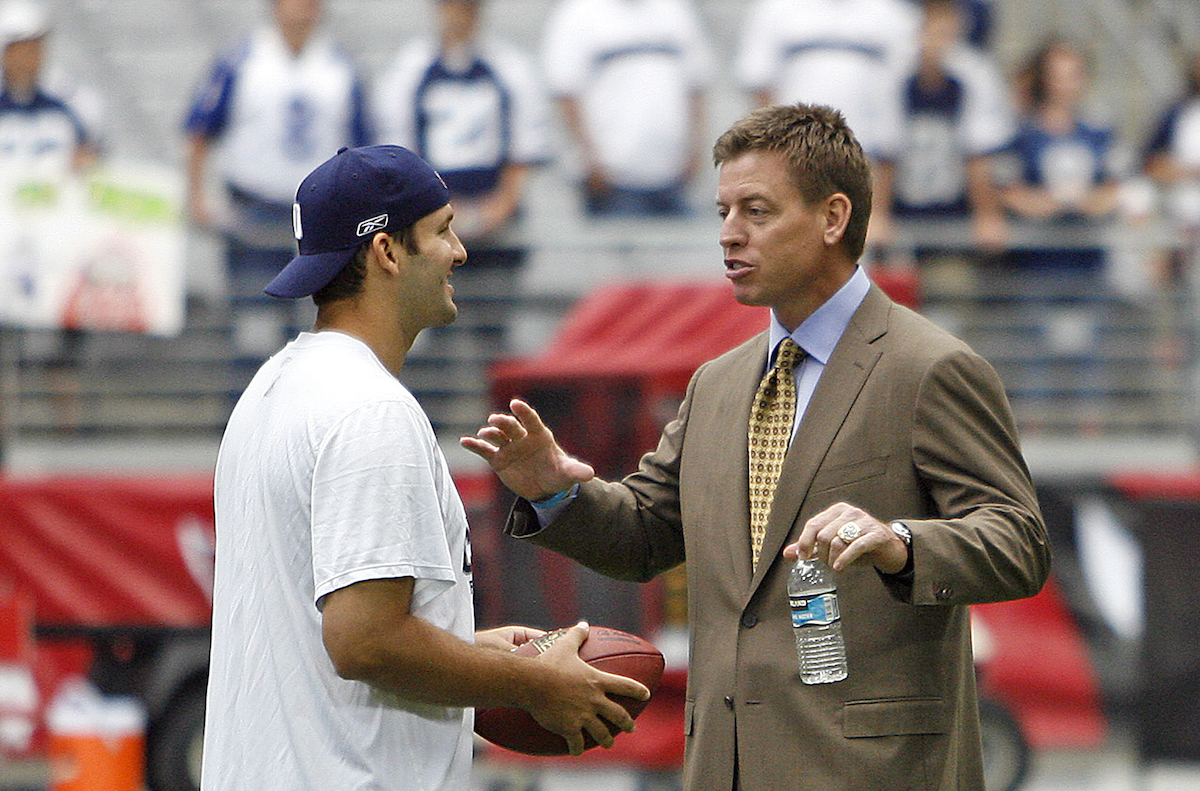 Aikman's football career began in college with the University of Oklahoma. He moved to the University of California after Oklahoma introduced the wishbone offense, emphasizing rushing instead of passing. His work with the University of California eventually caught the NFL's attention. The Dallas Cowboys made Aikman their number-one draft pick in 1989. 
It took time for Aikman to find his footing, with interceptions and injuries marring his first couple of seasons. But the 1992-93 season saw him hit his stride. The quarterback would lead the Cowboys to a Super Bowl win over the Buffalo Bills and earn the MVP title along the way. The following year, Aikman's Cowboys would repeat their Super Bowl performance, defeating the Bills to defend the title. 
Aikman brought home one more Super Bowl win for Dallas, appeared in six consecutive Pro Bowls, and passed for over 3,000 yards in four seasons. However, injuries, most notably several concussions, affected Aikman's performance later in his career. This impact would lead to his retirement in 2001 and gig as an NFL broadcaster and analyst for Fox Sports.
In 2006, Aikman entered the Pro Football Hall of Fame. He went on to become one of Fox Sports' most successful broadcasters with a 20-year career that saw him call some of the most significant moments in the NFL. The transition from famed QB to broadcaster felt seamless to many fans. His longevity and knowledge have made Aikman one of the most respected voices in football, with an opinion valued highly on and off the field.
Troy Aikman set the record straight on Tony Romo's competitive side
Having made his career with the Dallas Cowboys, Troy Aikman has opinions about another famed Dallas quarterback. During a Q&A with the New York Post in 2013, the subject of Romo came up. Due to an injury, he couldn't play in an upcoming game against the Philadelphia Eagles.
Asked for his thoughts on how Romo might feel about not playing against the Eagles, Aikman said earnestly:
"Probably one of the biggest myths surrounding Tony is that he doesn't like competition. I know Tony well … the guy has a thirst for competition, he loves competition. Like any quarterback, you don't always win, but to say, 'Well, this guy cowers when there's competition,' nothing could be further from the truth."
Tony Romo picked up where Troy Aikman left off
Tony Romo's career with the NFL began two scant years after Troy Aikman retired from the game. Once he earned the starting QB position, Romo's ability to adapt to changing situations and his willingness to throw downfield made him a household name in Dallas. At the end of the 2006 season, he became the first Cowboys quarterback selected for the Pro Bowl since Troy Aikman in 1996, Britannica reports.
Much like Aikman, Romo had a career filled with many record-breaking moments. However, he was also plagued by injuries that kept him out of several games. The worst injury was a broken collarbone that left Romo able to only play in six games of the 2015 season. Unfortunately, the Cowboys could not rally without him that year, finishing with a 4-12 record in his absence.
In 2017, Romo surprised everyone by announcing his retirement from the NFL. And just like Troy Aikman before him, Romo would turn to the broadcast booth, becoming a commentator for CBS Sports. His insights and experience led to Romo's becoming lauded for his ability to accurately predict what plays teams would run next and analyze them accordingly.
In 2020, he signed a contract worth over $100 million, amounting to the largest annual salary for any sports broadcaster in history at the time. Whether on the field or in the broadcasting booth, there's no doubt Tony Romo has been a valued commodity.
RELATED: Jimmy Garoppolo and Tony Romo Have 1 Thing in Common