Troy Aikman Describes the Hilarious Way He and Jimmy Johnson Played Good Cop/Bad Cop With the Cowboys
Head coach Jimmy Johnson and quarterback Troy Aikman led the Dallas Cowboys football dynasty of the '90s. The two were both very demanding and played off each other to motivate and encourage the rest of the team. Together, Johnson and Aikman won two Super Bowls. Aikman went on to carry the Cowboys to another championship after Johnson's departure.  
Troy Aikman, Jimmy Johnson, and the '90s Cowboys
RELATED: Troy Aikman's Hall of Fame Career Came to a Devastating End on 1 Play
When Johnson took over the Cowboys in 1989, they were a shell of a team. They had the worst record in the NFL the season before. The only good thing to come out of it was the first pick in the NFL draft that year. They nabbed Aikman, a fresh-faced UCLA QB. Although they didn't fare too well the next season, Johnson set up a series of smart draft options that made up the core team for a good part of the '90s.
Johnson was a tough and demanding coach. He expected his players to come to camp ready to work without excuses. His hard-nosed ways were sometimes at odds with players and upper management, but as the team won more games, it was obvious that his tactics were working.
The Cowboys won back-to-back Super Bowl titles during the 1992 and 1993 seasons. But the good times wouldn't last for long. Shortly after their second Super Bowl win, friction with Cowboys owner Jerry Jones led Johnson to swiftly resign from his position.  
Aikman and Johnson play good cop/bad cop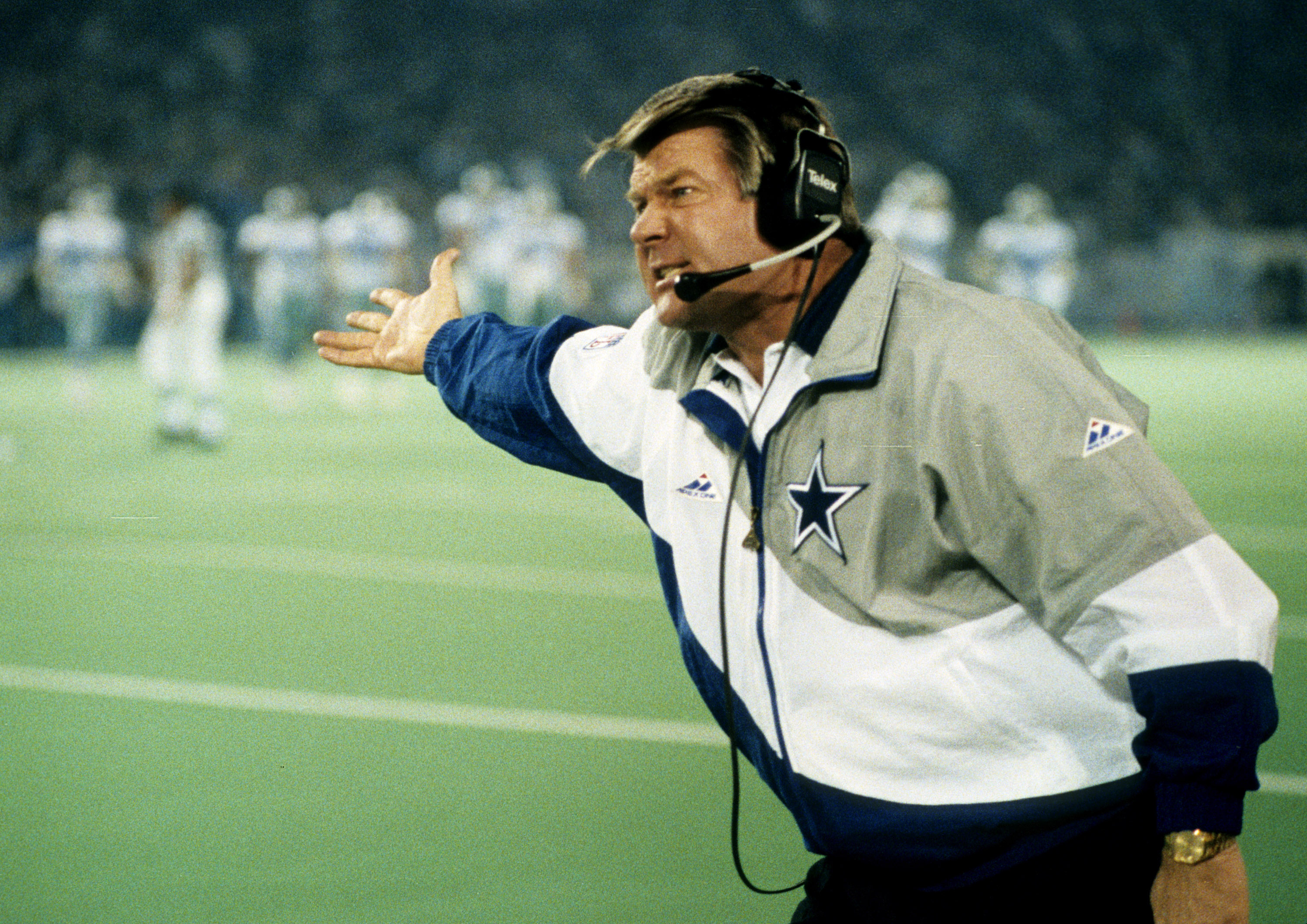 Johnson was fiery and demanding, but so was Aikman. Together, it was a perfect pairing. Aikman recently discussed his leadership role on the team with Morten Andersen on his podcast Great Dane Nation. The QB described himself as a "no-nonsense guy" who was "demanding of the team and my teammates." He said Johnson was the same way, telling Andersen:
Jimmy was tough. So, it was the good cop/bad cop scenario. He'd let everyone have it. He'd start the practice over, and then I'd be the guy who would come into the huddle and say. 'Guys, look, forget about him. Let's just go do our thing.' But I agreed with everything he said. So I could be the good cop.

Troy Aikman on former Cowboys coach Jimmy Johnson
The coach/quarterback combo led to two back-to-back championships and a successful team. But when Johnson left, Aikman had to change how he approached his leadership role.
A new era for Aikman and the Cowboys
RELATED: Why Troy Aikman Believes He Will Never Become the Cowboys GM
Barry Switzer came in after the Johnson resignation and had a totally different approach. He wasn't as challenging or formidable as Johnson, so Aikman had to take on that role, but it wore on him. He told Andersen:
It was challenging. It was tough. It's hard to be that guy all the time. It took a lot of the enjoyment out of the game for me, I know. But I just really felt my job more was to do whatever was necessary to give our team a chance to win.

Troy Aikman on his time with the Cowboys
As exhausting as it was, it paid off. The Cowboys won their third Super Bowl of the '90s during the 1995 season, solidifying their place in football history. Aikman went on to say that if he was in the same situation today, he might approach it a bit differently. However, at the time, challenging his teammates was how he got results.
While the team got results under Switzer's leadership, Aikman says it wasn't as much fun as it was under Johnson's control, particularly because he had to be the bad cop all the time.