Troy Aikman Explains His 'Groundhog's Day' Moment With the Dallas Cowboys After Jimmy Johnson Left
Remember the classic comedy movie Groundhog Day, where Bill Murray keeps repeating the same day over and over? Dallas Cowboys quarterback Troy Aikman details how his player-coach relationships resembled a groundhog day experience of his own. The Hall of Famer just couldn't seem to escape football coach Barry Switzer.
Troy Aikman's rising star
Aikman chose the Oklahoma Sooners football program because he trusted head coach Barry Switzer and believed they were a good fit. Unfortunately, run-heavy Switzer's wishbone formation was not ideal for the young quarterback. Aikman played 24 games of uninspired football with the Sooners before injuring his leg against the Miami Hurricanes. It was time for a change. 
Switzer was instrumental in guiding Aikman's transfer to UCLA, reaching out to Bruins head coach Terry Donahue personally with a recommendation. Aikman was immediately successful at UCLA, becoming a consensus all-American and winner of the Davey O'Brien award for best NCAA Quarterback, as Sports Reference reports. Aikman's star was on the rise. This wouldn't be the last he would see of Switzer. 
Aikman and Jimmy Johnson's partnership
After going 3-13 in 1988, at the behest of head coach Jimmy Johnson, the Dallas Cowboys chose Troy Aikman with the No. 1 pick in the 1989 NFL draft. In the '90s it was common for rookie quarterbacks to sit on the bench behind a veteran for a few years, and the league was far heavier on running the ball than it is today. Johnson immediately throwing Aikman into the fire as a rookie quarterback was a rarity.
The quarterback's performance and the team's record of 0-11, reports Sports Reference, reflected that there was room for improvement. Over the next three years, Aikman and the Cowboys continued to improve. Michael Irvin coming into his own and draft picks of Alvin Harper, Emmitt Smith, and other key players on both sides of the ball created the dynasty that became "America's Team." In 1993, Aikman made his first in a stretch of six Pro Bowls and three Super Bowls.
His time in the NFL was not Aikman's first experience with Johnson. Johnson tried to recruit Aikman twice, out of both high school and college, before they ended up together in the NFL. Aikman describes a rocky relationship with Johnson that challenged him and made him better throughout this period. Now they're both Hall of Famers. 
Barry Switzer replaces Johnson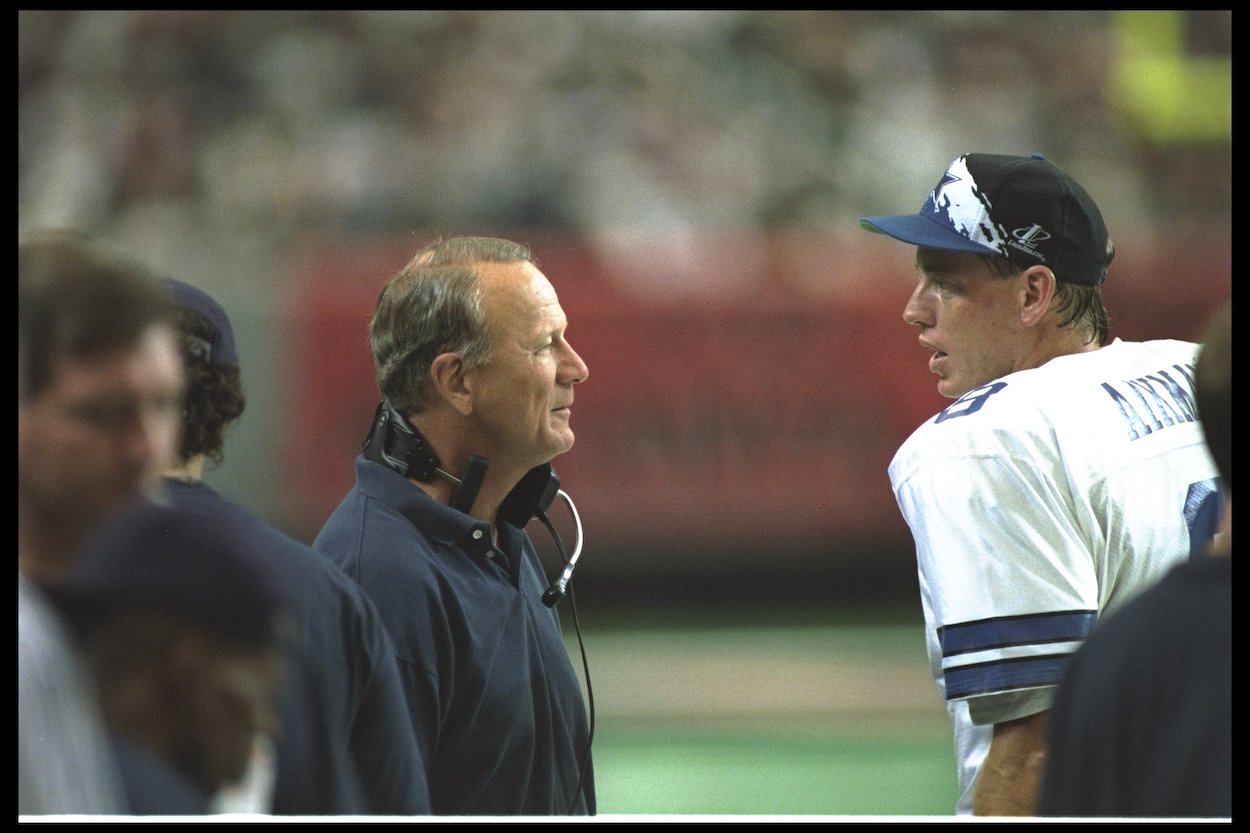 On the Great Dane Nation podcast with former kicker Morten "Great Dane" Andersen, Troy describes when Cowboys owner Jerry Jones fired Johnson and replaced him with Switzer:
The whole breakup with Jimmy and Jerry was at the owners' meetings, and Jerry said, "1 of 500 coaches could have done what [Jimmy Johnson] had done." At that time, he mentioned something about, "I'll just go hire Barry Switzer." I remember thinking, "Barry Switzer? [laughs] Where does he fit into all this? He hadn't even been coaching for a number of years after he retired from OU." Sure enough, that's who he went with. I thought it was a great hire. I really did.

The Barry Switzer that I played for at Oklahoma was tough. He was demanding. I thought the players would love him, would love his style. And Barry's got a terrific resume. He's been a great football coach for a long time."
Since Switzer resigned, the Cowboys have had six coaches in 20 years. Jones has developed a reputation as having a quick-trigger. So Aikman's shock at the replacement of Johnson wasn't out of place. The retired quarterback continued, "Yeah, it was pretty much groundhog's day for me more … It's quite a story with all those guys we kind of keep circling back through in my life."
Switzer and Johnson are two of only three coaches to win both a Super Bowl and NCAA championship. Johnson and Aikman are both in the NFL Hall of Fame and while not in the NFL Hall of Fame, Switzer was an easy NCAA Hall of Fame selection. So, this version of Groundhog Day created an extraordinary level of success for the star and supporting actors. 
RELATED: Why Troy Aikman Nearly Left Fox in His First Year Working Alongside Joe Buck