Troy Aikman Explains Why Jimmy Johnson Was a Great Coach but 'Even Better as a Talent Evaluator'
The NFL has seen plenty of stellar coach/quarterback combos over the years. Bill Belichick and Tom Brady will likely go down as the best pairing of all time. Other great pairs include Bill Walsh and Joe Montana, Chuck Noll and Terry Bradshaw. Jimmy Johnson and Troy Aikman also had undeniable synergy in their short time together with the Dallas Cowboys.
Aikman has always praised Johnson's abilities as a coach. Yet he recently pointed out that Johnson was even better as a talent evaluator. Let's look back at a pivotal time in Dallas' history, and how Johnson's decisions about personnel helped shape the Cowboys into the most dominant NFL team of the '90s.
Troy Aikman and the Dallas Cowboys got off to a rough start
The Aikman-Johnson pairing got its start in 1989. That year, the team hired Johnson as their coach, and also drafted Aikman with the first overall pick of the NFL draft. Contrary to expectations, however, this new era of the Cowboys got off to a rocky start.
Aikman's rookie season was one of the worst in franchise history, with the Cowboys posting an absolutely dismal 1–15 record. Things improved in Johnson and Aikman's second year — at least relatively. The team posted a 7–9 record and failed to make it into the playoffs for the fifth-straight season.
Things start turning around for the Dallas Cowboys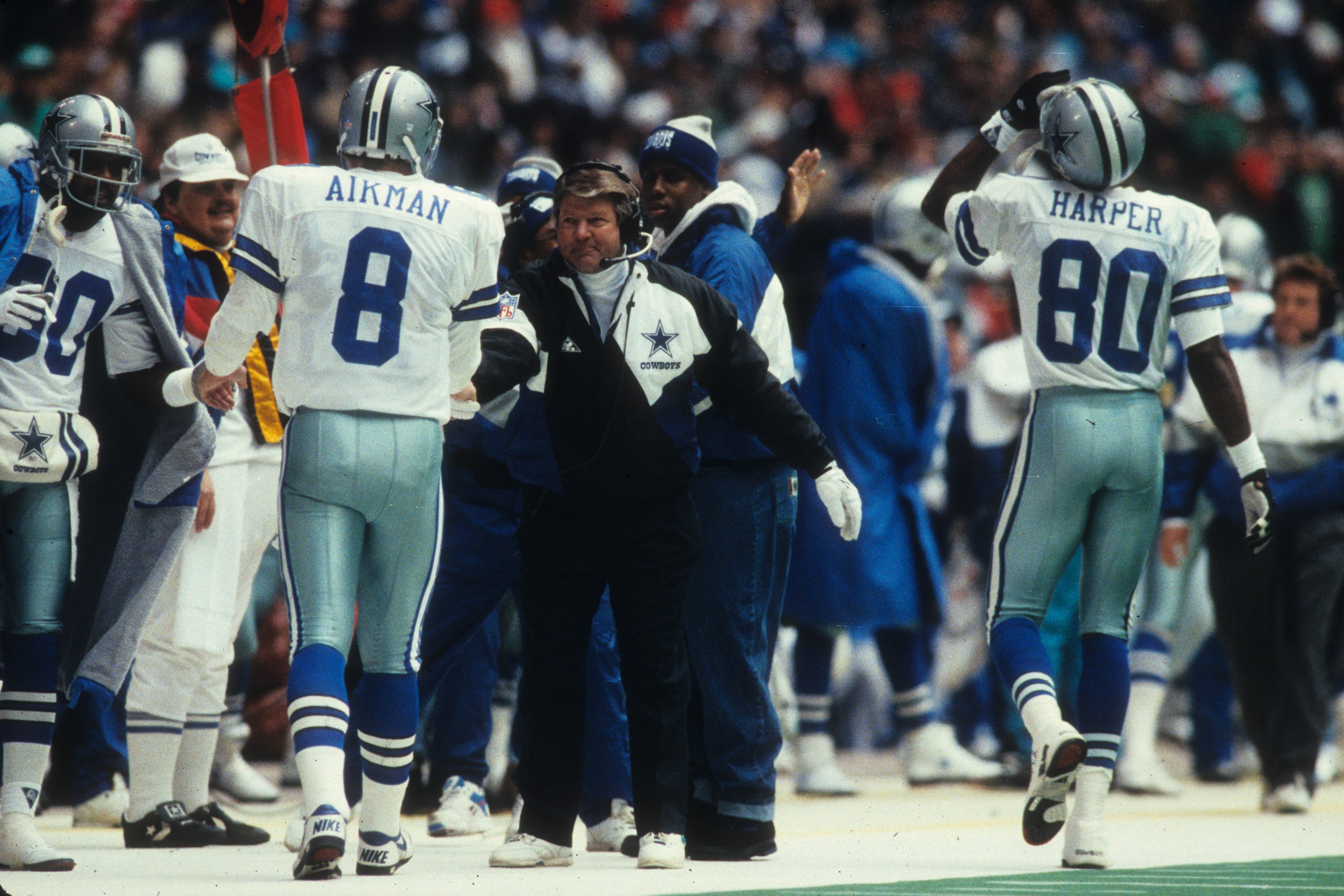 The Cowboys' fortunes would shift dramatically in the 1991 season, beginning one of the most impressive runs of greatness in NFL history. That run included six straight seasons in the playoffs.
It also culminated in three Super Bowl victories. Johnson didn't stick around for the entire run, of course; his friction with team owner Jerry Jones led the two to part ways in March 1994.
By then, however, Johnson had helped set the course for the Cowboys' continued excellence. Things started changing all the way back in Dallas' dismal 1989 season. Johnson was the one who brainstormed the monumental trade that sent then-superstar running back Herschel Walker to the Minnesota Vikings for a king's ransom of players and future draft picks.
Though panned at the time, that trade gave Dallas the draft capital that would help them build such a formidable squad in the following years. Even today, the Walker trade continues to stir controversy. In 2019, Johnson himself told The Dallas Morning News that "People to this day still don't understand the Herschel Walker trade."
Troy Aikman's take on Jimmy Johnson as team-builder
That statement of Johnson's isn't completely true, however. At least one person today has a clear understanding of the Walker trade: Troy Aikman himself.
In fact, in a recent appearance on the Great Dane Nation podcast, Aikman singled out the Walker trade as arguably the most important moment in propelling the team toward success. He said:
"So what propelled us. I think it was that four-game win streak but also when we traded Herschel my rookie year. I love Herschel. There was not a bigger fan of Herschel Walker than myself. But we had a lot of picks and then most importantly were those picks, Jimmy drafted a lot of really good players. And Emmitt Smith was one of those picks. And we became a team that was really not very talented to arguably the most talented team in football in a short period of time."
Aikman also took the opportunity to praise Johnson's long-term vision, saying that "as great as he was as a coach, he was probably even better as a talent evaluator." That statement certainly rings true when you look at some of the players that the Cowboys ended up drafting with the picks they gathered through the Walker trade.
Four of those players ended up playing crucial roles in all three of the Cowboys' Super Bowl victories: running back Emmitt Smith, defensive tackle Russell Maryland, cornerback Kevin Smith, and safety Darren Woodson. In Johnson's place, many other coaches might not have had the foresight necessary to single-out such impactful talent.
All stats courtesy of Pro Football Reference