Troy Aikman Fears Matthew Stafford and the Rams May Fall Into the Same Odell Beckham Jr. Trap That Snared Baker Mayfield and the Browns
The rich get richer. Cliche as it is that has been the case for the Los Angeles Rams over the past couple of weeks. With an already-loaded roster, the Rams added Von Miller and Odell Beckham Jr. as they continue to push all their chips in to make a Super Bowl run.
Whether this strategy pays off remains to be seen. Beckham and Miller suited up for the first time with the Rams on Monday Night Football against the San Francisco 49ers. Sadly, it didn't go as the Rams had initially hoped as the talented Rams offense hit a wall for the second straight week.
This led to questions about the Rams' offense. Dallas Cowboys legend Troy Aikman had some interesting insight and mentioned some Baker Mayfield and Cleveland Browns similarities that could spell trouble for LA.
The Rams first run with Odell Beckham Jr. was not as planned
After Beckham was granted his release from the Browns, he had his first opportunity to sign anywhere he wanted to. Many teams surfaced as destinations, but ultimately it came down to the Rams and the Green Bay Packers.
Beckham decided to head West and join one of the favorites in the NFC. However, the first game in the Rams' OBJ tenure was a struggle.
In the first quarter, Matthew Stafford threw an interception on a questionable ball, one that looked as if he was trying to force-feed it to Beckham deep downfield.
It was clear miscommunication between Beckham and Stafford. However, it was also a ball that he should not have thrown.
Beckham finished the day with just two catches and 18 yards on three targets and was nonexistent. Can things turn around? Certainly, but we have seen these issues before.
Troy Aikman gets honest on Rams issues and compares them to Beckham's time with Baker Mayfield and the Browns
Aikman dropped an interesting take after the Rams sputtered against the 49ers and lost their second straight game after a 7-1 start to the season.
Now, Aikman dropped a world of information, saying some of these issues are exceptionally parallel to Beckham's days with the Browns (h/t Mark Lane of Texans Wire).
"Matthew Stafford throws an interception on the opening possession because he's trying to get the ball down to OBJ. Whether he stopped on the route or not, he's not going to complete that pass. There's two defenders back there. But I think Matthew now feels some of the pressure that maybe Baker Mayfield felt of, hey, we got to get this guy involved, or he's in the game right now because he's going to take this deep route and I've got to find a way to get this ball in his hands because that's why he's playing on this play. It's not good, and it's not good playing quarterback when you feel pressure to get the ball to one particular player. It just doesn't work. So, I don't know. Maybe they can pull themselves out of it and get it going. But that was a beatdown last night."

Troy Aikman on Odell Beckham Jr.'s debut with Rams
Now, Beckham was only targeted three times and ran just a handful of routes in his debut. However, the game's first play went to Beckham, and later in that drive came the interception.
Let's remember why Beckham left Cleveland: He wanted the ball more. Mayfield didn't do that, and the Browns' run-first offense eventually led to Beckham's departure.
Yes, Beckham was rarely targeted in his debut, but it felt like Stafford was trying to force him the ball and get him involved early on.
The Rams are now on bye, and we should expect a lot more Beckham targets on the other side of the break. Amid a two-game skid, the Rams have a lot to fix if they want their Super Bowl dream to become a reality.
A lot to takeaway from the concerning debut of the Rams new addition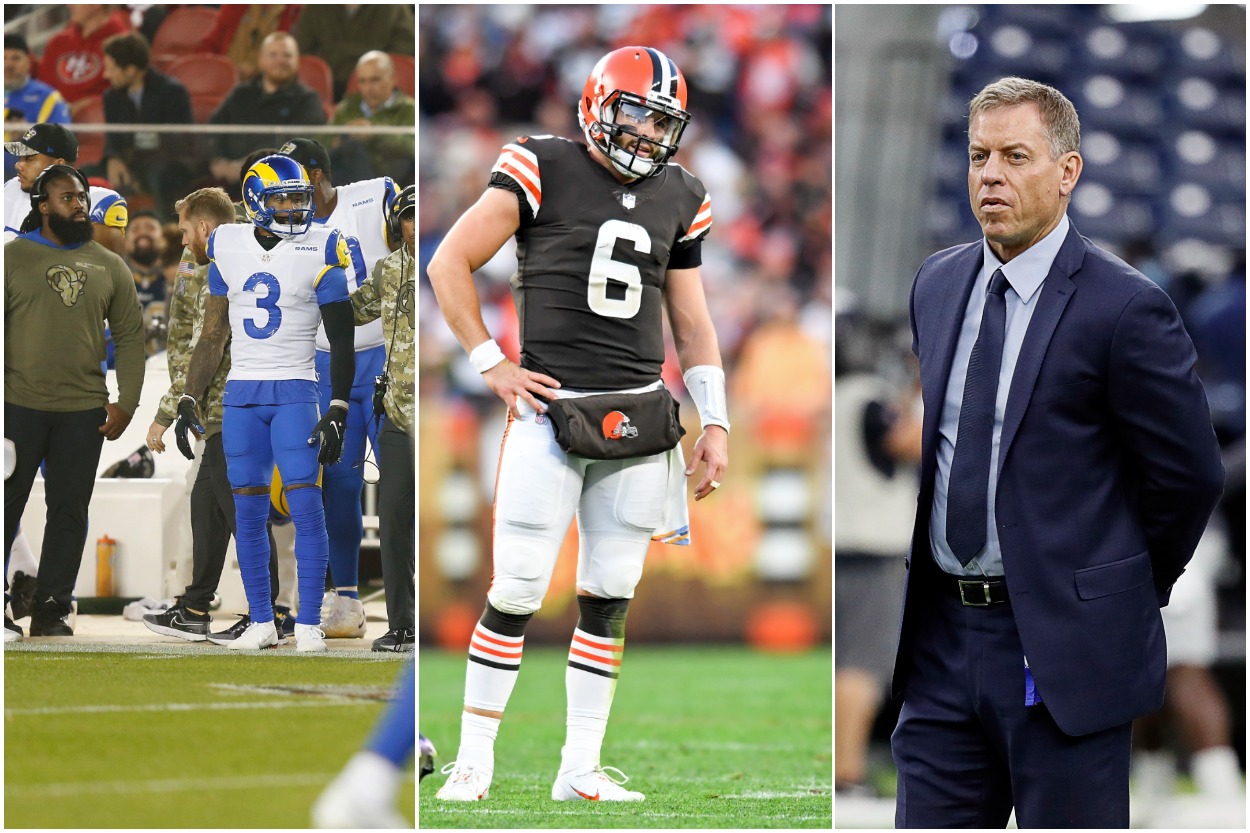 Sure, it was just one game and Beckham barely practiced with his new team. But, as Aikman insists, maybe they can get out of it.
The offense should run smoother after the bye week, although the Rams' issues have been prevalent over the past two games.
Beckham expressed his displeasure with Cleveland time and time again for lack of targets. If the Rams want to keep him happy, they will need to get him the ball one way or another. That is the brutal reality of the matter, whether you agree with Aikman or not.
Beckham isn't in LA to sit around and waltz his way to the playoffs — he wants to be involved. Sure, he wanted to join a contender, but he needs to be involved. Sean McVay needs to find a way to incorporate Beckham to avoid any problems.
Again, it has been just one game, but things didn't start as either side had hoped after making the splashy addition.
Stats Courtesy of Pro Football Reference