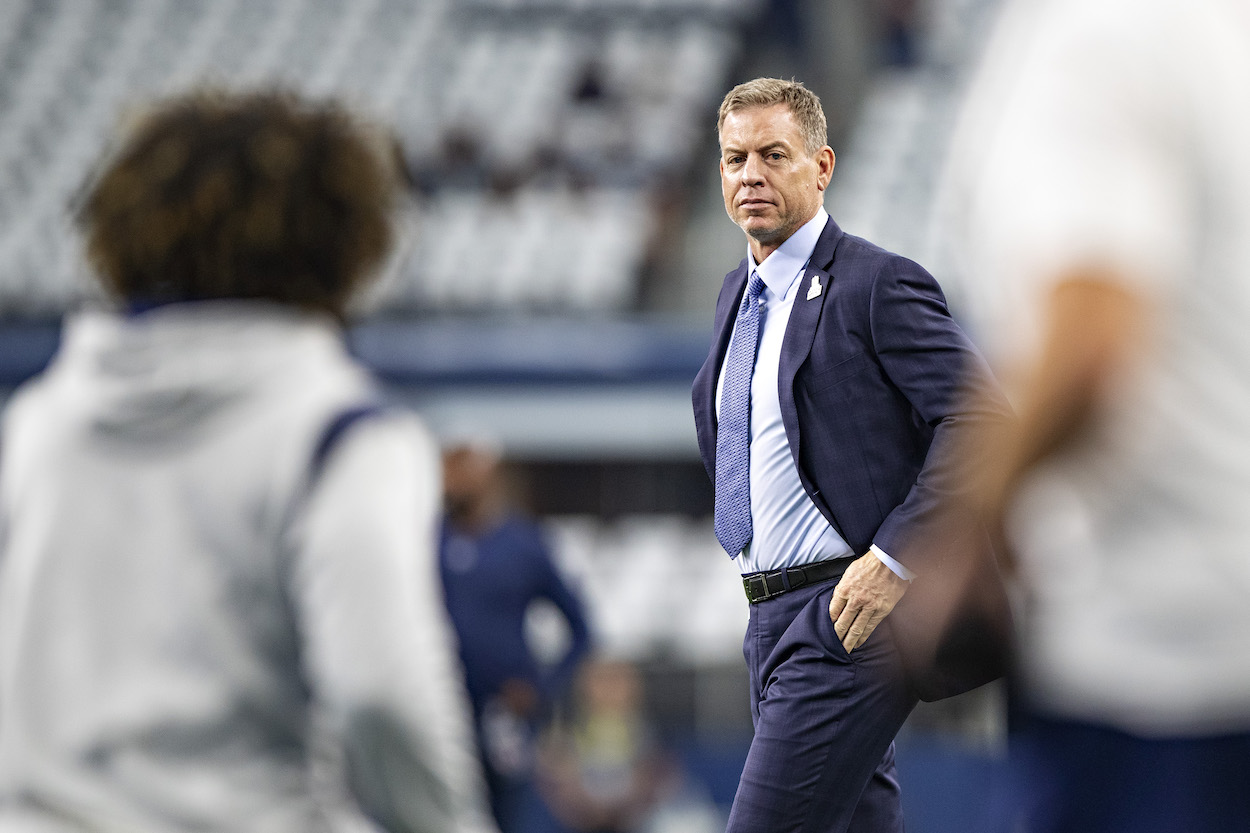 Troy Aikman Gets Brutally Honest About the Dallas Cowboys' 'Heartbreaking' 2021 Season
Dallas Cowboys legend Troy Aikman got brutally honest about the state of the team and its "heartbreaking" ending to the 2021 season.
The manner in which the Dallas Cowboys' 2021 season ended was embarrassing. There's little debate going on there. Despite winning 12 games during the regular season and securing home-field advantage during the Wild Card Round, Dallas could not win a single playoff game. It lost at home to the San Francisco 49ers, sending the franchise crashing and burning into the offseason.
Since the loss, media members and ex-Cowboys alike have chimed in on the current string of failures the team has experienced. Now, you can add former Dallas quarterback Troy Aikman to the list.
Troy Aikman labeled the Cowboys 2021 season as 'heartbreaking'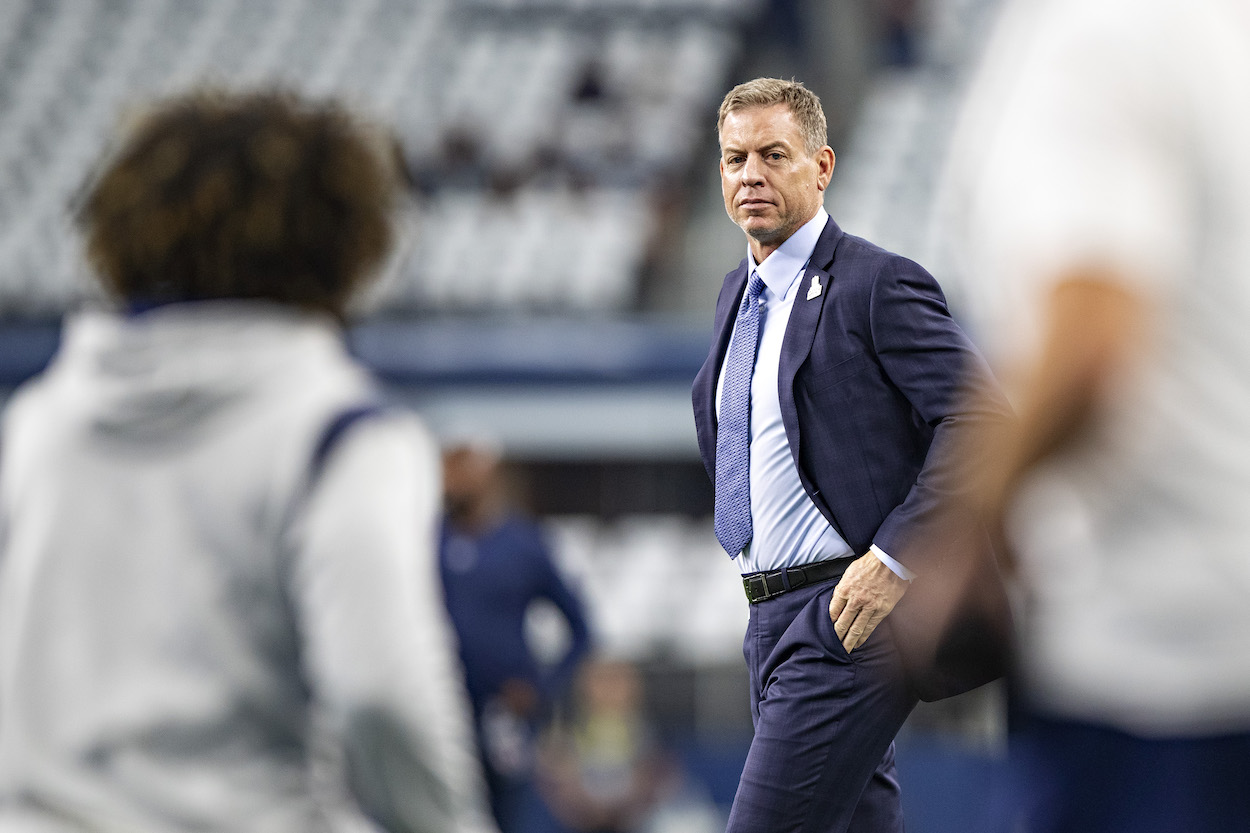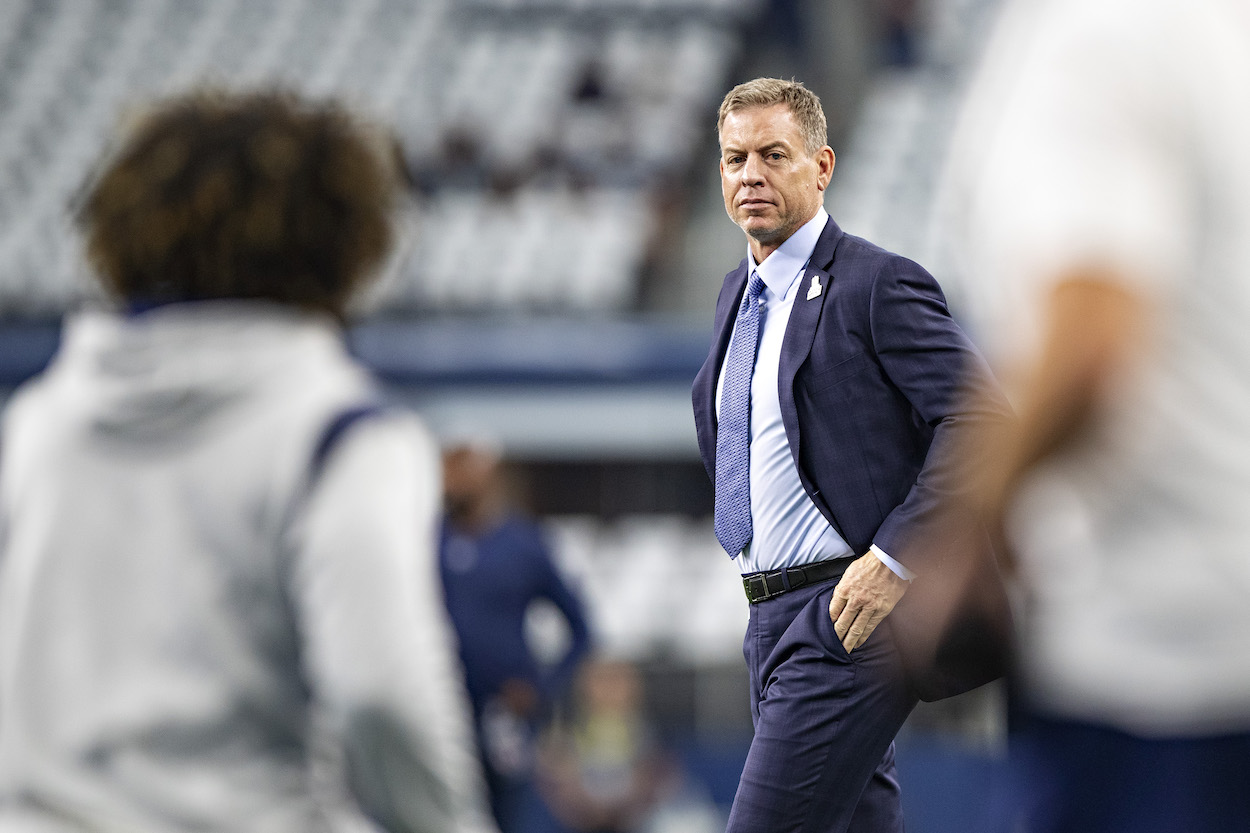 Speaking on the "Rich Eisen Show" a few days before the Super Bowl, Aikman gave his thoughts on the Cowboys' failure of a season. He didn't mince words, calling the year "heartbreaking."
"I do know this," Aikman said. "It's heartbreaking for that organization and for Jerry Jones to have the team that they had … and not to get out of the first round is really defeating, and it makes for a long offseason."
Aikman seemingly shares a similar belief as most NFL analysts and media personnel, that the Cowboys' roster was far too talented to get bounced in the first round of the playoffs. Dak Prescott, Amari Cooper, Ezekiel Elliott, Micah Parsons, CeeDee Lamb, and Trevon Diggs are just a few star-caliber names the Cowboys rostered this past season. Such a collection of talent should have been enough to win a home playoff game.
Troy Aikman doesn't know how to fix the issues plaguing Dallas
Dallas' playoff collapse isn't a new phenomenon for what it's worth. This core group of players has struggled to deliver winning results for several seasons in a row. Many thought the firing of Jason Garrett would change this. However, Mike McCarthy's first playoff game in Dallas was just as unimpressive as his predecessor's.
When asked what the Cowboys should do to fix their current list of issues, Aikman didn't have a clear answer — a surprising response from someone who's made a post-NFL career off talking.
"I honestly don't know," Aikman said when asked what was missing in Dallas. "There was a time where I thought I did know … They played great, but when you go into the postseason, and you don't play your best football, this isn't the first time this has happened."
The Cowboys are in danger of a similar collapse in 2022
Optimism is always high during the offseason, for all NFL teams. However, it's challenging to see a clear path to success for the Cowboys in 2022.
Jerry Jones has already stated he won't be firing Mike McCarthy, and the team is significantly over the salary cap. The Cowboys roster will be getting worse next season due to financial restrictions instead of getting better.
As Aikman suggests, there's no obvious answer as to how Dallas avoids another playoff collapse next season. Barring a miraculous draft class that churns out multiple star-caliber players, the Cowboys will be facing further pain and disappointment next winter.
Like Sportscasting on Facebook. Follow us on Twitter @sportscasting19.
RELATED: Why Jason Kelce Is the Key to Russell Wilson Joining the Eagles This Offseason