Troy Aikman Says Jerry Jones and Jimmy Johnson Led the Cowboys Too Early to 'Appreciate Exactly What We Had'
Few would make the case that the Dallas Cowboys trio of quarterback Troy Aikman, owner Jerry Jones, and head coach Jimmy Johnson could be defined by underachievement. They won the Super Bowl twice. Jones won another without Johnson. Aikman and Jones won a third Super Bowl after Johnson's departure. All three are in the Pro Football Hall of Fame.
They achieved the hardest thing in their profession twice in a row. But, as the years go by, the question that haunts Cowboys fans — and, crucially, Aikman himself — is whether they could've done more. According to the former QB, he thinks inexperience and youth prevented a truly dominant, long-term Dallas dynasty from forming.
Troy Aikman, Jimmy Johnson and Jerry Jones were poised to keep winning Super Bowls together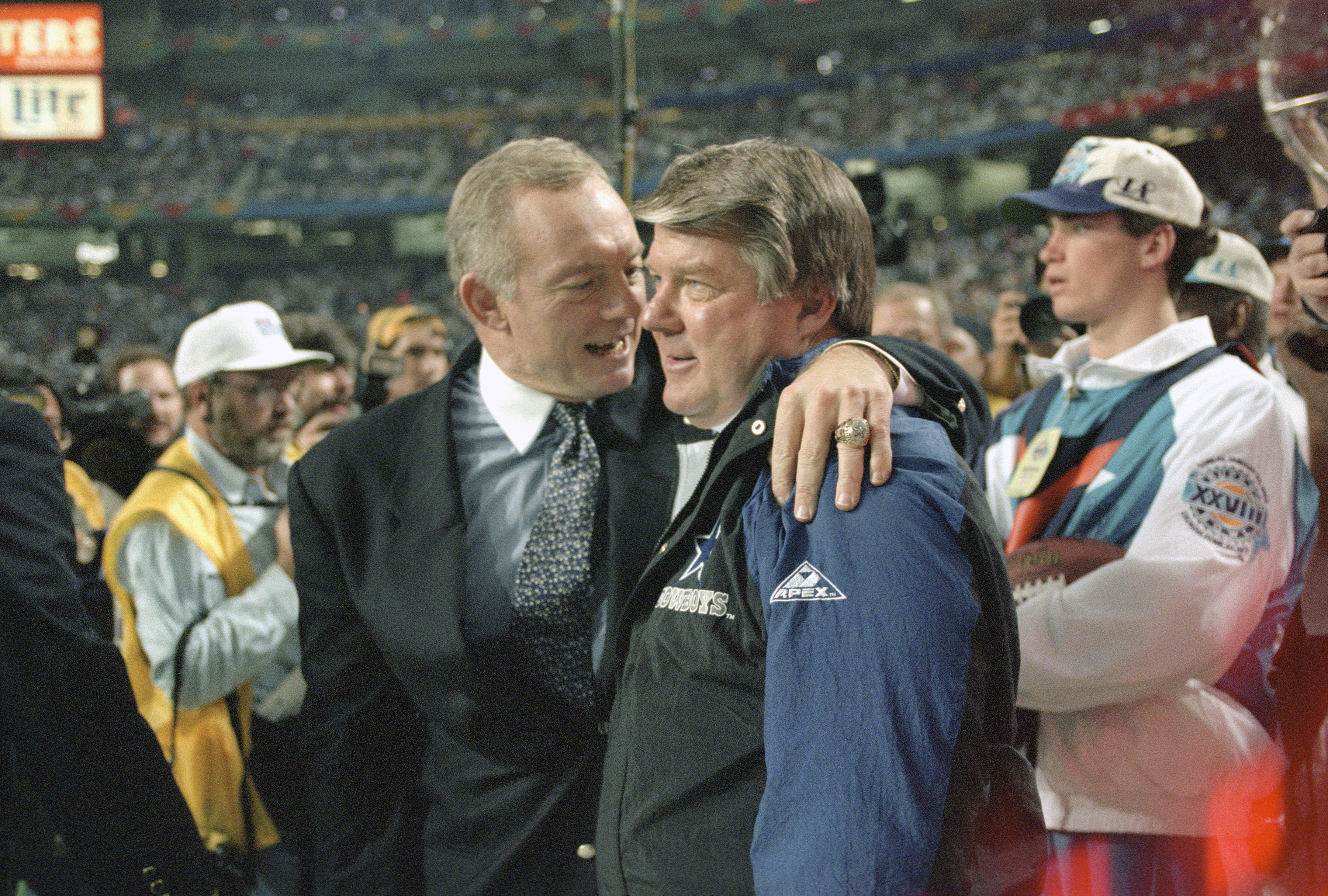 The sudden departure of Johnson after winning Super Bowls XXVII and XXVIII one after the other was baffling. It is a moment in American sports history perhaps second only to Chicago Bulls owner Jerry Reinsdorf breaking up a team that had just won three NBA Finals in a row for the second time. There was no reason to end a good thing.
For people on the inside, however, it was always clear that Jones and Johnson were getting under each other's skin. Still, the way it ended was a shock even to people close to the situation like Aikman was. A single drunken comment by Jones put an end to it all.
Johnson, who hand-picked many of the major and minor contributors to the two Super Bowl-winning squads, was stressed by Jones' attitude toward his efforts. The Orlando Sentinel reports that after the team's second win, Jones held court in a hotel bar in Orlando, Florida. Surrounded by players, sportswriters, and other front-office figures, the Dallas owner proclaimed that "500 coaches could have won that Super Bowl with that team."
Upon hearing the news, Johnson confronted Jones in his office. Then the Cowboys' then-head coach and de facto general manager walked to his car. He never returned.
What Aikman, Johnson, and Jones achieved after Johnson's departure
Aikman and Jones went on to win Super Bowl XXX. SFGATE reported at the time that Aikman and head coach Barry Switzer regularly clashed. But the pair managed to keep it from affecting their postseason chances. Jones, now fully taking on his GM title rather than allowing a head coach final say, presided over a slow decline of America's Team. They're rarely irrelevant, but always underachieving even when Jones puts together squads that should, on paper, be great.
Johnson, reports the New York Times, spent two years in broadcasting before taking another head coaching job in 1996. He had issues with his new offensive partner in QB Dan Marino; Johnson's defensive focus and hand in several draft busts caused friction. But when Johnson tried to retire in 1999, Marino entered his office insisting they repair things and try again. Johnson retired at the end of that season, citing stress and burnout.
Aikman still regrets how things went between Johnson and Jones
Aikman won another Super Bowl with Jones fully handling both GM and ownership duties. But he still regrets what could have been. Mainly, he writes off that third and final win as the last gasp of Johnson's decisions paying out dividends. After that, once the franchise fielded teams based entirely around Jones' personnel decisions, playoff success has been elusive. 
So what did Johnson and Jones need to make things work?  Aikman shared his opinion recently on the Great Dane Nation podcast. "I do think [winning Super Bowls] happened so early for Jerry and his ownership, and so early for Jimmy and him being a head coach at the NFL level," the Hall of Fame QB said.
"I don't know that either of them really appreciated exactly what we had. I think if that had happened later in their time, they would've found a way to make it work." For Aikman, who consistently praises Johnson for how well he encouraged players to set their egos aside, it was Johnson and Jones' own issues with that very thing that led to the Cowboys dynasty unraveling earlier than it could have.