Troy Aikman Looks Like He Wants to Leave the Broadcast Booth and Supplant Dak Prescott as the Dallas Cowboys' Quarterback
Legendary Dallas Cowboys quarterback Troy Aikman has made a nice living as a commentator, but his latest health kick might as well convince fans he's pondering a return to the NFL.
Aikman has spoken ad nauseum about the health habits he developed over the course of his playing career. He also made a point of keeping his body in shape during quarantine.
The Hall of Fame signal-caller is still hitting the gym, and his tweets almost make it seem as though he underwent some sort of metamorphosis and took on Magic Johnson's social media persona.
Troy Aikman is a big fan of gym selfies, apparently
Troy Aikman is staying in the game, and he wants you to do the same. No, seriously.
Aikman tweeted an image of himself lifting weights with the caption, "No shortcuts. No excuses." He seems to have a solid following in the fitness community, too, as the responses are full of people posting their own workout videos.
It makes perfect sense why Aikman would want to keep himself motivated. He just recently partnered with Taos Bakes, an energy bar company focused on healthier eating. Aikman announced the partnership with an Instagram post.
"Excited to announce my partnership with @taosbakes," Aikman said. "Fantastic bars made with real whole ingredients. The first time I tasted the Taos coconut bar, it was game over. Thrilled to bring attention to a brand that promotes a lifestyle of health and wellness."
Aikman clearly wants to be more than just a face. He seems dedicated to staying in shape and being open about working toward a better, healthier lifestyle.
Meanwhile, back in Dallas, the Cowboys are hoping their current quarterback can stay healthy coming off a severe ankle injury.
Dak Prescott is currently dealing with a shoulder injury
Dak Prescott has worked hard to get back on the field in time for training camp after breaking his ankle in Week 5. Unfortunately for Cowboys fans, he's dealing with another physical setback.
Prescott has a strained muscle and is shut down from throwing for the time being. On a more positive note, the issue doesn't appear to be serious. Prescott himself indicated he wanted to take precautions.
"I felt some soreness when making certain throws today, and I really just decided not to push things too far," Prescott said, via the team's website. "Better to be cautious and smart about it. I don't see this as any kind of serious setback. We'll treat it on a daily basis, and I'll be fine."
Still, there might be some lingering fears about the shoulder becoming a recurring issue, which would hardly do the Cowboys any favor. Dallas does not have much in the way of backup quarterbacks. Enter Troy Aikman?
Aikman is fond of Prescott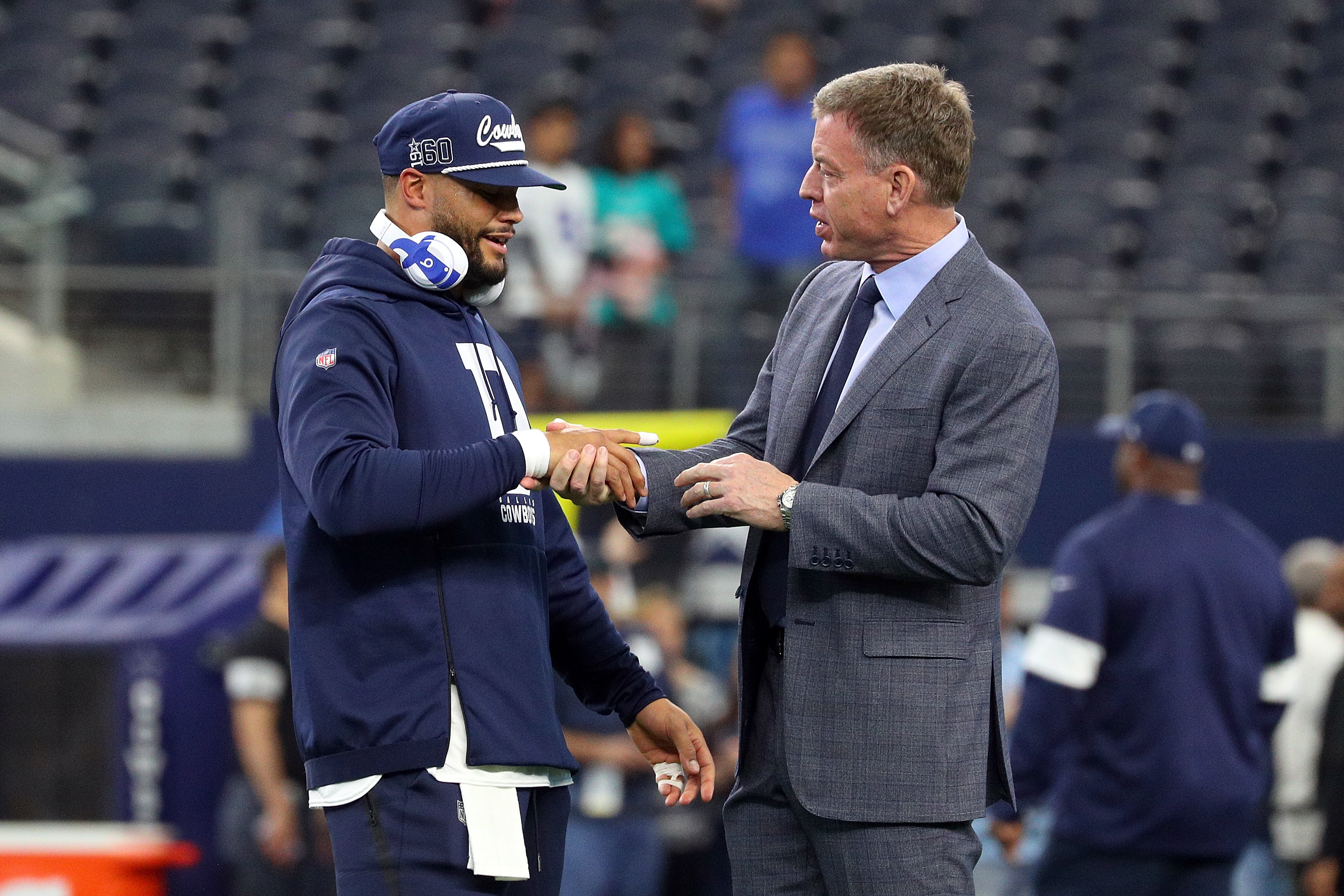 The above statement is said in jest, of course. Troy Aikman is not coming out of retirement at 54 years old. He also has tremendous respect and admiration for Prescott.
Aikman recently said Prescott, fresh off signing a big extension with the Cowboys, was the "best" leader in the NFL and praised his demeanor. He also said Prescott was well-suited to handle the pressures of playing quarterback for such a storied franchise.
Instead, Aikman will continue to focus on his role in the broadcast booth. He'll also likely continue to focus on hitting the weight room. You know, just in case the NFL comes calling again. Or not.
RELATED: Dak Prescott Makes a Bold Statement About the Dallas Cowboys Offense While Kellen Moore Makes a Bold Statement of His Own About Dak