Troy Aikman Says Presenting Jimmy Johnson at His Pro Football Hall of Fame Ceremony Was a Bigger Honor Than the QB's Own Induction
Former NFL quarterback Troy Aikman enjoyed a career awash in high honors. He was a lock for the Pro Football Hall of Fame for years before he retired from the NFL. He's also a headlining name in the Dallas Cowboys Ring of Honor. But Aikman rates one gesture of respect above the rest. And it involves his former Cowboys coach, Jimmy Johnson.
Troy Aikman got emotional at the news Jimmy Johnson would go into the Pro Football Hall of Fame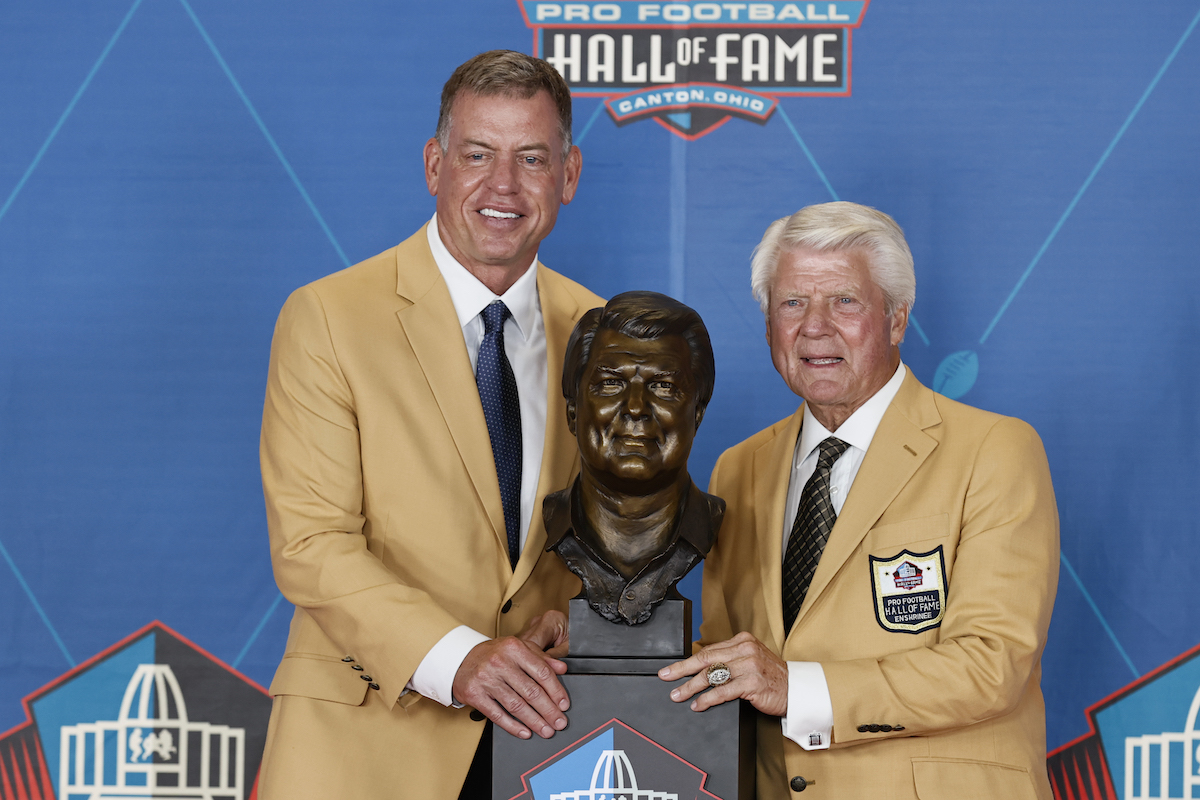 Former Cowboys head coach Jimmy Johnson, who oversaw Aikman's best years, was left with only his reputation to honor his work for many years. Well, that and his two Super Bowl rings. Still, it was strange he wasn't in the Pro Football Hall of Fame. And his feuding with his former longtime friend, Cowboys owner Jerry Jones, kept him out of the team's Ring of Honor too.
That never sat right with Aikman, who was always vocal about his former coach and mentor's greatness. That explains why the former QB was moved to tears at the sight of Johnson earning his invitation to Canton for his induction, Fox Sports reported. Aikman is rarely seen so emotional in public, so it was fitting that his old friend's big moment pushed him to open up in front of viewers and peers.
Aikman considers presenting Johnson at the Hall of Fame the greatest honor of his career
Frankly, Johnson's resumé in the NFL wasn't first-ballot material. He was in the league from 1989 to 1999, a short run for a Hall of Fame-level coach. His time with the Cowboys was his best, but it didn't last long. But his impact on players and fans went far beyond what many longer-tenured coaches have accomplished. Even with tensions between Jones and Johnson high at the end of his time in Dallas, fans were dismayed to see him go.
Johnson asked Aikman, his longtime advocate, to present him during his 2020 induction ceremony. Aikman's response?
"It's the greatest honor I could have received for someone to ask you to present them in the Hall of Fame," he told reporters, including Cowboys insider Mike Fisher. "I don't take lightly me going into the Hall of Fame, but it's a bigger honor to me personally than even when I went in because that person can choose anybody they want."
Aikman's moving speech at the ceremony took a step beyond summarizing the coach's years in the NFL. It went into who Johnson is as a mentor and a man, representing the best the sport offers.
When Aikman got to that famous line — "I am proud to present Jimmy Johnson to the Pro Football Hall of Fame" — the stoic retired QB's face broke out into a wide grin.
Their connection goes back further than the NFL
It seemed the entire Cowboys lineup loved Johnson during his time there. When they won their first Super Bowl, the apparent affection instantly shattered the formalities of the division between head coach and player. Legendary running back Emmitt Smith led the team in ruffling Johnson's hair, Sports Illustrated reported. It was a level of camaraderie usually seen only among players. Johnson handled the role differently.
For Aikman, in particular, that feeling went back to well before his NFL days. On Instagram, he tells the story of Johnson recruiting him to play for Oklahoma State. The then-17-year-old QB instead went with Oklahoma. And when Johnson came back to catch him during a transfer, Aikman turned him down again to play for UCLA.
Finally, Aikman was the number-one draft pick for the Dallas Cowboys in 1989, when Johnson had a heavy hand with such decisions. He finally got his man.
RELATED: Jimmy Johnson Gets Surprising Dallas Cowboys Ring of Honor Invitation From Jerry Jones on Live Television and Offers Hilariously Candid Response