Would Tom Brady or Drew Brees Make a Better Replacement for Troy Aikman?
It's almost become a tradition to turn on the Sunday afternoon game on FOX and listen to Troy Aikman and Joe Buck call America's Game of the Week. With the reports that Aikman is soon to be the top broadcaster at ESPN and the voice of Monday Night Football, though, FOX has quite the power void to fill.
Buck is one of the best play-by-play announcers in the game and he's under contract for one more season with FOX. If the network wants to retain his services into the future and not lose him to ESPN (which is a possibility), finding someone who can step up into the color commentary role and compliment Buck is a must.
Luckily for FOX, two former superstar quarterbacks, Tom Brady and Drew Brees, look to be potential options.
Which future Hall of Famer would be the better choice, though?
The case for Tom Brady to replace Troy Aikman
Tom Brady is the wildcard in this candidate search. He could very well decide to come out of retirement at a moment's notice and try to make another Super Bowl run. He hasn't explicitly expressed interest in broadcasting, but he would be a perfect fit, wouldn't he?
He'd be a huge ratings draw and has 22 seasons of quarterbacking at the highest level to draw on as an analyst. He's witty, brand-conscious, and a bonafide Superstar.
Andrew Marchand of the New York Post originally reported Aikman's likely move to ESPN. In that report, he stated that FOX does have interest in Brady, but he's not sure the network could afford someone of his magnitude.
"Fox would also have interest in Brady, but, if the network wasn't going to match ESPN for Aikman, it seems impossible to believe it would go into the stratosphere it would take to possibly even entice Brady," Marchand wrote. "Like Peyton Manning, Brady will be able to choose when and if he wants to be in a booth."
It seems unlikely, but Brady would be excellent in the booth for FOX.
The case for Drew Brees to replace Aikman
Drew Brees is currently signed with NBC, but Marchand reported that FOX would be willing to explore a trade for the Super Bowl-winning quarterback.
Brees would be a very intriguing target for FOX because they'd be basically swapping out one Hall of Fame quarterback for the other. Brees doesn't have Aikman's 20-plus years of experience in the booth, but he does at least have one. He called Notre Dame football games for NBC during the 2021 season, and he was also a pre-game analyst for Sunday Night Football.
Brees is a name that would get people to tune in, and he clearly knows the game he'd be talking about. If FOX can pull off the trade, Brees would be an excellent fit.
Brees would be the better fit for FOX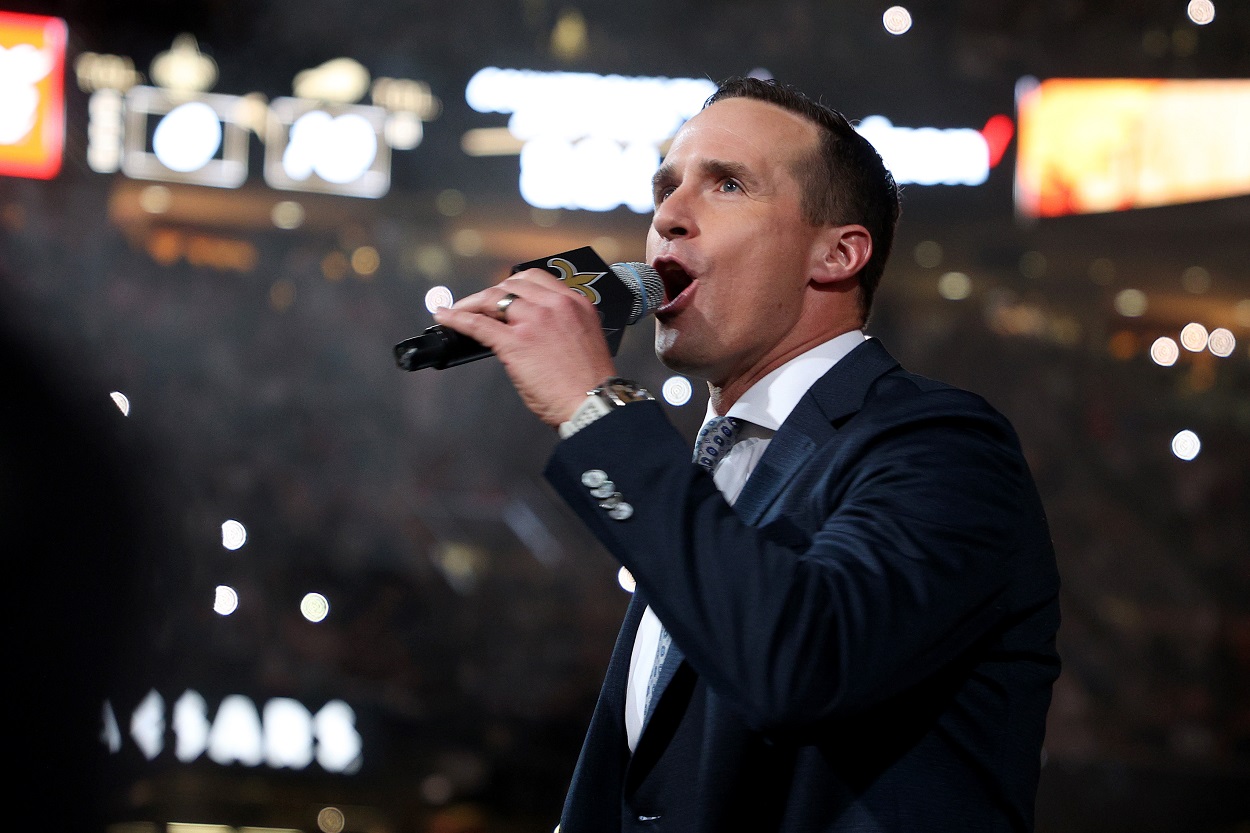 Though luring Brady out of retirement and into the booth would certainly be a huge rating draw for FOX, at the end of the day, Brees makes the most sense.
Why does he get a leg up? It's simple.
He still has the name recognition of Brady (at least amongst NFL fans), but he also has the experience. Sure, he'll have to take a big jump from covering the NFL as a pre-game analyst to doing so on the fly next to Buck, but don't count out the lessons he's undoubtedly learned sitting next to Mike Tirico while covering the Irish.
Buck is one of the gold standards amongst NFL play-by-play voices (along with Al Michaels and Jim Nantz) but Tirico has made quite the name for himself as well. There are far worse people to sit next to and learn from in a broadcast booth, and it's not as if Brees has been breaking down Middle Tennessee State via an internet live stream. He's been calling Notre Dame football games on NBC, for Pete's sake, so he clearly has the chops for the job.
Brady would be fun and spontaneous, but as mentioned, he's liable to run back to the NFL or become the first person to walk on Mars, because why not? That would be such a Tom Brady thing to do.
If it came down to a choice between the two former quarterbacks, Brady had the leg up on the field, but Brees will have the leg up in the booth.
Stats courtesy of ESPN and Pro Football Reference. Contract information via Spotrac.