Troy Aikman Recently Made Some Head-Scratching Comments About the 2020 Dallas Cowboys
The Dallas Cowboys had a ton of success back when their star quarterback was NFL legend Troy Aikman. He ultimately won three Super Bowls with them in four seasons from 1992 through 1995. They, however, haven't had nearly as much success since his retirement. This includes the current 2020 team as the Cowboys are only 6-9 this year. There is a silver lining, though, as they are in a horrible NFC East division. Because of this, they can still actually make the playoffs.
Aikman recently discussed his former team and those current playoff chances. He ultimately made some head-scratching comments about the 2020 Dallas Cowboys, too.
The Dallas Cowboys had a horrible start to the 2020 season
RELATED: How Dallas Cowboys QB Andy Dalton Could Unbelievably Pocket an Extra $1 Million This Sunday
Dallas Cowboys fans had high expectations for the 2020 season. They had one of the best young quarterbacks in the NFL in Dak Prescott and a ton of talented players around him. However, they started 1-3 and then lost Prescott for the year to injury in Week 5.
The Cowboys won in Week 5, but after that, they lost four consecutive games to drop to 2-7. They really struggled in those first nine games, too, as they allowed 23 or more points in every game but one, and allowed 34 or more points five times.
Their offense also struggled without Prescott, as Dallas scored 10 points or less in each of their first three games after his injury.
However, because they are in an awful NFC East division, they still have a chance to make the playoffs.
They still have a chance to make the playoffs
RELATED: Troy Aikman Thinks Jerry Jones Should Pay Attention to Dwayne Haskins
The Dallas Cowboys are 6-9 but still have a chance to make the playoffs heading into Week 17 as the Washington Football Team is in first place in the NFC East and also 6-9.
They certainly didn't think that this would be possible a few weeks ago, and it really shouldn't be if you believe that only winning teams should make the playoffs. Their three-game winning streak, though, has helped keep their season alive.
In their last three games, the Cowboys have defeated the Cincinnati Bengals, San Francisco 49ers, and Philadelphia Eagles. They have ultimately been able to win these games because their defense has actually been able to force turnovers. Dallas had struggled to force turnovers all year, but they have forced three or more turnovers in each of the last three games. They also held the Bengals to only seven points and the Eagles to only 17.
Sure, this is encouraging to see, but the Cowboys aren't a great team by any means. The Bengals, 49ers, and Eagles are not good teams this season.
However, Troy Aikman appears to think that if the Cowboys can sneak into the playoff, they can make some noise.
Troy Aikman made some head-scratching comments about the Cowboys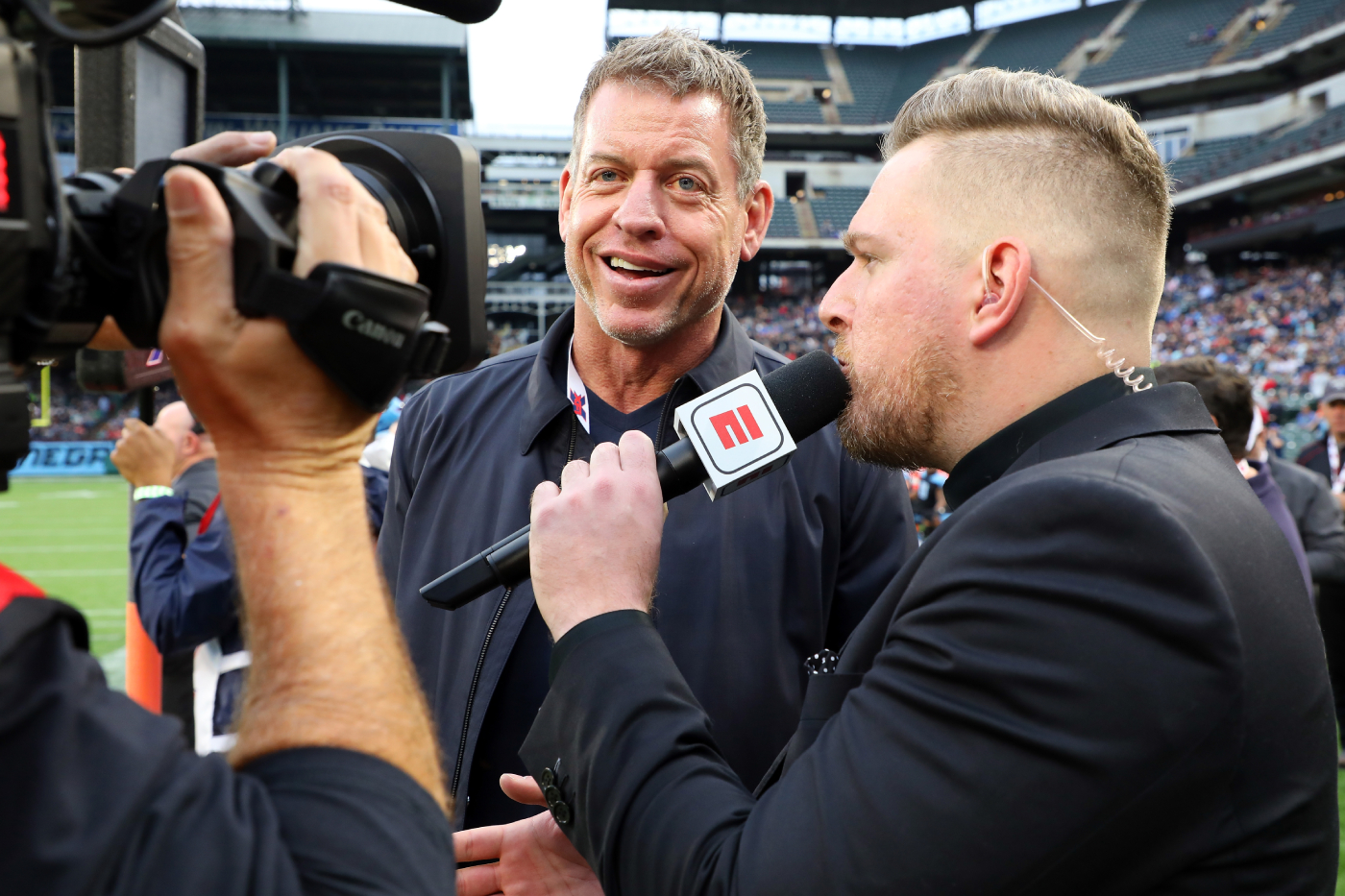 RELATED: Troy Aikman Made More Money Selling Hot Wings Than in His First Contract With the Cowboys
Aikman recently appeared on 105.3 The Fan's Shan and RJ. He ultimately seems optimistic about the Cowboys' chances, if they do make the playoffs, too.
"I do feel that the Cowboys are the best team in the division," Aikman said, according to The Dallas Morning News. "And some would say, 'Who cares. What does that necessarily mean?' Well, what I think it means is they could go into the postseason and they are capable — we know they are on the offensive side of the ball, and I think the defense is better. They're at least getting the takeaways and doing some of the things they've had a hard time doing in the last couple of years."
OK, those comments aren't too bad. The next ones, though, were pretty head-scratching.
"I think they're capable of giving anybody a run and making it hard on them," he said, according to The Dallas Morning News. "I would not count them out as far as, 'OK, what does it matter if they win the division and they have a home game, they're going to lose in the wild-card game anyway.' But I don't necessarily find that to be true. I think they could possibly win a game."
He continued: "I think that you start to gain confidence, and I think that's where this Cowboys team [is]. They're beginning to believe in themselves — probably not beginning to; they probably are after this three-game win streak coming off that last time we saw them against Baltimore. And, so, yeah, they're going to play better teams once they get into the postseason, but confidence is a hard thing to really quantify and I think this team is playing with it."
Uh, OK. This is the same team that is 30th in the NFL in points allowed per game. They were also just blown out by the Washington Football Team at the end of last month, 41-16. This is not a playoff team.
Yes, the Dallas Cowboys are playing better, but Aikman's love for the team is showing a little too much. They cannot give "anybody a run."
Aikman is a legend. This Dallas Cowboys team, though, is the complete opposite of legendary.
Stats courtesy of Pro Football Reference