Troy Aikman Just Sent a 'Really Hopeful' Message to UCLA Football: 'Stay the Course Right Now'
Troy Aikman is one of the most iconic NFL quarterbacks in history. While never the most polished offensive threat, he led the Dallas Cowboys to their greatest stretch in history. However, he did not have an easy journey to the Hall of Fame. Aikman had a fascinating college career that shaped his skills. Now, he's looking back to dissect the current state of UCLA football. 
Troy Aikman transfers to UCLA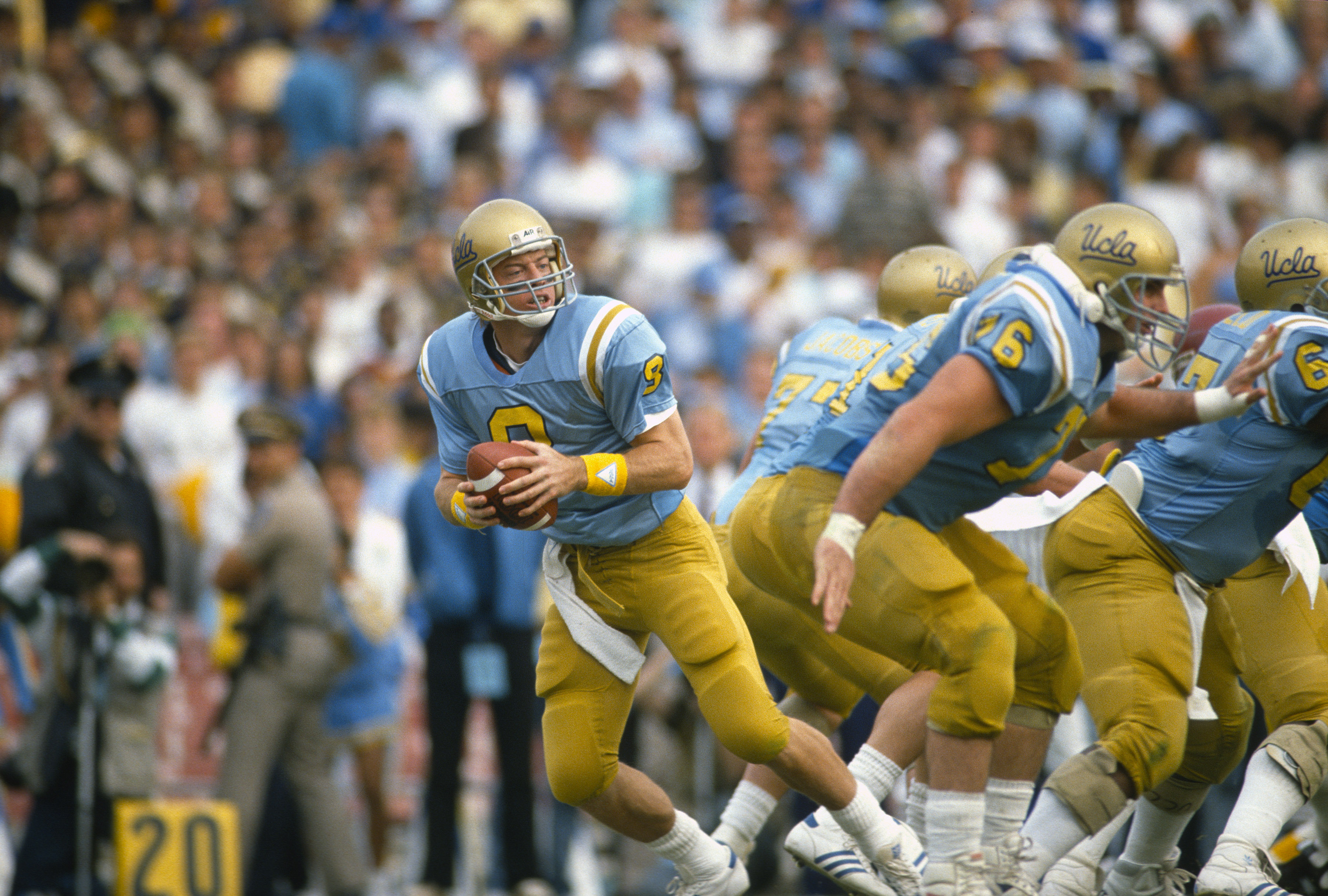 Like so many other quarterbacks, Aikman's college journey was not easy. One look at College Football Reference shows he was borderline abysmal in his limited time as a freshman backup at Oklahoma, completing just six of 20 passes. The next year, with a slightly bigger, he completed 57% of his passes before an injury took him out.
Seeking a better opportunity, he transferred to UCLA, sat out a season, and then made the name we know today. Aikman wasted no time impressing NFL scouts once he changed the scenery. He started every game at UCLA, completed 65%, and led the Bruins on a legendary stretch. While they did not win the college championship, Aikman became the No. 1 draft pick.
The rest is history. According to Pro Football Reference, he's a Hall of Famer, a three-time Super Bowl Champion. Twenty years after his retirement, one of the most popular broadcasters there is. Still, despite all of his NFL success, Aikman loves to talk about his college journey. He recently did so with a fellow NFL alumnus.
Aikman bridges the gap.
RELATED: Kevin Love Leaned on John Wooden While at UCLA
Aikman looked to the past to evaluate the present for his beloved UCLA squad. Recently, he spoke with Morten Andersen on Great Dane Nation. There, he reminisced about his playing days while thinking about what's changed. However, it's still football. As such, he believes the team can look to Aikman's days to get UCLA back on track after an off-year. Aikman told Andersen:
When you look at today's UCLA team, what do the Bruins need to do? I think we stay the course right now. This past year, obviously, was challenging for a lot of reasons and I don't know how much we can really look at that and try to figure out whether it was good or not. I think Chip's an outstanding coach.

Troy Aikman on the current UCLA football team
The Hall of Famer trusts Chip Kelly, a coach who's had far greater success in college than he did in two brief NFL stints, to recreate something similar. UCLA football is a far cry from the giant it once was. Still, Aikman believes Kelly could be what brings it back. Aikman sees many similarities between the current squad and the one he played for many years ago. 
Aikman on the modern Bruins
RELATED: Troy Aikman Doesn't Remember Playing in 1 of the Biggest Games of His Career With the Cowboys
Aikman sees a lot to be hopeful for in UCLA football. The talent is there, and Kelly has a knack for getting the most out of his college players. With a supportive squad, an eye for talent, and a willingness to work with his teams, Kelly can only get better.
Furthermore, after an unprecedented 2020 season in the heart of pandemic, Aikman doesn't believe that Kelly got a fair shot. He reflected on UCLA's many talented players who went on to the NFL. Then he explained to Andersen:
I know there are some restrictions and being able to recruit some of the student-athletes, getting them into the university academically. But all of those things are excuses. I know firsthand the type of players we had and how good they were. And I'm really hopeful that we can get back on track and put together a program we can all be proud of.

Troy Aikman on UCLA's past and present football program
With a promising QB in Dorian Thompson-Robinson and a roster of bright NFL prospects behind him, details UCLABruins.com, Kelly can recreate his Oregon days and add to his college legacy. With every new year, the excuses run thinner. Now, Kelly needs to prove Aikman right by taking everything he said and putting it into practice. Otherwise, it could be a disappointing season for the Bruins football squad.