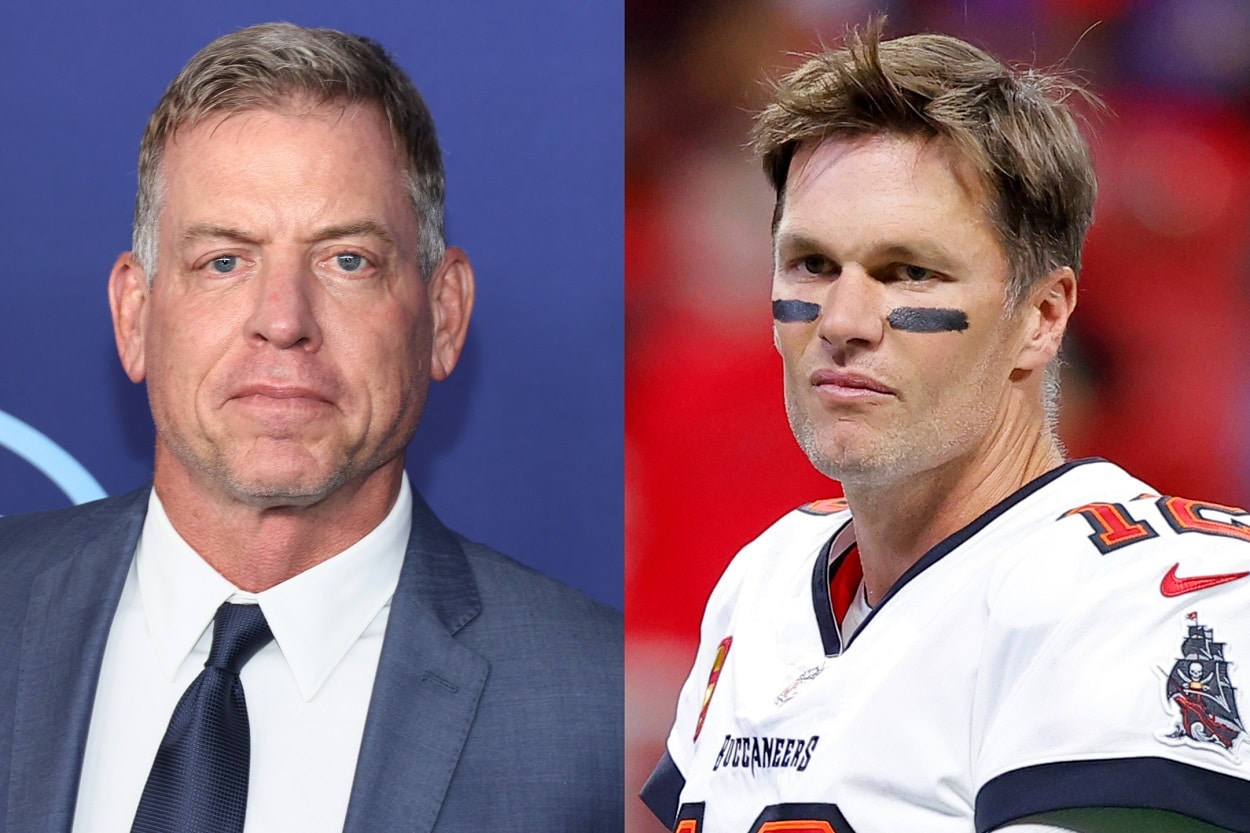 Troy Aikman Slaps Tom Brady With an Unflattering (Yet Accurate) Label Ahead of the Buccaneers' Playoff Matchup With the Cowboys
Troy Aikman says Tom Brady is the most unathletic quarterback in the NFL.
Tom Brady has obviously done plenty of things well throughout his legendary NFL career. You don't own just about every major passing record and seven Super Bowl rings otherwise. But getting out of the pocket and running has just never been one of them, even in his younger days.
Over the course of 23 seasons with the New England Patriots and Tampa Bay Buccaneers, the three-time NFL MVP has rushed for only 1,123 yards in the regular season and has hit the 100-yard mark just three times, the last time coming in 2011. Brady set a new low in that department this season, rushing for a total of one negative yard on 29 carries. His longest run of the year? Two yards.
Despite Brady's lack of mobility, however, the 45-year-old had the lowest sack percentage of any NFL quarterback during the 2022 season, taking just 22 over 17 games.
But that didn't stop Troy Aikman from taking a little dig at the 15-time Pro Bowler ahead of Tampa Bay's Monday night playoff matchup with the Dallas Cowboys.
Troy Aikman says Tom Brady is the most unathletic quarterback in the NFL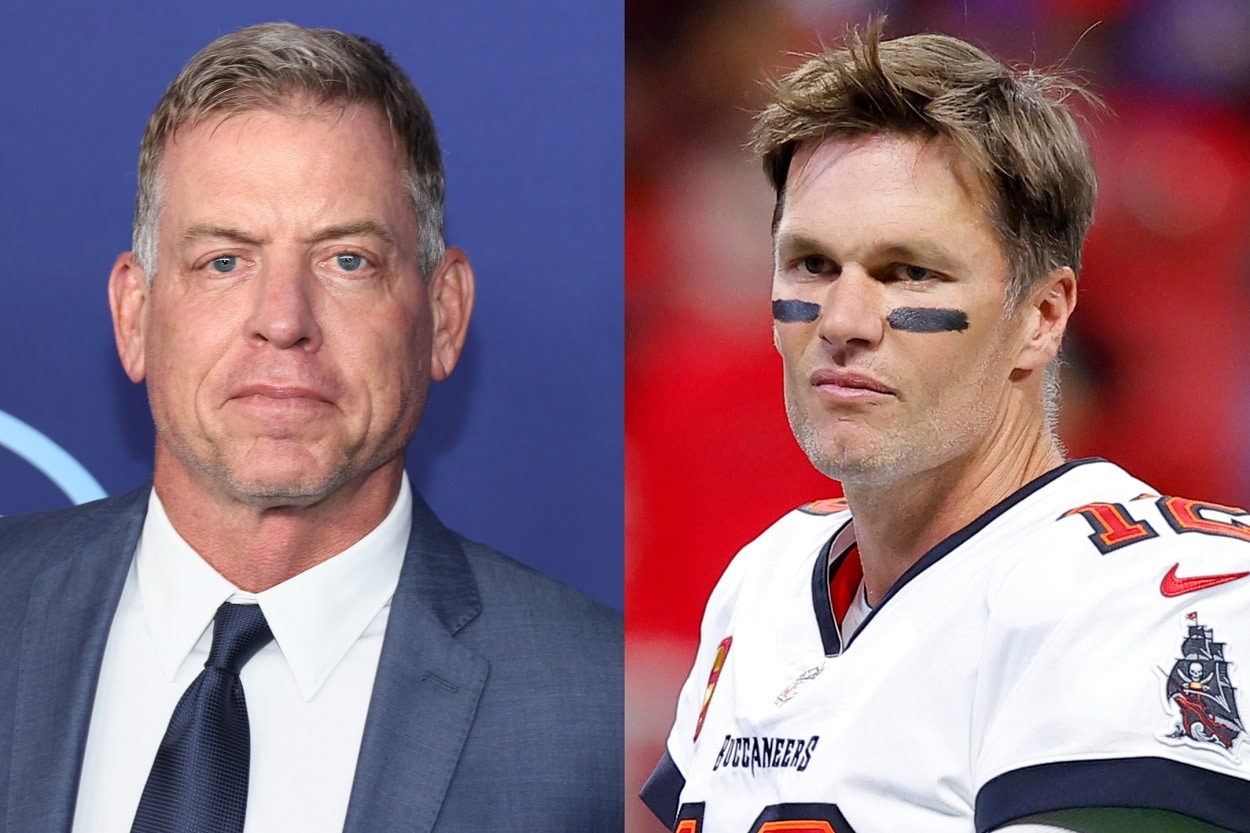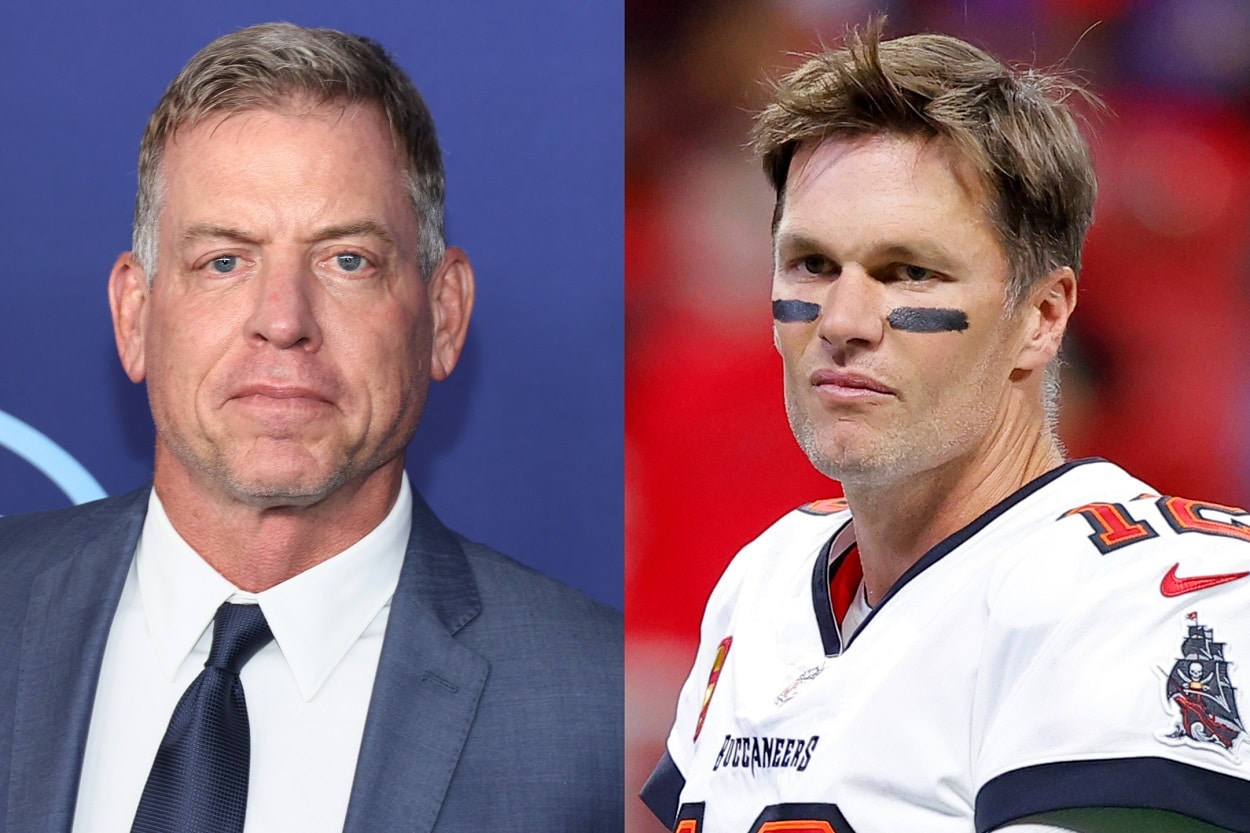 Aikman, of course, will be on the call for ESPN when Brady and the Bucs host Dak Prescott and the Cowboys in the 4 vs. 5 matchup in the NFC. And in preparation for what could be TB12's last NFL game, Aikman broke down certain aspects of the game in an interview with Sports Illustrated's Jimmy Traina.
One specific aspect was the stat mentioned above about how the Bucs, despite all their issues on the offensive line this year, gave up the fewest sacks in the league. But while attempting to praise TB12, who he calls "the best to ever do it," Aikman slapped the five-time Super Bowl MVP with an unflattering label.
"Tom Brady, I kid with him about it. I mean, he's the most unathletic quarterback in the game right now. I'm 56 years old, and I'm pretty confident I could outrun him in a 40-yard dash."

Troy Aikman on Tom Brady
Traina jumped in an attempt to defend Brady, saying he was still great at the quarterback sneak, to which Aikman replied, "That means nothing."
Again, Aikman honestly was trying to praise Brady with those comments as he continued by saying how great he is at not taking sacks, commenting how "he'll get the ball out" and "doesn't create negative plays."
We'll see how that assessment stands up as Brady faces a Cowboys defense on Monday night that tied for the third-most sacks in the NFL this season.