Troy Aikman Thanks Doug Flutie and Rick Spielman for His Retirement: 'It Was a Blessing in Disguise'
The Dallas Cowboys have gone down in history as the greatest NFL team of the '90s — and for good reason. They won three Super Bowls behind the stellar play of running back Emmitt Smith and receiver Michael Irvin. On top of that, the Cowboys also had one of the greatest quarterbacks in Troy Aikman.
Aikman played his entire career in Dallas, retiring after the 2000 season. But a few years later, he found himself contemplating a comeback — just not with the Cowboys. Let's look at Aikman's Hall of Fame career and the story of how he almost made a comeback with the Miami Dolphins.
Troy Aikman's NFL career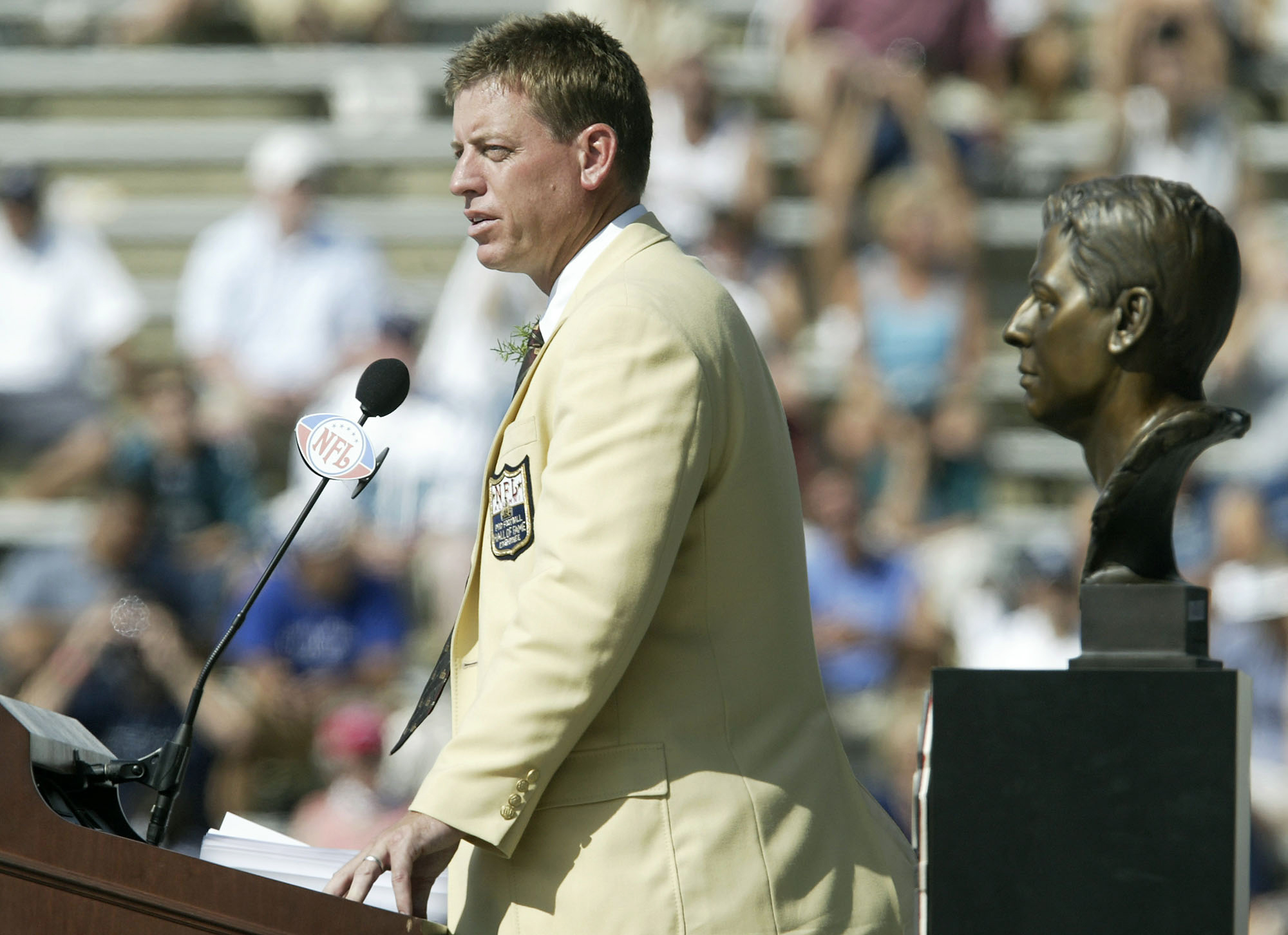 RELATED: Troy Aikman Scarily Doesn't Remember Playing in One of the Biggest Games of His Career With the Dallas Cowboys
The Cowboys selected Aikman with the first pick of the 1989 NFL draft. The team was mired in a years-long losing streak — one that quickly came to an end. Aikman was a big part of that, along with hiring Jimmy Johnson as a coach as well as the blockbuster Herschel Walker trade that helped Dallas accumulate their impactful '90s superstars.
Within a couple of years, Aikman established himself as one of the most capable and clutch NFL quarterbacks. He made six straight Pro Bowl teams, starting in 1991. He also led the Cowboys to three championships, in Super Bowls XXVII, XXVIII, and XXX. In the first of those wins, Aikman also won the coveted Super Bowl MVP award.
Aikman's raw numbers may not seem as impressive as those of today's stars. But you must consider that he played in an era where the running game was heavily emphasized. Still, Aikman accumulated an impressive 32,942 passing yards, with a completion rate of 61.5%, reports Pro Football Reference. He entered the Pro Football Hall of Fame in 2006.
Aikman considers a comeback
RELATED: Cowboys Legend Troy Aikman Used Quarantine to Get in the Best Shape of His Life
Aikman recently appeared on the Great Dane Nation podcast hosted by Morten Andersen. There, Aikman recounted the fascinating but often overlooked story about how he considered making a comeback a few times after retiring. He had his eye on two teams in particular: the San Diego Chargers and Miami Dolphins.
The Chargers were the first to catch his eye. At that time (the 2001 season), Norv Turner was San Diego's offensive coordinator. Aikman and Turner had formed a strong bond in their time together in Dallas, where Turner was the offensive coordinator during the back-to-back wins in Super Bowls XXVII and XXVIII.
As Aikman recalled on the Great Dane Nation podcast, "I was serious about going to the Chargers. Norv Turner was the offensive coordinator at the time. Mike Riley was the head coach. And thought that that's where I was going to go."
In the end, however, the Chargers ended up signing veteran quarterback Doug Flutie, putting an end to that comeback opportunity.
A blessing in disguise
Aikman found himself contemplating another comeback the following year — this time with the Dolphins. The "common denominator" was Norv Turner, who was now Miami's offensive coordinator. The Dolphins felt they were "a quarterback away" from being a real contender. Aikman was interested in trying to get the team over the hump.
In the offseason, he began training to get back into game shape after two years out of the NFL. Yet Aikman never signed with the Dolphins. Miami's general manager at the time, Rick Spielman, didn't feel comfortable with the move. It was ultimately a good thing, since the Dolphins ended up being a much weaker team than expected. As Aikman put it on Great Dane Nation:
"And as it turned out I'm glad he [Rick Spielman] didn't pull the trigger, because the Dolphins did not have a very good football team that year. They were not just a quarterback away. They had more holes than they thought. I think they went 6-10 that season. It was a blessing in disguise."
In other words, Aikman has made peace with things, realizing that to make a comeback with a less-than-stellar team wouldn't have done anything to burnish his NFL legacy.