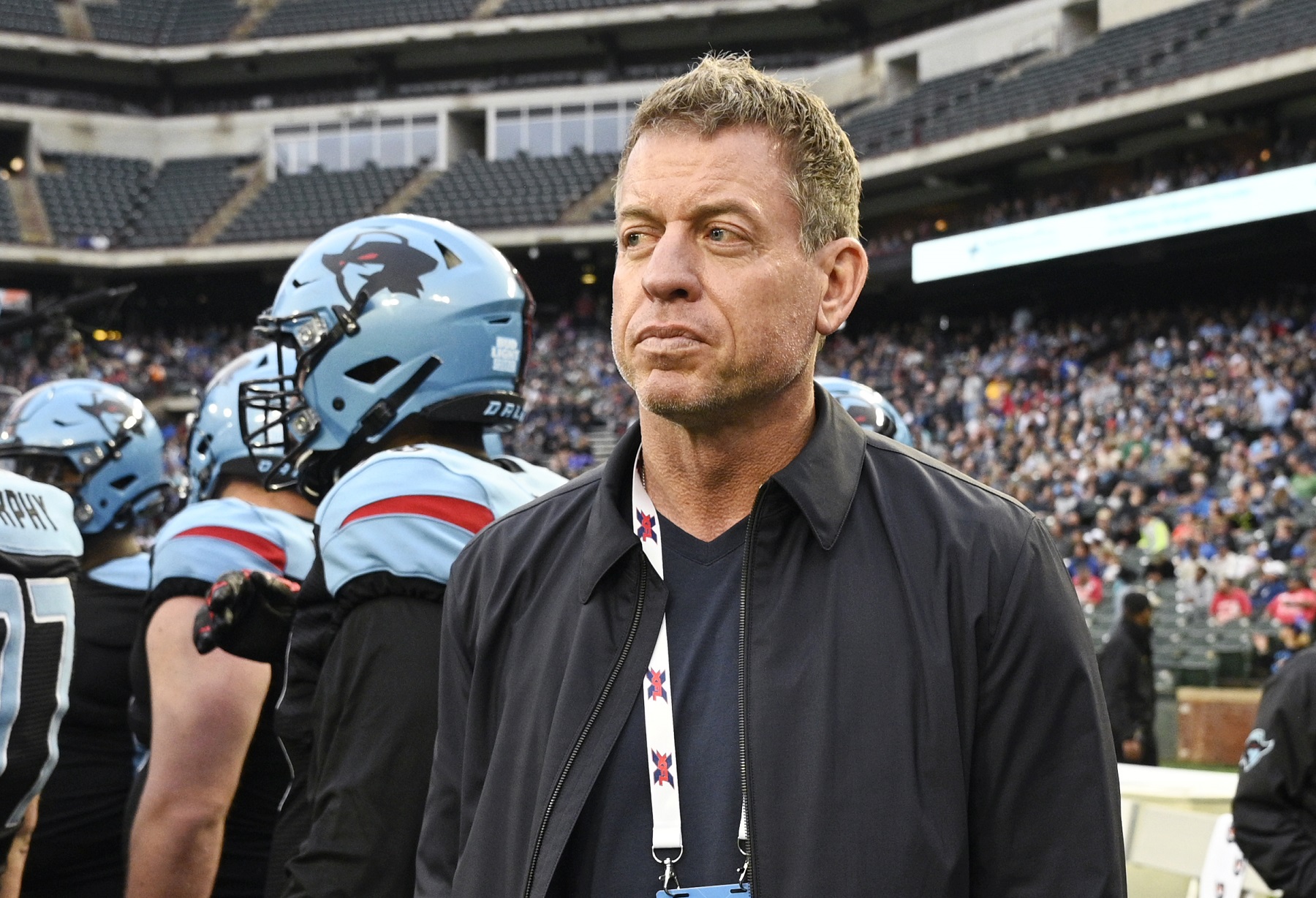 Troy Aikman Thinks Jerry Jones Should Pay Attention to Dwayne Haskins
Troy Aikman believes Dak Prescott checks all the boxes on the field and in the locker room, so Dallas Cowboys owner Jerry Jones should pay him.
The NFC East championship comes down to two intradivisional games on the final Sunday. Win or lose, though, Jerry Jones and the Dallas Cowboys won't be done making news. Aside from the ongoing speculation about potential changes to the coaching staff, there remains the very large issue of what to do about Dak Prescott. Troy Aikman thinks Jones should be looking closely at Dwayne Haskins.
No, it's not what you think.
The Dallas Cowboys still have a Dak Prescott situation to resolve
Dak Prescott has fallen into the "out of sight, out of mind" category because of everything else going on in the NFL, from pandemic-related postponements to the MVP race between Aaron Rodgers and Patrick Mahomes. But Prescott's situation hasn't changed since he went down with a gruesome ankle injury in Week 5 against the New York Giants.
The Dallas Cowboys franchised Prescott in the spring, and the sides could not come to an agreement on a new contract. That was going to make for a contentious negotiation the next time around. It's even more complicated now because of the injury.
Although Prescott will presumably be ready to go next season, owner Jerry Jones understandably might have some concern about the injury's potential long-term effect. On the other hand, the past three months have also demonstrated that the Cowboys do not have a suitable heir if they lose Prescott to free agency, which is why former Dallas great Troy Aikman has advice for Jones.
NFC East rivals have quarterback problems of their own
Amazingly, the Dallas Cowboys aren't all that much worse off than their divisional rivals when it comes to uncertainty over their quarterbacks. They may not have won a Super Bowl since the Troy Aikman days, but Dak Prescott could be the guy who gets them back there.
At 4-10-1, the Philadelphia Eagles are the only team out of the NFC East playoff race entering Week 17. They're also quite possibly out of ideas about what to do with Carson Wentz, who at one time looked destined for a long career in Philadelphia. Wentz threw for 54 touchdowns in 24 regular-season games in 2017-18. He threw for another 27 a season ago in an offense too dependent on the passing game.
This year, Wentz leads the NFL with 15 interceptions in just 12 games, he has fumbled 10 times, and his accuracy has fallen off. The decision to draft Jalen Hurts this past spring no longer feels frivolous, but Hurts hasn't shown he's ready to win the starting job.
The New York Giants are approaching a crossroads with Daniel Jones, who showed so many positives as a rookie in 2019 but is a turnover machine. Jones has nine TD passes and nine interceptions in 13 games this year. In 26 appearances over two years, he has 21 interceptions and 28 fumbles.
The Washington Football Team is the only member of the division to have come to a decision about its quarterback situation.
Troy Aikman has advice for the Dallas Cowboys
Kyle Allen has made four starts, Alex Smith five, and Dwayne Haskins six for the Washington Football Team this season. First-year coach Ron Rivera made it known before the season that he had reservations about Haskins, and the Ohio State one-year wonder simply did not cut it on the field in his second NFL season.
Frustrated by the poor play and Haskins' disregard of the COVID-19 protocols, Washington cut him this week. Even if Haskins matured on the field, there would be lingering concerns about his value in the locker room. That plays a large part in why TV analyst Troy Aikman wants to see his former team lock Dak Prescott into a long-term deal. Aikman alluded to the Haskins mess as something Jerry Jones could learn from.
"I think when you start handing out money and you start talking about franchise quarterbacks, yes, the play on the field is where it begins, but there's more that factors into that, more so than any other positions," Aikman told KRLD-FM in an interview transcribed by the Dallas Morning News. "These guys that are quarterbacks are the face of your franchise. They're the CEOs of your franchise.
"They have to be the ones who really establish the culture and the accountability within the football team. And if you don't have the right guy in that role, then I think you're really going to struggle as an organization. And Dak checks every box in my opinion. And, so, that's why I've said for the last couple of years that I wouldn't hesitate at all to pay him."
All stats courtesy of Pro Football Reference.