Troy Aikman Has Worked at Fox for 20 Years Yet He Still Insists He's Not the Media
An entire generation of football fans has grown up watching Dallas Cowboys legend Troy Aikman call games for Fox Sports.
The three-time Super Bowl champion joined Fox in 2001 and has spent two decades working on the network's No. 1 broadcast team. But although Aikman is a color commentator, don't expect him to introduce himself as a media member.
Aikman said he tells coaches that he isn't the media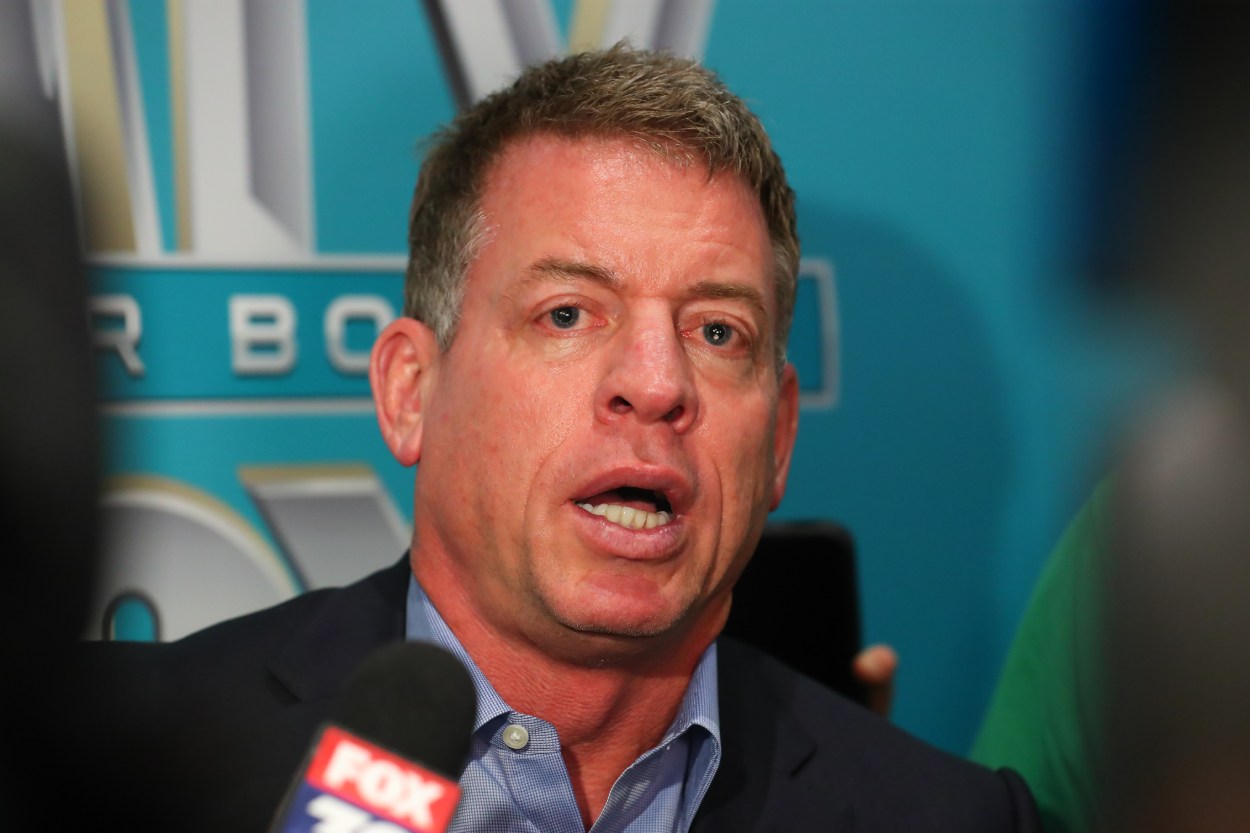 The idea of Aikman working in broadcasting but not viewing himself as a media member is an interesting paradox.
Barrett Sports Media transcribed comments Aikman made in a recent interview with The Ringer. The former Cowboys quarterback explained how he gets coaches to open up during their pre-broadcast production meetings.
"I think the more availability we get as broadcasters for the game, the better it is for the coaches. I am not looking to hammer anybody, but if I at least know what the plan was if it's not going so well, I can at least say 'this is not what they wanted to do, they were hoping to do this.'"

Troy Aikman
Aikman also acknowledged it is difficult getting those coaches to trust him and provide the information he is seeking, especially after coaches field similar questions from the media throughout the week.
"It's hard to tear down those walls that have been built for years," Aikman explained.
Aikman raised an interesting point about broadcasters and the media
The definition of media, especially in the sports world, is constantly changing. Independent bloggers and podcasters might now sit at the same press rows as traditional newspaper columnists during playoff basketball games.
Aikman indirectly raises interesting points about the role of broadcasters and if they should be considered media members. He works for Fox, a national company, and is not employed by either a team or a third party.
Although Fox pays the NFL for the rights to air games, Aikman is not necessarily a league employee. There is a significant difference between him and Ian Rapoport, who works for NFL Media. Remember, the league owns NFL Media and the NFL Network, so Roger Goodell is technically signing those employees' paychecks.
Fans and critics have accused Aikman of showing favoritism towards the Cowboys in his career. Traditional journalists are taught to avoid bias, whether it relates to sports or politics. However, anyone who has ever listened to a New York Yankees game on the radio will agree John Sterling, the team's play-by-play voice, clearly is happier when the team hits home runs and wins games.
If Aikman does not consider himself a media member, should that allow him to show more enthusiasm when the Cowboys score in a game he calls for Fox? Or is he still tied to those old rules about journalists and bias?
How much longer will Aikman work on Fox's lead broadcast team?
The 2021 season will be Aikman's 20th on Fox's No. 1 broadcast team, but will it be his last? That could be the multi-million dollar question the network faces in the coming months.
Aikman admitted earlier this year that he would like to be an NFL executive at some point. He turns 55 in November and certainly is young enough to spend several seasons in such a role.
If Aikman did leave Fox to join an NFL team, don't be surprised to see the network attempt making a splash hire instead of promoting from within. CBS pulled that off with aplomb when they hired Tony Romo to replace Phil Simms in 2017.
Tom Brady seems likely to play forever, and Peyton Manning has held off on becoming a full-time broadcaster. Drew Brees is also likely off the market after he signed with NBC Sports. Maybe we shouldn't be surprised if Aikman is an executive in 2022 and Joe Buck is calling games next to Philip Rivers.
Like Sportscasting on Facebook. Follow us on Twitter @sportscasting19.
RELATED: ESPN and Fox Each Sound Prepared to Make Robert Griffin III Their Newest Star