Troy Vincent Will Make NFL History if Roger Goodell Names Him the League's Next Commissioner
Former Philadelphia Eagles defensive back Troy Vincent has spent several years serving as one of Roger Goodell's closest confidants.
The time could be approaching where Vincent, a Pro Bowl cornerback in his prime, eventually succeeds Goodell as NFL commissioner. If that comes to fruition, the sports landscape as we know it could be changed in a historic way.
Troy Vincent is an early candidate to replace Roger Goodell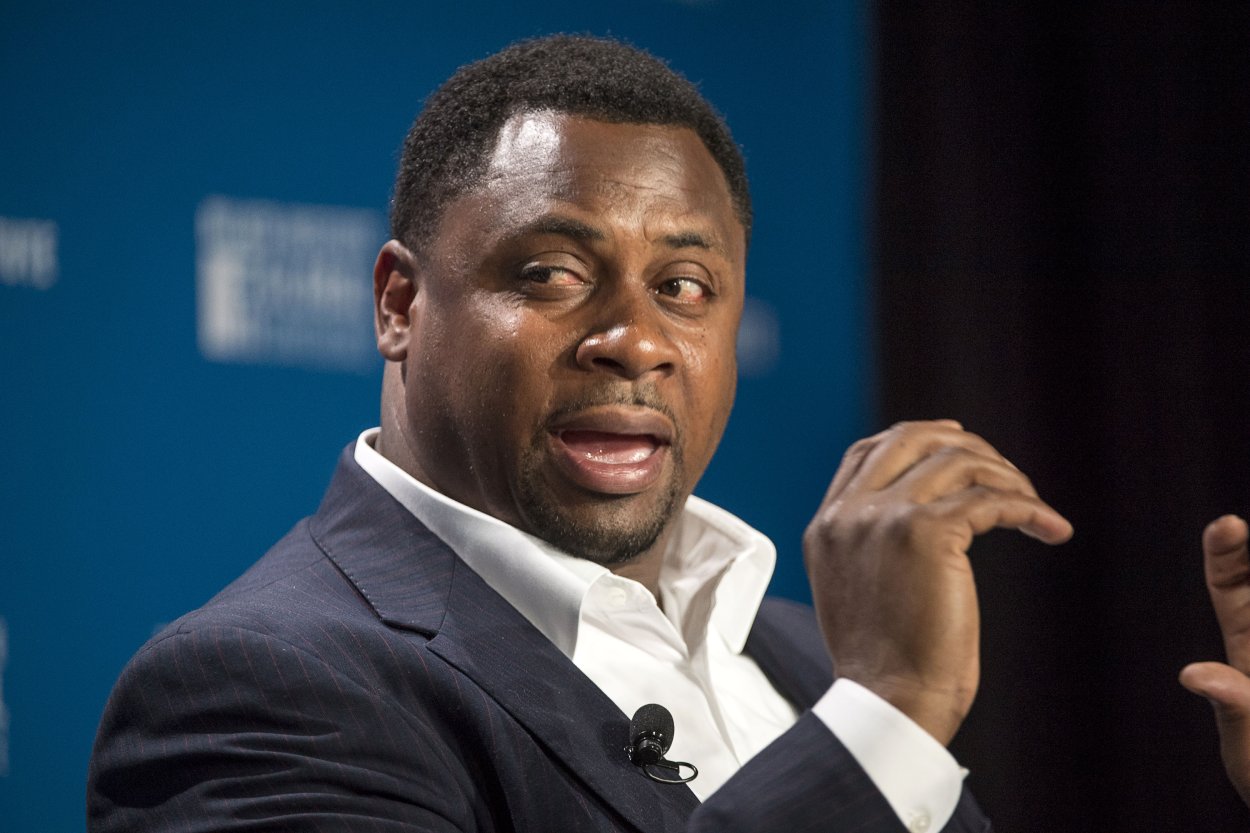 In yet another example of how fast time flies, Roger Goodell has been the NFL's commissioner since Sept. 1, 2006. At the time, Aaron Rodgers still sat behind Brett Favre, NBC hadn't yet aired a regular-season Sunday Night Football game, and Tom Brady only had three Super Bowl rings to his name.
But, nothing is forever, and that holds true for the most powerful man in football. Goodell turned 62 in February 2021, and even if he isn't stepping down yet, that time could be coming sooner than one might think. According to NBC Sports, the veteran commissioner hasn't yet decided if he will remain in power when his current contract expires in three years. 
When Goodell does eventually move on, Troy Vincent has emerged as an early favorite to replace him. Vincent, who turns 51 on June 8, currently serves as the NFL's executive vice president of football operations. Other than Goodell, few in the NFL hold more power than the former Pro Bowl defensive back.
Vincent would make history if he becomes the NFL's next commissioner
The seventh overall pick in the 1992 NFL draft, there once was a time where Vincent was among the NFL's top defensive backs.
He earned five Pro Bowl selections and intercepted 47 passes in 15 NFL seasons, eight of which came with the Philadelphia Eagles. The former All-American also picked off three passes in 14 career postseason games.
Vincent will make NFL history if he succeeds Goodell as commissioner. The league has not had a former player hold the role of commissioner since the AFL-NFL merger in 1966.
Only once in NFL history has an ex-player served as commissioner. Elmer Layden, a fullback in the 1920s, held that role from 1941 through 1946. He is perhaps best known for mandating teams play the National Anthem before all games begin.
None of the other three major American sports leagues have ever had an ex-player serve as commissioner. If Vincent breaks the glass ceiling, it will be interesting to see if other leagues follow.
Who else is an early candidate to eventually replace Goodell?
Vincent is an early potential candidate to replace Goodell, and as of publication, he is nothing more than that.
In his May 31 column for NBC Sports, Peter King listed two other notable internal candidates — chief media and business officer Brian Rolapp and chief strategy officer Chris Halpin — who could succeed Goodell. Rolapp helped organize the NFL's media deals and TV contracts. Halpin is in charge of managing the NFL's growth and brand, especially on an international level.
King also listed Rams COO Kevin Demoff as another name the NFL could consider for its next commissioner. Given the NFL's current momentum and direction, the league's best option may be to promote from within and award those who have helped the NFL grow and thrive, especially amid the global pandemic.
Like Sportscasting on Facebook. Follow us on Twitter @sportscasting19.
RELATED: Roger Goodell Just Gave Football Fans Around the World the Best Possible News About the 2021 NFL Season