Tua Tagovailoa Fires a Warning at Future NFL Foes: 'Expect More From Me'
Tua Tagovailoa's rookie season as quarterback of the Miami Dolphins was a mixed bag. On one hand, he won six of his nine starts and nearly led the Dolphins to the playoffs. On the other hand, some anonymous teammates have gone on record criticizing his play while openly saying they preferred the other Dolphin quarterback, Ryan Fitzpatrick. While there have been far worse seasons for a rookie quarterback, Tagovailoa will be the first one to admit he could have done a better job.
Evaluating Tagovailoa's rookie effort
RELATED: Tua Tagovailoa Throws Left-Handed for a Weird Reason
When Tagovailoa first stepped onto an NFL field, he had a high standard to live up to. He set that bar for himself at Alabama, where he established himself as one of the finest passers in the game. During his three years with the Crimson Tide, he finished with a TD-INT ratio of nearly 8:1 and won a national championship in his freshman year.
The jury is still out on how well Tagovailoa handled the transition to the pros. Due to the lingering effects of a hip injury he suffered during his final season at Alabama, he didn't make his first Dolphins debut until week eight. Once he assumed control, he won his first three starts and didn't throw an interception in his first five. He finished his rookie season with 11 touchdown passes and five interceptions.
The definite low point of Tagovailoa's season came at the worst possible time, the season finale against the Buffalo Bills. The Dolphins had to have a win to reach the playoffs, so they needed their quarterback to be at his absolute best. Unfortunately, he threw three interceptions against only one touchdown in Miami's demoralizing 56-26 loss. Tagovailoa did throw for 361 yards, but that statistic was padded, as the Dolphins played catch-up all afternoon which necessitated pass after pass.
Tagovailoa: 'It didn't go the way I expected it to go'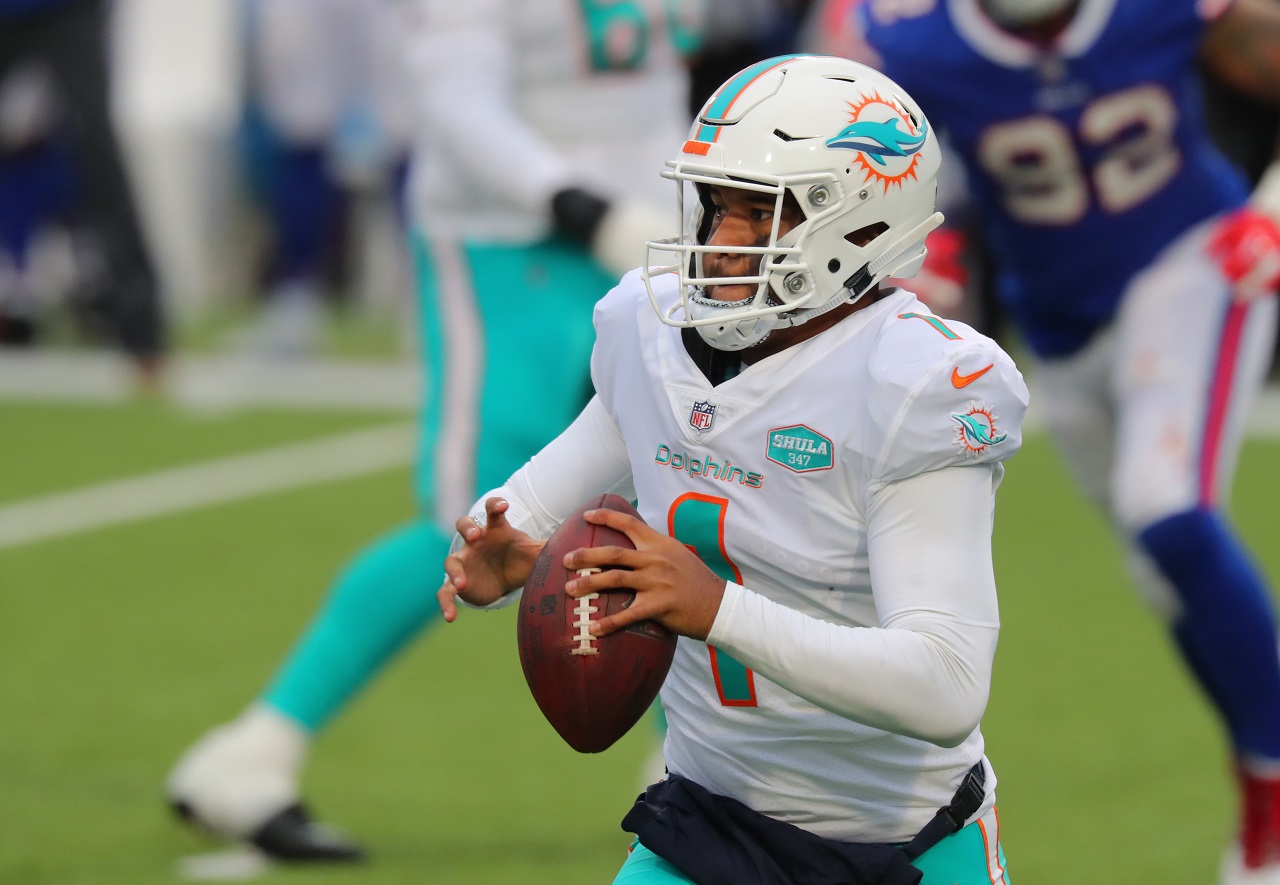 RELATED: Tua Tagovailoa Just Made a Concerning Admission About His Future With the Miami Dolphins
There have been much worse rookie seasons for quarterbacks in NFL history than what Tagovailoa produced — even from last season. Another quarterback from the rookie class, the Eagles' Jalen Hurts, took over the starting role and put up a mediocre showing in relief of Carson Wentz.
However, given Tagovailoa's spectacular pre-injury production at Alabama, it was fair to expect something more from his first NFL season. It seems from this interview with Sporting News that Tagovailoa also expected more from himself.
I felt like I was ready to get in the game, and I believe our coaches felt the same way. This past season, it didn't go the way I expected it to go. It was a good experience. It was a good first year under my belt. I'm just working hard this offseason to achieve what I expected to achieve last year.

I'd expect more from me — and for any competitor, you're going to be your biggest critic. If you don't get your team to the big dance and whatnot … I understand we're playing in the NFL. It's either that, or you shouldn't be playing the game.

Tua Tagovailoa, to Sporting News
Mitigating factors on the Dolphins' offense
Late in the season, it seemed as though head coach Brian Flores and offensive coordinator Chan Gailey started to lose faith in their rookie passer. That lack of faith seemed well-placed after they pulled Tagovailoa in the fourth quarter of their week-16 game at Las Vegas. Fitzpatrick took over and promptly led the Dolphins to a miraculous win that kept their playoff hopes alive.
For some reason, Tagovailoa lost his aggressiveness the second he stepped onto an NFL field. The numbers for his game against the Raiders display this perfectly. While he finished the game 17 for 22, those 12 completions went for only 94 yards — an average of 5.5 yards per completion.
The situation in Miami could not be more awkward. The rest of the roster is capable of making a playoff run next season, and the only weak link is at the most important position at the game. They could choose to continue developing their young star or upgrade immediately, and neither of those is guaranteed to succeed. Their only other option is sticking with Ryan Fitzpatrick, who is an unrestricted free agent and not getting any younger.
Statistics courtesy of Pro-Football-Reference.