The Fact That Tua Tagovailoa Still Has to Ignore Deshaun Watson Rumors Is a Huge Indictment Against the Miami Dolphins' Front Office
If you were to believe Tua Tagovailoa, the rumors swirling around his future with the Miami Dolphins don't mean a thing. With that said, fresh off a 30-28 loss to the Atlanta Falcons, Tua is still being peppered with questions about Deshaun Watson and the potential he ends up traded from the Houston Texans to the 'Fins.
Sure, he was asked about his performance. All anybody really cares about is the Watson rumor, though. And yes, he showed grit and leadership in the Dolphins' near loss to the Falcons. That was a huge positive for the young quarterback. The only thing the media as a whole will care about is whether or not he's distracted by one of the biggest off-field storylines in the NFL right now, though.
Tua says he's basically ignoring the issue. With the Dolphins now on a six-game losing streak, one has to wonder just how successful he and his teammates have been at that, though.
Tua Tagovailoa hears the Deshaun Watson chatter, but he supposedly doesn't listen to it
It has to be incredibly hard and frustrating for a young quarterback. Tua, just in his second season with the Dolphins, was drafted No. 5 overall in the 2020 NFL Draft. He was supposed to be the future for the Dolphins, and Miami at one point obviously put a ton of faith in him.
Imagine a rug of that magnitude potentially being pulled out on you at just 23 years old. It has to be anxiety-inducing.
To be hearing all of these rumors so soon in his Miami career has to be an incredible disappointment for Tua. To his credit, he's been nothing but professional about the subject and he has received public support from his head coach, Brian Flores. One has to imagine that the whole saga is wearing on the quarterback, but publically, Tua is not breaking on the issue.
"I hear it. I do hear it," Tua said when asked if he's been upset by the talk of the potential trade. "I just don't listen to it. So that's that."
Tagovailoa actually put Miami in a position to pull out a win
Miami's loss to the Falcons can't just be put on the distraction surrounding the quarterback position. In fact, Tagovailoa played a big role in putting Miami in a position to pick up its second win of the season. He did his part. It was the defense that ultimately let the Dolphins down.
The 'Fins were actually down, 27-14, early in the fourth quarter, but Tagovailoa led the offense to two straight touchdown drives, including one with 2:27 left in the game to give his team the lead.
The first drive saw Miami eat up 90 yards on nine efficient plays. Tua went 6-of-6 passing on that drive and also scrambled for a first down. He finished the drive with a touchdown strike to Myles Gaskin.
Miami's defense then forced a fumble and gave Tua the ball back with 5:53 to go on the Atlanta 40 yard line. He proceeded to lead the Dolphins to paydirt, completing 4-of-5 passes and finishing with a beauty of a touchdown pass to Mack Hollins.
"That's what you're looking for in a quarterback," Flores said, according to NFL.com. "He put us in position to win, that's all you can ask for."
Tagovailoa finished the game completing 32-of-40 passes for 281 yards, four touchdown passes, and two interceptions.
The picks definitely hurt, and they were glaring examples of where Tua can improve as a quarterback. He ultimately put those mistakes behind him, though, and did everything he could to win the game for Miami late in the second half.
His coach appreciated the effort but did the front office?
Right now, Peter King is reporting that Miami owner Stephen Ross is not pushing for the trade due to unknowns around when Watson may be able to play due to his legal issues.
This has been a back-and-forth drama all season, though, so the buzz is not going to go away until the November 2nd trade deadline.
These Watson rumors are ultimately hurting Tua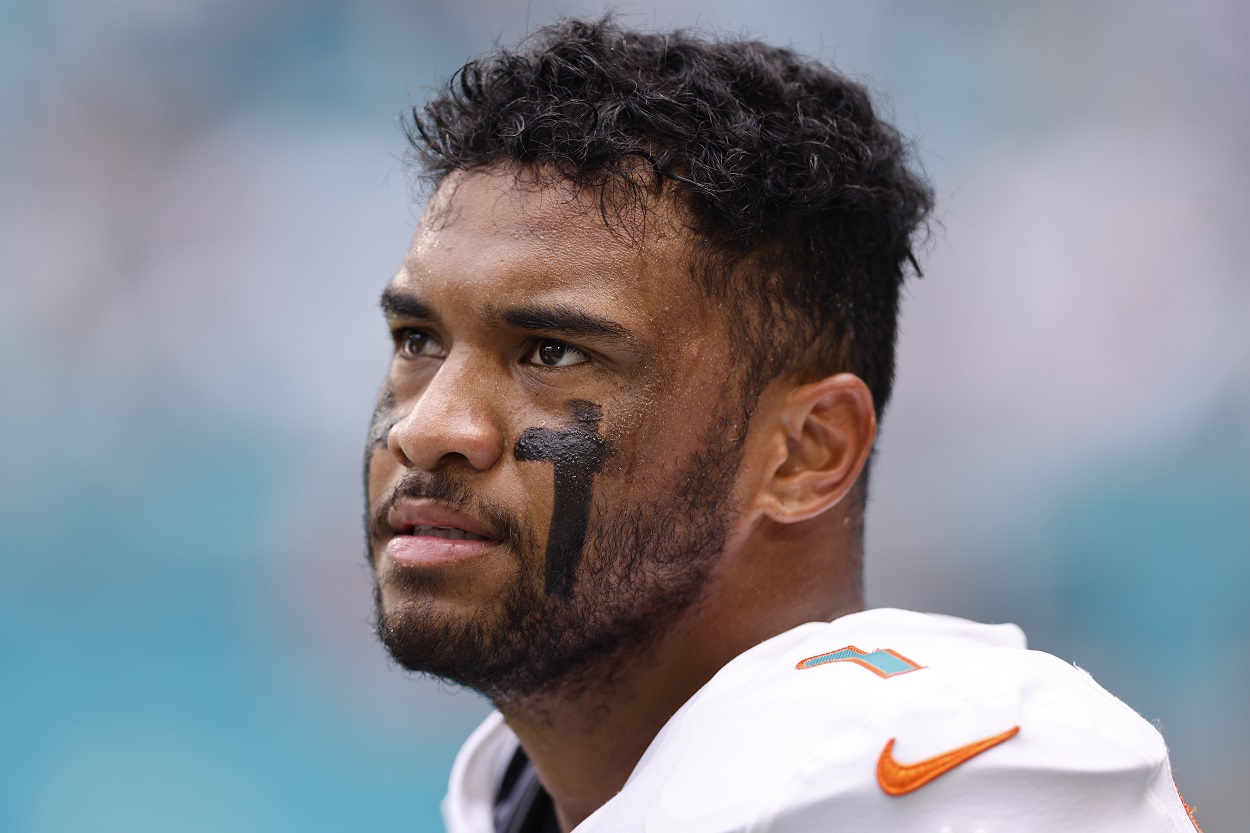 Flores is doing everything he can to back up his quarterback, but the fact that Miami's front office isn't coming out and strongly denying the Watson rumors every chance it gets has to be damaging to the young quarterback. King's aforementioned report is hardly a strong denial.
Here's the honest truth: Tua has flashed enough talent to prove that he can be a starting NFL quarterback, but he's struggling with inconsistency and decision making. That's not uncommon for young quarterbacks. Even Aaron Rodgers needed a season or two to get adjusted to the NFL. And yes, some may say that's exactly why a Miami organization that wants to compete right away needs to bring in Watson right away. On the other hand, one has to wonder how much better Tua could be if he knew he had the full support of the organization behind him.
The Dolphins are doing him no favors.
Not only does Tagovailoa take the field and play with the normal mental pressure that NFL quarterbacks face on a weekly basis, but he's also dealing with the emotional pressure of literally playing for his job. Every touchdown pass seemingly makes the Watson trade seem less likely, while every mistake brings the Houston quarterback closer to south Florida. That's not even considering that he has to mentally contend with the fact that Miami is "flirting" with a quarterback that as of right now may not even be able to play.
It's not an enviable position for a young quarterback, and the case can be made that maybe a fresh start would be best for Tua. Miami's front office has a young, relatively cheap franchise quarterback in front of it. Instead of being star-struck by a quarterback who may not even be able to play another snap in the NFL, the Dolphins should start pouring resources into helping Tagovailoa get better.
Right now, Tua is in Miami and he says he's ignoring the rumors. The fact that he even has to answer these questions on a weekly basis is ridiculous, though. It's just as much an indictment against the Dolphins as it is on him.
Stats courtesy of ESPN and Pro Football Reference.
RELATED: Dolphins Head Coach Brian Flores Doesn't Mince Words When Discussing Tua Tagovailoa's Future in Miami As Deshaun Watson Rumors Continue to Swirl