Tua Tagovailoa Is in Major Danger of Another Controversy-Filled Offseason Following the Dolphins' Firing of HC Brian Flores
Entering the 2021 NFL season, Tua Tagovailoa's job status was the topic on everyone's mind in South Florida. The Miami Dolphins were constantly linked to disgruntled Houston Texans quarterback Deshaun Watson, causing many to believe a blockbuster trade of sorts was imminent.
Following Tagovailoa's slow and injury-riddled start to the season, the conversation around Watson-to-Miami intensified. Multiple NFL reporters claimed a deal was on the brink of happening.
Ultimately speaking, the deal never materialized. Watson remained on the Texans' roster as an inactive member, while Tagovailoa helped guide the Dolphins to an impressive 8-1 record during the season's final nine games. The Dolphins still missed out on the playoffs. However, it was a notable string of good starts for the second-year QB.
Tua Tagovailoa tried to stake his claim as the Dolphins' franchise QB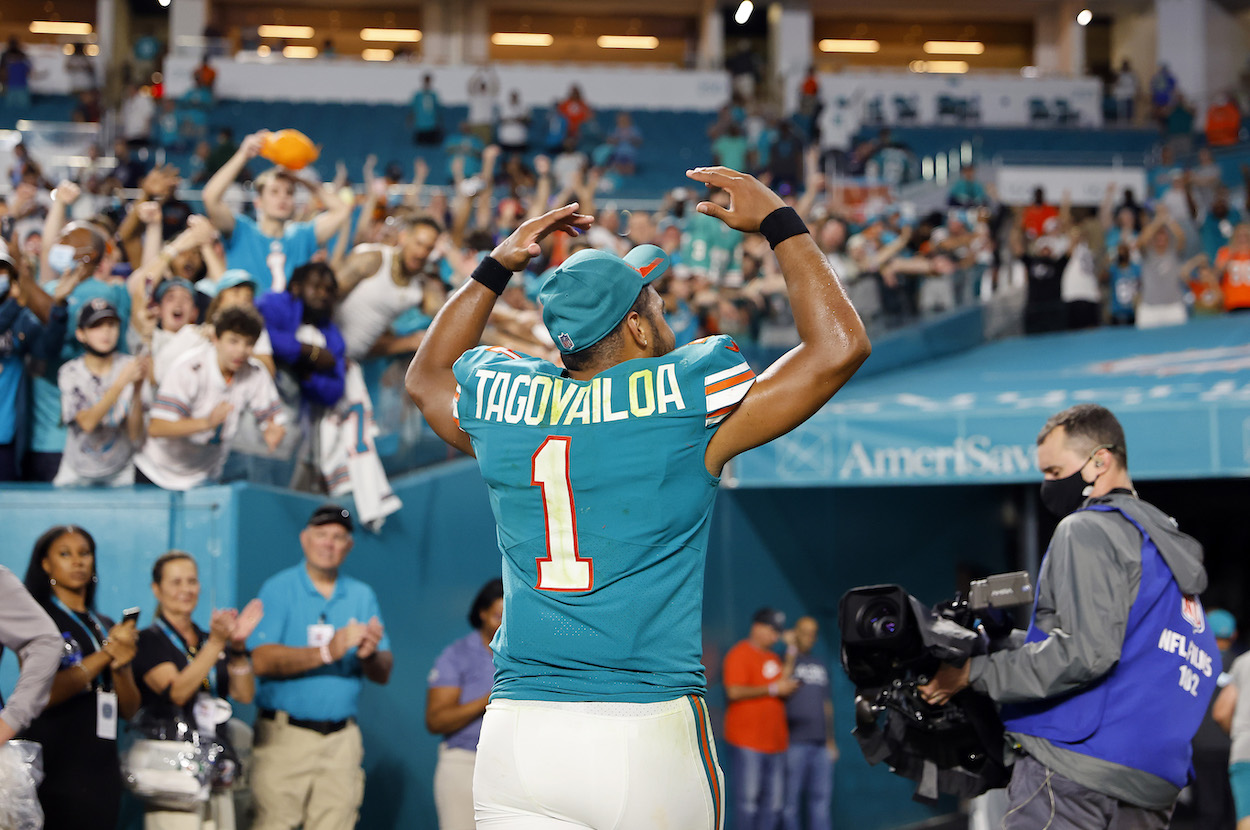 The Dolphins are playoff-less during their two seasons with Tagovailoa. However, this doesn't mean the former Alabama gunslinger isn't improving.
Tagovailoa improved in almost every notable metric this past season compared to his rookie year. His passer rating, quarterback rating, and touchdown rate all went up. His completion rate went up. His yards per attempt and yards per completion both went up. At every turn, Tagovailoa improved as an NFL quarterback in 2021.
Add in the seven-game winning streak he went on, and many thought Tagovailoa had done enough to guarantee his place under center in Miami for 2022. However, following a shocking move by the Dolphins' owner, this may not be the case.
The Dolphins fired fan-favorite head coach Brian Flores
The Dolphins' goal this season was to make the postseason. While they failed to sneak their way in, 2021 was by no means a failed year for the organization.
The Dolphins finished with a winning record for their second year in a row; they swept the New England Patriots and showed some serious fight down the stretch to make it an exciting season for the fans.
However, all of this clearly wasn't enough for owner Stephen Ross. He sent fan-favorite head coach Brian Flores packing on Monday morning, firing him just three years into his five-year contract. It was a shocking move considering how strong the Dolphins finished their season and how good the defense has become under Flores' watch.
What does Flores' exit mean for Tua Tagovailoa?
With Flores no longer in the building, and a new head coach set to take over in the coming weeks, one must wonder what this means for Tagovailoa.
On the surface, Tagovailoa has done enough to warrant a third and maybe even fourth year as Miami's starter. However, a new head coach in town could mean a new voice in Ross' ear — possibly pushing him to trade for the before-mentioned Deshaun Watson.
Stephen Ross is reportedly a fan of Watson and wouldn't need much convincing to pull the trigger on a Watson deal.
It's unclear where general manager Chris Grier stands on the matter, as he's the one who selected Tagovailoa during the 2020 NFL Draft. However, one can reasonably assume his leash is also getting shorter in Miami. If both Ross and the team's new HC want Watson, he would have no choice but to oblige.
Regardless, 2022 is going to be another controversy-filled year for Tagovailoa. He has to form a relationship with a brand new head coach while simultaneously battling trade rumors for the second straight season.
All stats courtesy of Pro Football Reference.