Tua Tagovailoa Will Be the NFL Draft's Greatest Quarterback Steal Since Aaron Rodgers
Tua Tagovailoa wasn't the first quarterback selected in the 2020 NFL draft, but he nonetheless found a new home in Miami. The Dolphins used the fifth overall pick on Tagovailoa, a Heisman finalist at Alabama.
The Dolphins significantly benefit from selecting Tagovailoa as their quarterback of the future. Tua Tagovailoa has an opportunity to be the NFL draft's greatest quarterback steal since Aaron Rodgers fell to the Green Bay Packers in 2005.
A hip injury dropped Tua Tagovailoa in the NFL draft
Tua Tagovailoa spent the last two years as the 2020 NFL draft's presumptive top pick — or, at least, the first quarterback off the board depending on how things played out. That didn't quite come to fruition after Tagovailoa suffered a dislocated hip and posterior wall fracture against Mississippi State last November.
The Cincinnati Bengals drafted LSU's Joe Burrow with the No. 1 overall pick.
The recent history for projected top quarterbacks who fell in the NFL draft is kind to Tua Tagovailoa. Louisville's Teddy Bridgwater and Lamar Jackson each fell to the 32nd overall pick in 2014 and 2018, respectively.
Bridgewater led the Vikings to an NFC North Division title in 2015 and signed a large contract with the Carolina Panthers this offseason.
Lamar Jackson was the NFL's unanimous MVP last year. The Baltimore Ravens have won the AFC North Divison in consecutive years with Jackson at quarterback.
EA Sports announced Jackson as the Madden NFL 21 cover athlete earlier this week.
There have been a fair share of busts who fell in the draft — Johnny Manziel's short NFL career was more because of off-field issues than his play — but Tagovailoa is not Johnny Manziel.
Tagovailoa is still a can't-miss NFL prospect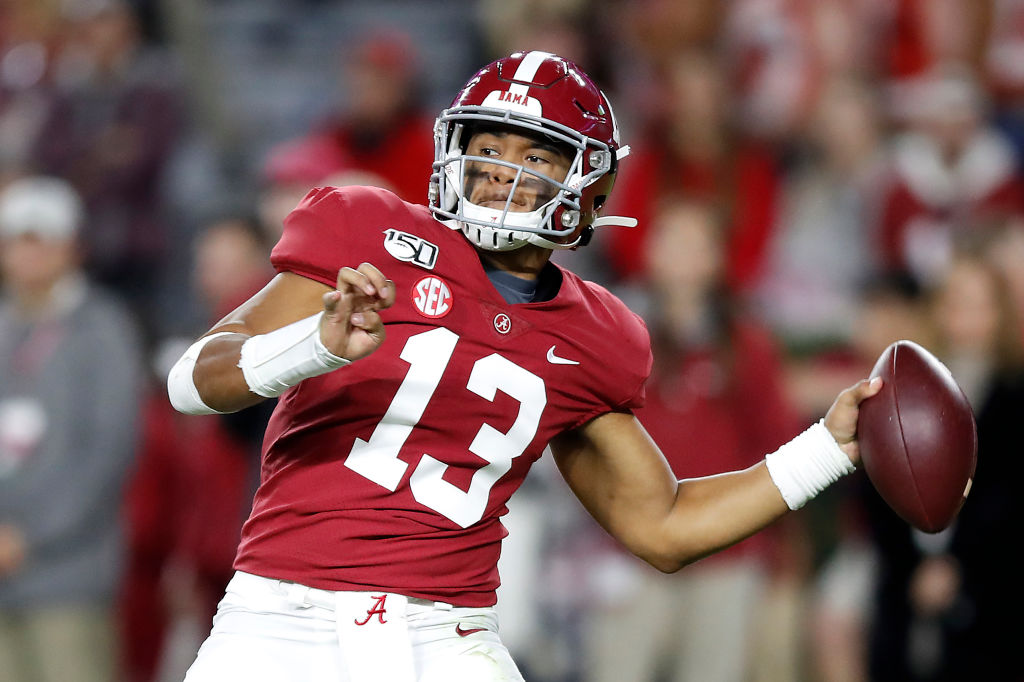 NFL teams rightfully exercised caution about Tua Tagovailoa's future. Even with slotted rookie contracts, the team that invested a high pick in Tua was taking a serious risk, especially with an uncertain 2020 NFL season ahead of us.
Still, the Dolphins deserve credit for taking that risk. Tua Tagovailoa gives the Dolphins the franchise quarterback they have been searching for since Dan Marino retired.
Tua Tagovailoa's arm strength and leadership made him one of the top quarterback prospects in years. Before his hip injury, Tagovailoa was considered the first "can't-miss" quarterback prospect since Andrew Luck in 2012.
Tua Tagovailoa oozes the skill set and personality teams want from prospective franchise quarterbacks. The Dolphins should be grateful Tagovailoa fell to them at No. 5 overall.
Tua Tagovailoa, like Aaron Rodgers, will thrive after falling
This comparison isn't to say that Tua Tagovailoa is going to emulate Aaron Rodgers and become an all-time NFL legend. That would be premature and unfair to Tagovailoa, especially with his eventual return and NFL debut potentially delayed because of the coronavirus pandemic.
Rather, Tagovailoa will take full advantage of dropping to the fifth overall pick and eventually become one of the league's top quarterbacks.
There are flaws in comparing Aaron Rodgers' career to Tua Tagovailoa's. Rodgers spent his first three years sitting behind Brett Favre and his repeated "will he retire or won't he?" antics that eventually earned Favre a trade to the New York Jets.
Tagovailoa could become the Dolphins' starting quarterback later this year, if not in 2021 when he is over a year fully removed from the hip injury.
Tagovailoa's Dolphins are scheduled to face Aaron Rodgers' Packers in 2022. That could obviously change in the Super Bowl. It would be a fitting passing of the torch, especially if that matchup comes in the postseason.