10 Best Twitter Reactions to Tim Duncan's Retirement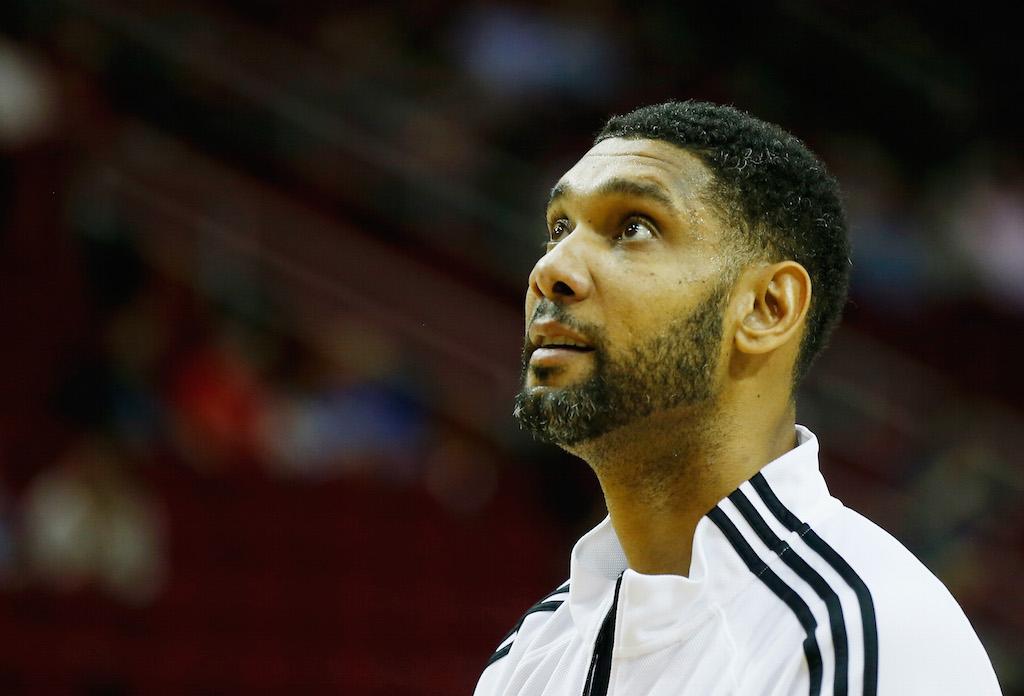 We still can't believe Tim Duncan's retirement announcement. Although he gave us 19 remarkable NBA seasons, one sensational performance after another, and a lifetime of the purest ball we've ever seen, it still doesn't feel real that "The Big Fundamental" has decided to call it a career. We're not the only ones who were affected by this announcement.
With social media — particularly Twitter — being the ultimate forum to express one's opinion, everyone from fans and pros to past NBA greats have felt obliged to show their respect to arguably the greatest power forward of all time. While each and every one of these thoughts matter, the way we see it, some people's tweets managed to stand out among the rest. With that in mind, here's a look at the 10 best Twitter reactions to Tim Duncan's retirement announcement.
10. Sir Charles pays his respect
Charles Barkley has high praise for Tim Duncan… pic.twitter.com/wBO8jI1CHT

— NBA on TNT (@NBAonTNT) July 12, 2016
Charles Barkley is one of those broadcasters who makes a living by saying nonsensical things. While some may not approve of his antics, we think he's hilarious. That being said, whether you like Sir Charles or not, it's hard to argue with this statement. That's high praise indeed —  and we agree completely.
9. Now that's a winner
Tim Duncan's Spurs…

Win streaks of 5+: 73
Losing streaks of 5+: 1

More amazing numbers: https://t.co/0Y1A2ge1xo pic.twitter.com/8YfKGvScQM

— ESPN (@espn) July 11, 2016
Since the San Antonio Spurs took him first overall in the 1997 NBA Draft, Duncan has only experienced a losing streak of five or more games once in his career. On the flip side, he's experienced a winning streak of five or more games on 73 separate occasions. Let that sink in for a second. That's what winning looks like.
8. What a difference a Duncan makes
Having Tim Duncan was always a good thing. pic.twitter.com/QS83OX9cpq

— CBS Sports NBA (@CBSSportsNBA) July 11, 2016
Speaking of winning, with five NBA titles on his resume, The Big Fundamental has more championships than 26 other franchises have in their entire existence. Seriously, is this guy even human? We're not so sure anymore.
7. Getting it done on both ends of the floor
https://twitter.com/andrewflowers/status/752600242239995904
Some NBA greats get the job done on the offensive end of the floor, others make a name for themselves with their defensive prowess. As you can see by this table, Duncan was a master of both facets of the game. Truly remarkable stuff.
6. The Diesel won't disagree
In Shaq's autobiography he recognized Tim Duncan's ? status. pic.twitter.com/w1EHtv8ZEj

— SportsCenter (@SportsCenter) July 11, 2016
There aren't many things that Shaquille O'Neal doesn't have any opinion on. However, to say that he wouldn't argue with a fan who claimed that Tim Duncan was the GOAT — Greatest of All Time — actually speak volumes. Once again, Duncan receives the highest praise from a legendary NBA figure.
5. The bank was never closed
Tim Duncan made a living going glass in his career. No NBA player was nearly as effective with the bank shot. pic.twitter.com/kU8bPM82Qi

— ESPN Stats & Info (@ESPNStatsInfo) July 11, 2016
Although we don't need numbers to remind us of how glorious Duncan's bank shot was, these figures are simply too incredible to ignore. When it came to Duncan's game, no flash was necessary. This is why he's The Big Fundamental.
4. So true…
The NBA will never be the same.#KobeBryant #TimDuncan pic.twitter.com/BFFFaTe72V

— NBA Memes (@NBAMemes) July 11, 2016
With the retirement of both Duncan and Kobe Bryant, in one fell swoop, the National Basketball Association — and fans everywhere — lost two of the greatest players to ever step on the floor. Not only that, the absence of these two giants will leave a major void in the world of memes. It's safe to say the "meme game" will never be the same.
3. So, there's no laughing in basketball?
Tim Duncan once earned two technical fouls and an ejection for laughing on the bench pic.twitter.com/EXSRiRrwAY

— Kenny Ducey (@KennyDucey) July 11, 2016
Only Tim Duncan could receive two technical fouls, subsequently being ejected from the game, for laughing on the bench. Seriously, this is something that does not happen. Ever. We're just glad we got to experience this moment again. It's a classic.
2. "It's happening! Everybody stay calm!"
Live video of San Antonio finding out Tim Duncan is retiring. https://t.co/YPWt5Qf0Uj

— Jocelyn Perez (@ohmyjoce) July 11, 2016
When the news of Duncan's retirement first broke, this is probably how the fans initially reacted. After all, for the first time in 19 seasons, the folks in San Antonio will experience basketball without the greatest Spur in franchise history. As much as you can prepare for a situation like this, you're never ready for it to actually happen. Just so we're clear, however, it is happening. This is not a drill!
1. Pretty much how it went down
Tim Duncan be like… https://t.co/YGNwWiwgH1

— Basketball Forever (@Bballforeverfb) July 11, 2016
Like Forrest Gump, Duncan just knew it was time to call it quits. No fuss, no muss. We couldn't imagine it going down any other way.