Tyler Herro Unleashes an Asinine Statement That is Early Candidate for Hot Take of the Year
Tyler Herro's breakout performance in the Orlando "bubble" resulted in endorsement deals and rap songs entitled in his name. But the sudden stardom has most definitely gotten to his head. Or maybe it's the sun in South Beach.
As he prepares for his third season in the NBA, Herro is already making a ridiculous claim that can be regarded as the early leader for hot take of the year. Confidence is good, but the Miami Heat guard's proclamation is straight madness.
Tyler Herro believes he is on the same level as Luka Doncic, Trae Young, and Ja Morant
Tyler Herro's play hasn't merited All-Star or All-NBA consideration. But he somehow feels he belongs in the same category with some of his peers who, early in their careers, have already laid claim to superstardom.
The Heat guard said on the Miami Mic'd Up podcast that he believes he is in the same rarified air as young stars such as Luka Doncic, Trae Young, and Ja Morant.
Wait, what?
It's not as though Herro isn't talented. He is a skilled combo guard who can create his shot off the dribble and be a playmaker for his teammates, not to mention an incredibly tough matchup when he's shooting efficiently from beyond the arc.
However, it's pretty absurd for Herro to put himself in such elite company given the leaps that guys like Luka Doncic, Trae Young, and Ja Morant have made when compared to his minor step forward, if that.
Herro hardly took a step forward while other young stars continued their rapid ascent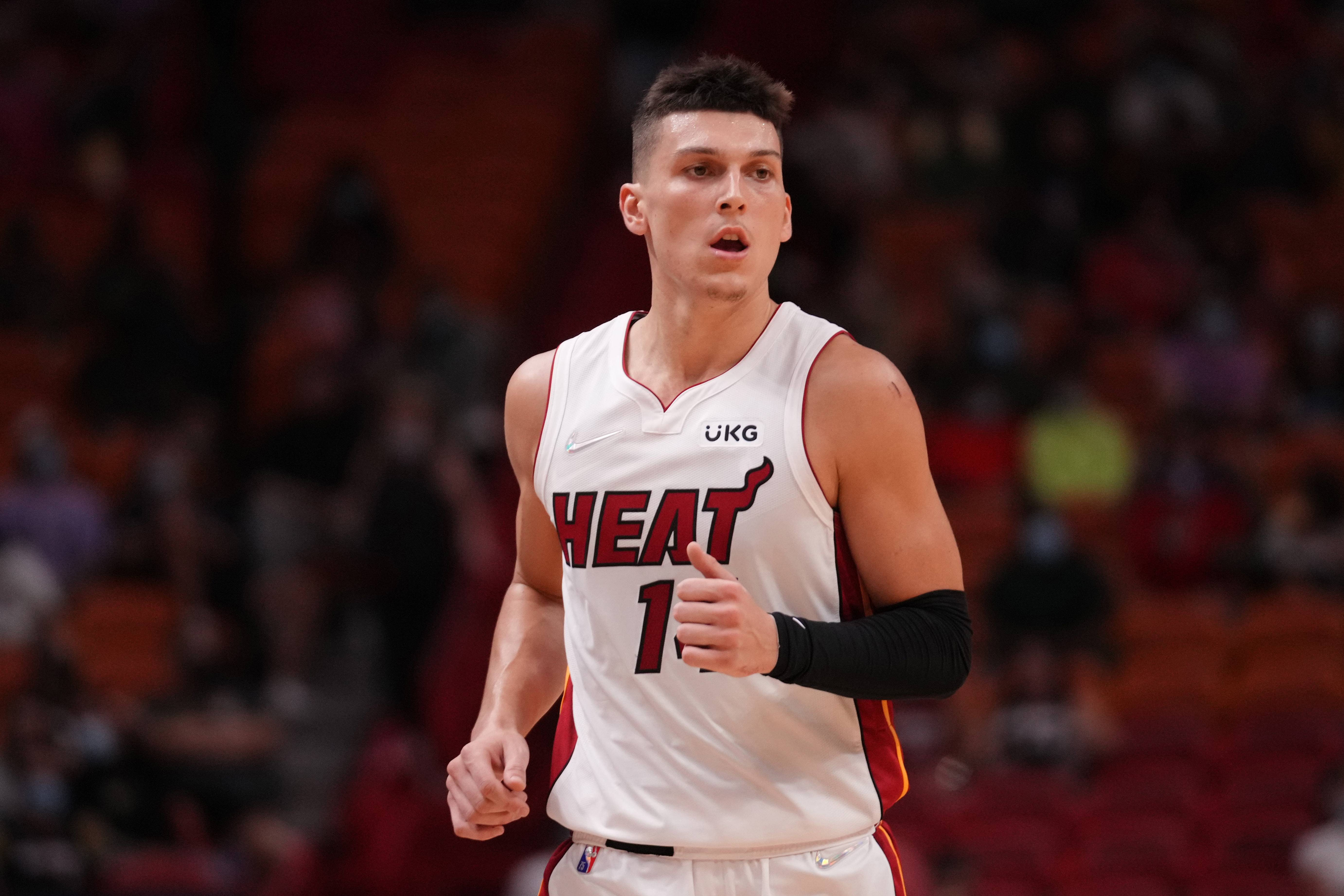 Although Herro's aspirations are undoubtedly admirable, he can still only work at being considered one of the best players in the NBA. Luka Doncic and Trae Young are already there.
Doncic is coming off back-to-back All-NBA First Team appearances and is a guy who will likely garner quite a few MVP votes this season. Ice Trae made the All-Star team in his second season and was the eminent superstar leading the Atlanta Hawks to the Eastern Conference Finals last season.
How did Herro respond to his bubble breakout? In a somewhat underwhelming fashion.
The former Kentucky star put up more productive numbers across the board in his sophomore campaign, averaging 15.1 points, 5.0 rebounds, and 3.4 assists. But he saw minimal increases in win shares (1.6 to 1.7) and value over replacement player (0.1 to 0.2), while his true shooting percentage dipped slightly.
Additionally, Herro was horrendous in a first-round sweep at the hands of the Milwaukee Bucks. He averaged just 9.3 points on a pitiful 31.6% shooting from the field.
The Heat clearly still have high hopes for Herro, which is likely why they refused to trade him at last season's deadline. But after all the rumors and now this grand assertion, it's time for the youngster to put up or shut up.
This could be a make-or-break season for Herro in Miami
The Heat picked up Tyler Herro's option for the 2022-23 season, which could put them in a position to extend the youngster next summer. Or, if he struggles to make significant gains, use him as trade bait.
While Miami not have pulled the trigger on any deal involving Herro, there's no question his name has circulated in the rumor mill. Kyle Lowry's arrival is suggestive of the team's desire to regain its status as Eastern Conference champions, and Pat Riley could be more amenable to moving Herro if he thinks the Heat can contend for a title.
The good news for Heat fans is that Herro is showing positive signs in the preseason. He is averaging 20.8 points, 4.5 rebounds, and 3.0 assists through four exhibition games after adding some muscle during the summer.
Perhaps Herro is embracing the pressure he faces heading into a critical third season. Then again, he's already placing quite a bit of pressure on himself with one of the most egregious statements of the 2021-22 campaign thus far.
Stats courtesy of Basketball Reference or NBA.com.
RELATED: NBA Decision-Makers Double Down on Their Pick for This Year's Eastern Conference Sleeper