Tyler Herro Is Winning Over Fans and Fellow NBA Players Alike
Tyler Herro has not made a quiet entry into the world of professional basketball. The 20-year-old rookie has taken Miami Heat fans by storm while earning a fan-base amongst his teammates as well.
The rookie from Kentucky is proving he has what it takes to be a great player in the league for years to come. He might just be a key part of the Heat's championship run.
Tyler Herro's beginnings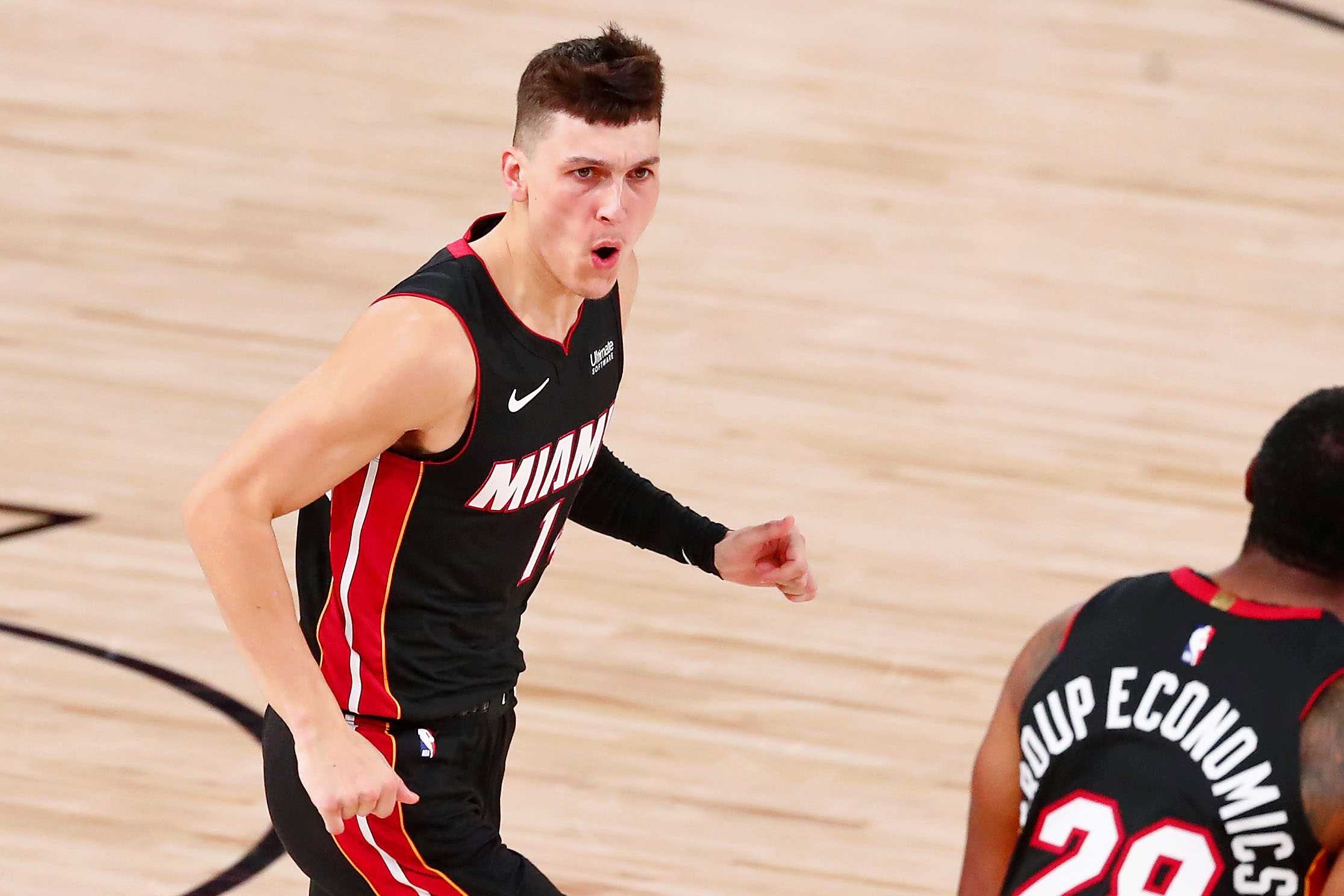 A Milwaukee native, Herro played basketball during his days at Whitnall High School in Greenfield, Wisconsin. He was named to the First Team All-State his senior year. During his junior and senior years, Herro was courted by many colleges and universities, finally landing with the University of Kentucky, where he played the 2018-19 season.
His college days were numbered though as he headed for the 2019 NBA draft. He was chosen by the Heat in the first round, and signed with the team in July.
Tyler Herro becomes an instant hero!
RELATED: Zion Williamson Once Called Tyler Herro the 'Most Underrated' Prospect in America
Despite the effects of the Coronavirus (COVID-19) on the NBA season, Herro has made the best of his playing time. Wearing #14, Herro fans especially took notice in a game against the Milwaukee Bucks, earlier this month.
Herro scored 14 points, all of which seemed to be "big ones," according to the Sun-Sentinel. He also grabbed eight rebounds and had six assists.
Twitter fingers were flying on the keyboard that evening.
"Herroooooo Ball Let's go!" tweeted former Heat shooting guard Dwyane Wade.
Former NBA star and ESPN analyst Kendrick Perkins tweeted, "Tyler Herro can play in ANY HOOD in AMERICA!!! Carry on . . ."
Performance in the playoffs so far
Veteran teammate, and former NBA Finals MVP, Andre Iguodala, who recently joined the team, expressed his impressions of Herro on a recent episode of The Bill Simmons Podcast, according to USA Today's Rookie Wire.
"I saw the work ethic of Tyler Herro and I was like, 'Woah! This kid is different.'" Iguodala said on the podcast.
"You can see guys who are really talented and you see those kids who just have a knack for just wanting to be really good and you really have a joy in working hard, which is a very rare trait."
The work ethic paid off during game three against the Celtics. Herro came off the bench for 22 points with four assists and three rebounds. 16 of those points came in the second quarter, challenging Bryant's record to score the second-most points in a playoff quarter at age 20 or younger, since 1997.
In 1997, Bryant had 17 points in the last quarter against the Utah Jazz, according to Essentially Sports. Bryant was 19 at the time.
Future looking bright
RELATED: Goran Dragic Has Quietly Earned Over $100 Million in the NBA
Hopefully, the 2020-21 season will lean a bit more toward normal, at least as far as the number of games played, allowing Herro to have his first true regular season. Already a solid player, there is still room for growth. Luckily he is under head coach Erik Spoelstra.
There is no doubt that Herro's skills are impressive, and he is a definite plus for the team. He has a two-year contract with Miami, earning a $3.6-plus million base salary this season, with a tad higher base for the 2021-22 season, according to Sportrac.
Time will tell if Herro will develope into a true NBA star. But if his growing list of fans are any indication, Herro has a long career ahead of him.