Tyler Herro Just Accomplished Something That No Other Rookie Has Accomplished This Century
Of course, the most popular rookies in the NBA this season have been Ja Morant and Zion Williamson — and for good reason. However, there is another solid rookie that has been incredible in the NBA playoffs so far — Tyler Herro of the Miami Heat. In fact, Herro just accomplished something that no other rookie has this century.
Tyler Herro was a star in his one season with the Kentucky Wildcats
Herro played at the University of Kentucky in 2018-19, and he had a spectacular season. He ultimately averaged 14 points per game to go with 4.5 rebounds, and he shot 35.5% from 3-point range. His play ended up earning him All-SEC and SEC All-Freshman honors.
Additionally, like almost every other season, Kentucky was an excellent team that year as the Wildcats went 30-7 and reached the Elite Eight. Herro played really well during their Sweet 16 win over Houston too, scoring 19 points and shooting 53.8% from the field.
After his incredible year at Kentucky, Herro ultimately went to the Miami Heat with the No. 13 overall pick in the 2019 NBA draft.
He has had an incredible rookie season with the Miami Heat
The Miami Heat have ultimately shocked the league by becoming one of its best teams this season. Led by Jimmy Butler and Bam Adebayo, the Heat went 44-29 in the regular season and claimed the No. 5 seed in the Eastern Conference.
Herro was also a big reason that the Heat were so good in the regular season. He averaged 13.5 points per game and 4.1 rebounds this year, and he shot 38.9% from 3-point range.
Miami has since continued to dominate in the playoffs too. In the first round, the Heat swept through the Indiana Pacers, and they didn't win one game by fewer than nine points. Herro ended up playing great in those four games too, averaging 16.5 points per game and four rebounds.
Many people then thought that the Heat were going to have a tough time in the next round against the No. 1-seeded Milwaukee Bucks, but they ultimately got out to a 3-0 series lead. Herro averaged 13.7 points per game and 5.3 rebounds in those games. The Bucks, however, won Game 4, 118-115 to make the series 3-1.
Tyler Herro has made NBA history in the playoffs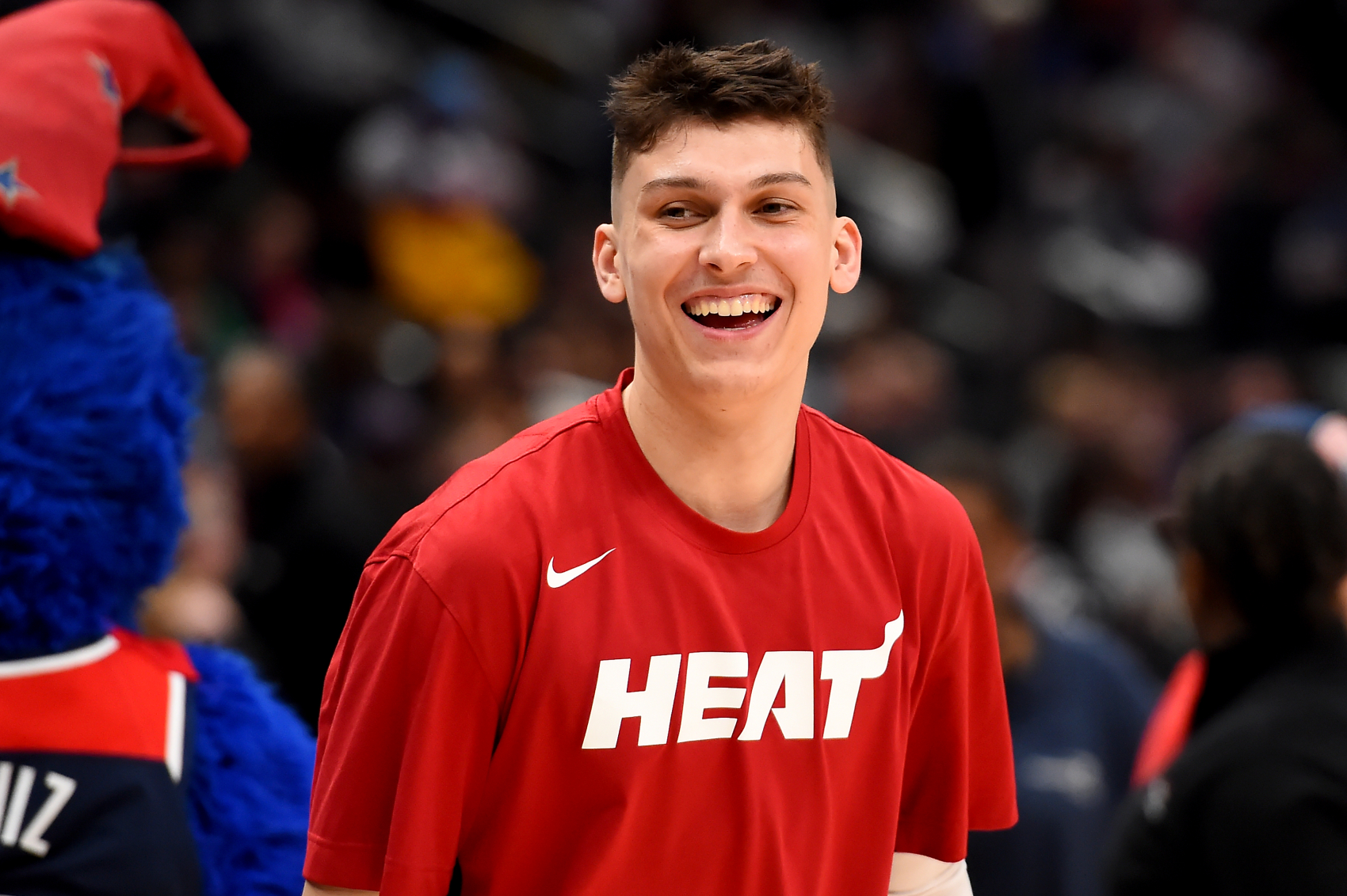 In addition to averaging 14.8 points per game in the playoffs so far, Herro also recently made NBA history, doing something no rookie has done this century.
According to the Miami Herald, he has hit four clutch 3-pointers in eight postseason games so far, which is more than any rookie in the playoffs this century.
The clutch is defined as the final five minutes of the fourth quarter, or in overtime, with the margin being five points or fewer, according to the Miami Herald.
The NBA began tracking clutch shots in 1997, and Matt Maloney hit as many clutch 3-pointers in that postseason as Herro has made so far in this postseason. However, since the turn of the century, Manu Ginobili had hit the most with three in 2003, but Herro has since surpassed that mark.
"His confidence is special for sure," Herro's teammate Duncan Robinson said, according to the Miami Herald. "The area he has grown a lot is feel. The game has really slowed down for him. A couple passes he's made in this [postseason] have been really, really impressive. He's grown so much throughout this year and the best is yet to come for him.
In the previous six postseasons, rookies hit five clutch playoff threes in total. Troy Daniels, Bogan Bogdanovic, OG Anunoby, Royce O'Neal, and Landry Shamet each made one.
"His game continues to grow and we're going to continue to ask more of him from both sides of the floor as this series goes on," Miami Heat head coach Erik Spoelstra said, per the Miami Herald.
No matter what Herro and the Heat do the rest of the playoffs, Herro's future is certainly bright.
Stats courtesy of Sports Reference and Basketball Reference