Tyler Reddick and Kyle Larson Have Been Racing Rivals Since They Were Children Bonding Over Go-Karts
Long before they ever reached the NASCAR Cup Series, Kyle Larson and Tyler Reddick bonded over their racing dreams.
The entertainment world, whether it be acting or sports, is smaller than it appears. Baltimore Ravens quarterback Lamar Jackson and Buffalo Bills running back Devin Singletary, for example, were teammates in youth football before both reached the NFL.
Larson and Reddick can relate to Jackson and Singletary, except their lives revolve around racing. The two drivers went from youth rivals on go-karts to Cup Series foes.
Kyle Larson and Tyler Reddick grew up racing rivals
RELATED: NASCAR Driver Tyler Reddick Shuts Down President on Twitter
Much like Major League Baseball, any drivers wanting to reach the NASCAR Cup Series have to go through the minor leagues.
It's in the Xfinity Series or similar organizations that friendships and rivalries form. Dale Earnhardt Jr. and Tony Stewart built their lifelong friendship after a crash in the then-Busch Series.
History goes back even further for Kyle Larson and Tyler Reddick. Both grew up within two hours of one another in California.
Their paths crossed multiple times along the way. Although Larson is four years older than Reddick, they were close enough distance-wise that they ran into each other frequently enough.
Larson and Reddick went from go-karting to the Cup Series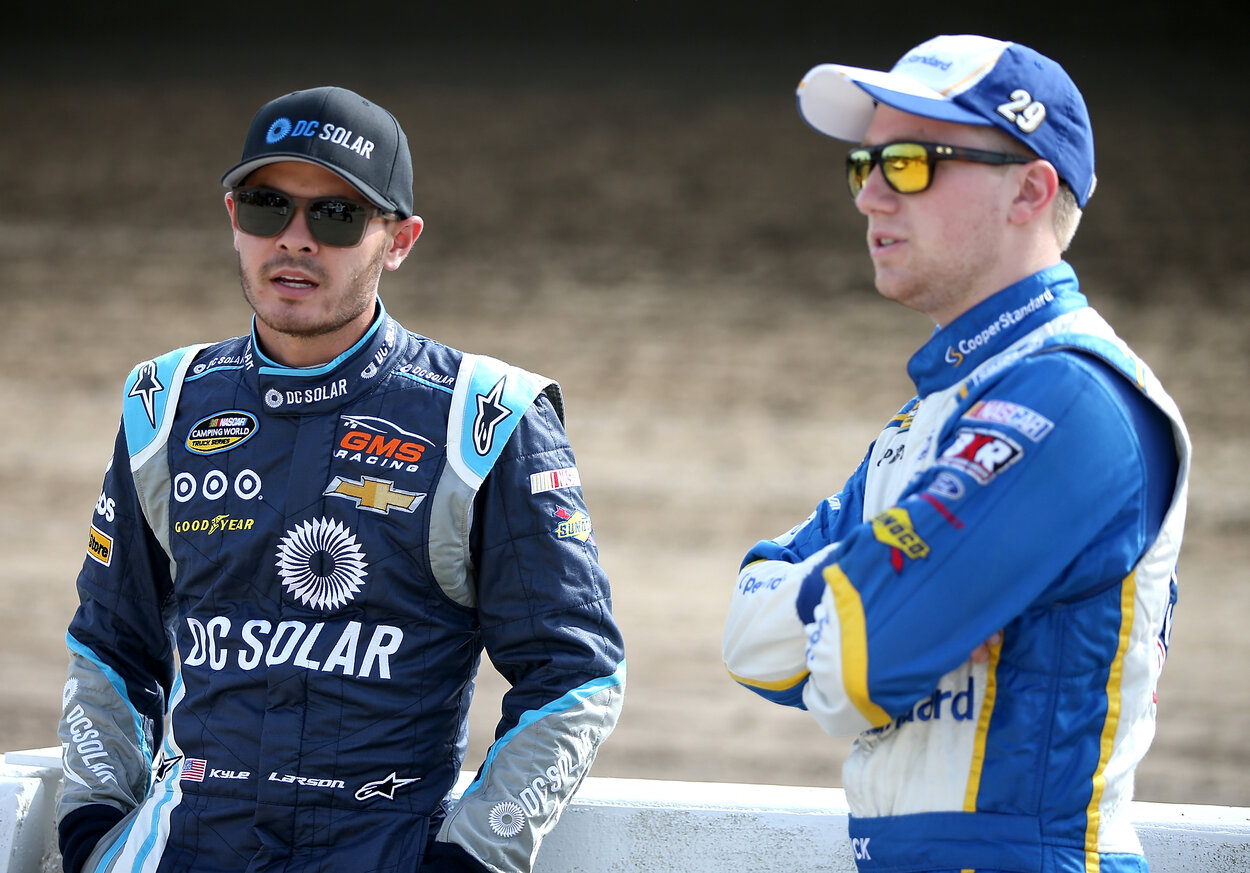 RELATED: Kyle Larson Racked up a $12 Million Net Worth Before Being Fired
Tyler Reddick and Kyle Larson have been at this for roughly 20 years — at least, when it comes to dealing with the other driver.
In a recent interview with The Athletic, Reddick reflected on simpler times, primarily when he and Larson were two young drivers hoping to pursue a full-time racing career.
Reddick said that he first met Larson when he was roughly five years old. The two have been connected ever since.
"At one point we would travel across the Midwest. They had an Outlaw Kart race around the same time the Knoxville Nationals were happening; I can't remember the name of the racetrack, but it was not far away from Knoxville. We'd go up and run during the day and then go watch the Knoxville Nationals together at night."
And now, the two are full-time drivers in the NASCAR Cup Series. That's quite a long way from bonding over go-karts in California.
Both are still trying to win their first race of the 2021 season
RELATED: Bubba Wallace Had a Strong Conversation With Kyle Larson After Larson's Racial Slur: 'It's in Your Vocabulary, Dog'
The 2021 Cup Series season is still early for both Kyle Larson and Tyler Reddick.
Reddick finished second behind Hendrick Motorsports teammate William Byron in last week's Dixie Vodka 400. Larson, who is back after serving a language-related suspension for most of the 2020 season, placed fourth behind Martin Truex Jr.
Both will have an opportunity to record their first victory of the year this weekend at Las Vegas Motor Speedway. According to Odds Shark, Larson's +700 odds at winning are third-highest, only trailing Truex Jr. (+550) and Kevin Harvick (+650).
Tyler Reddick is in the middle of the pack at +2800. Reddick has never won a race at the Cup Series level; Larson's last victory came in the 2019 Drydene 400 during the Cup Series Playoffs.
Betting odds courtesy of Odds Shark as of March 6, 2021.