Tyrann Mathieu Used 1 Tweet to Fire Back at Le'Veon Bell's Andy Reid Comment
In a not-so-shocking move, NFL running back Le'Veon Bell blasted Kansas City Chiefs head coach Andy Reid. Although it seems most players have liked playing for Reid throughout his coaching career, Bell is a guy who has never been afraid to express his opinions, so he recently shared his eyebrow-raising thoughts about the coach on Instagram. However, one of Reid's current Chiefs players had something to say in response: Tyrann Mathieu.
Le'Veon Bell said he would never play for Chiefs coach Andy Reid again
Bell used to be arguably the best running back in the NFL, but he's been anything but in recent years. After earning three Pro Bowl and two first-team All-Pro selections with the Pittsburgh Steelers, Bell played for the New York Jets in 2019. He only ran for 789 yards and gained just 461 receiving yards.
Bell then started the 2020 season with the Jets and ran for 74 yards in two games, but New York ultimately released him, and he later joined the Chiefs. In nine games for Kansas City, Bell ran for 254 yards and two touchdowns. 
Despite being on a team in the Chiefs that went to the Super Bowl, Bell only ran for six yards on two attempts in the playoffs.
He has since revealed his displeasure about playing for KC coach Andy Reid, as he posted a mysterious Instagram comment over the weekend in which he said, "I'd never play for Andy Reid again … I'd retire first," per ESPN.
Chiefs DB Tyrann Mathieu fired back at the running back's comment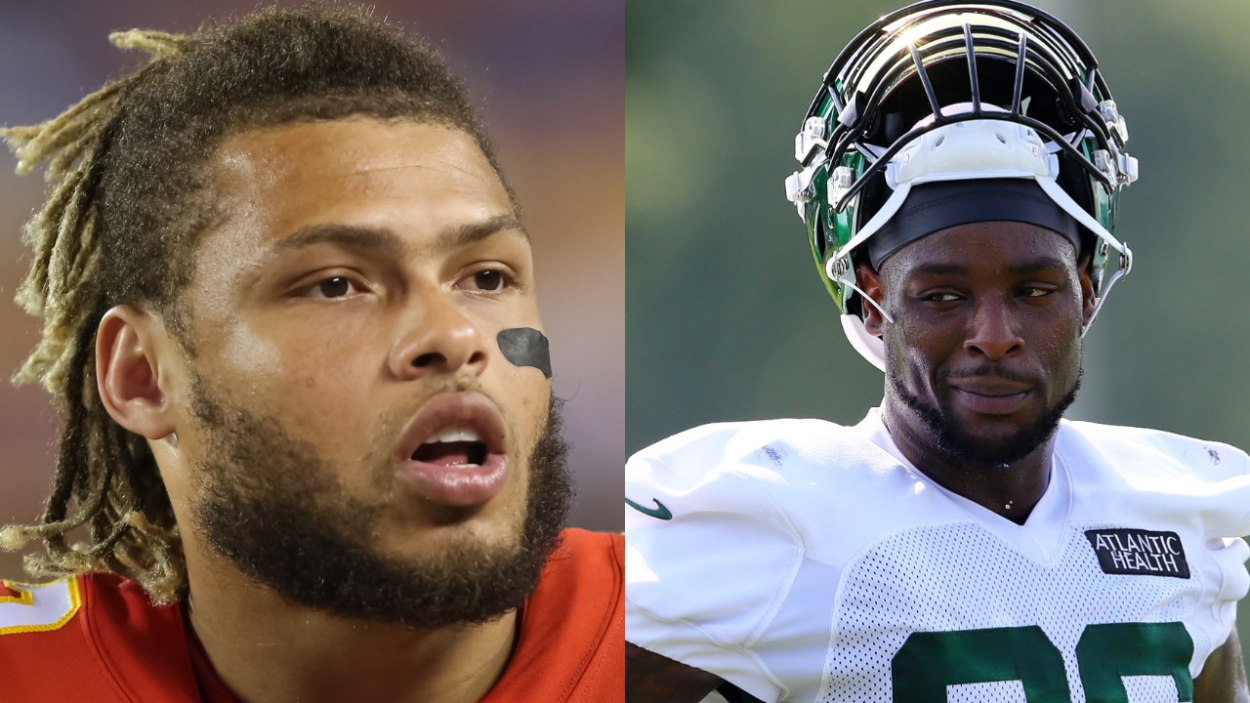 Tyrann Mathieu has played for the Chiefs each of the last two seasons and has earned first-team All-Pro honors both years. He, of course, also helped lead Kansas City to their Super Bowl win during the 2019 season.
On Sunday, Mathieu took to Twitter to somewhat defend his coach while also firing back at Bell.
In reply to a tweet that said, "Wonder what made [Bell] say this," Mathieu had a blunt response.
"These fellas will blame everybody for their lack of success," Mathieu tweeted. "That's how I know I'm built different."
Mathieu clearly didn't take kindly to Bell's comment. Reid appears to be a coach many players love and respect, so it's weird seeing someone who feels the opposite.
It's also unclear if Bell saw Mathieu's tweet, but the former Pro Bowl running back has since apologized.
Le'Veon Bell apologized for putting his comment about the Chiefs coach on social media
After seeing his comment go viral, Bell, a free agent, took to social media to apologize for not keeping his feelings to himself. He, however, doesn't regret what he said.
"I said what I said and I don't regret at all what I said," Bell tweeted on June 13. "For those who have a PERSONAL PROBLEM with me because of what I SAID, that's fine, you have your right! Just understand I ALSO have MY RIGHT for how I feel about MY PERSONAL problem with dude because of what HE SAID to me."
Despite not quite seeing eye-to-eye with Reid, Bell said he enjoyed his time in Kansas City. He even liked his "teammates, the city, food, [and] the fans," but he essentially said his feelings about his former coach are justified.
"I'm not about to get all into depth on why I feel the way I do, but I have my right to feel the way I feel," he tweeted. "The ONLY thing I would change is commenting how I really felt on social media."
He continued: "I'll admit that's somethin I could've and should've kept to myself and I apologize about that and that only, but I don't regret what I said, because that's how I feel."
Bell currently doesn't have a team for the 2021 season yet, as his NFL future is unknown.
However, it seems pretty clear that he won't be playing for the Chiefs next season.
Stats courtesy of Pro Football Reference
RELATED: Chad Johnson Hasn't Played in Years but Wishes He Could Play for a Specific Team: 'Prime Ocho in That Offense, I Think Would Be Extremely, Extremely Dynamic'