Tyrann Mathieu Cleverly Claps Back at the Chiefs' Harshest Critics: 'They're Not Crowning Any Champions in October or November'
The Kansas City Chiefs aren't who we thought they were. At least they weren't through the first nine weeks of the 2021 NFL season. While things haven't gone as planned for Kansas City, the team is confident that it can turn things around in the second half of the season. All-Pro safety Tyrann Mathieu sent a strong message to those who are already counting them out.
The Chiefs have been a disappointment in 2021
The Kansas City Chiefs have won the AFC the past two seasons won the Super Bowl in 2019. However, the 2021 season has presented them with challenges they aren't used to facing.
Andy Reid's squad is currently 5-4, heading into a Sunday Night Football tilt against the division rival Las Vegas Raiders. This team does not look very good despite a recent victory over the Green Bay Packers in Week 9.
Patrick Mahomes is arguably the most talented quarterback in the NFL, but he had his fair share of struggles in the first half of the season. While he's passed for 2,534 yards and 20 touchdowns, he's also thrown 10 interceptions. The Texas Tech product is on pace to shatter his 12 interception mark in 2018.
Mahomes' turnovers have come as a result of him wanting to make something out of nothing. His questionable decision-making has hurt the Chiefs at times. Still, he and the offense have more than enough talent to put points on the board once they find their groove.
On the other hand, Kansas City's defense has been abysmal. The unit's performance against Green Bay may be an outlier since the Packers were playing without Aaron Rodgers.
Tyrann Mathieu says it's still early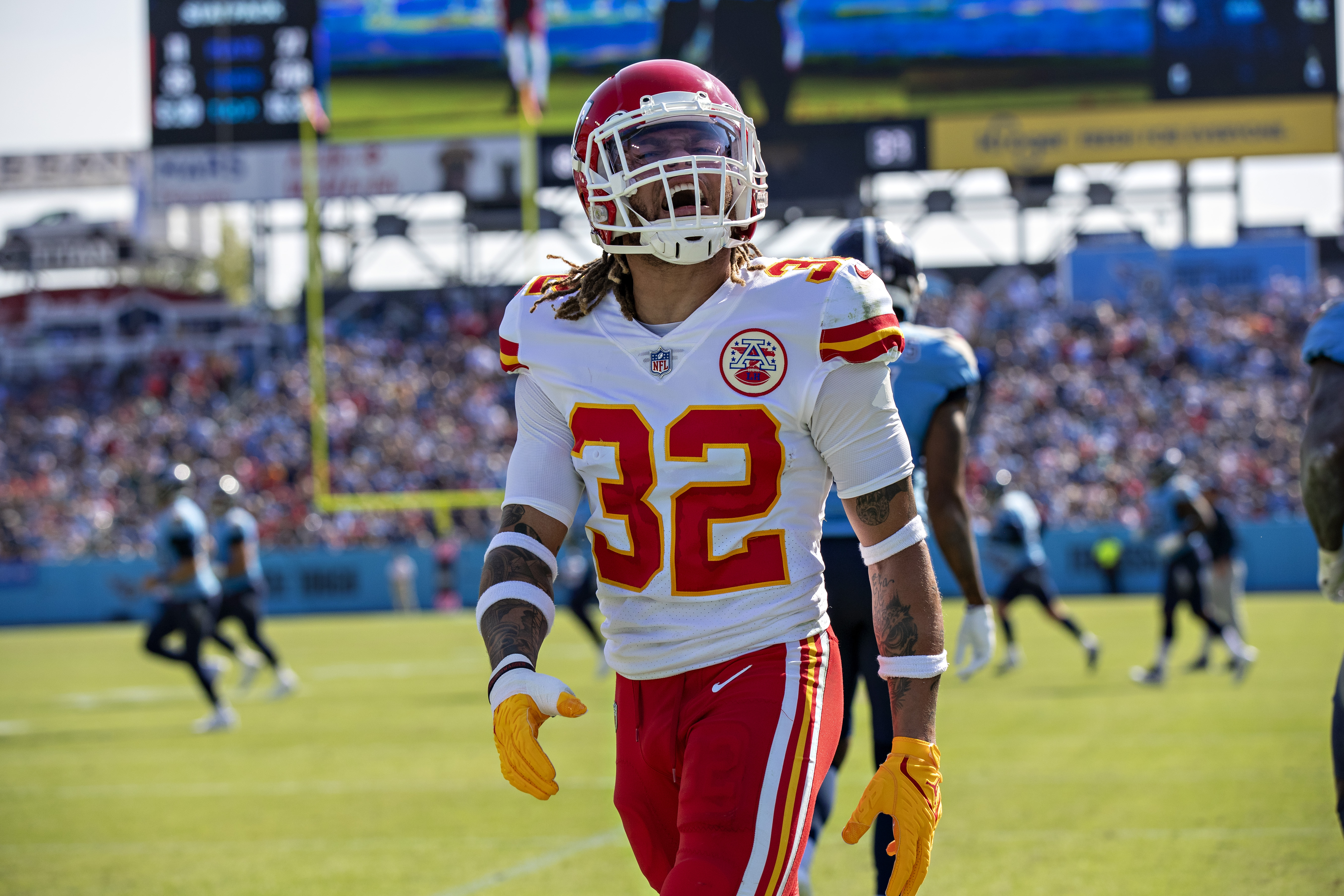 Tyrann Mathieu is the unquestioned leader of the Chiefs' defense. A player of his caliber, who plays with a lot of pride, can't be thrilled to see scoreboards lighting up for the other team.
Mathieu recently sat down with former Pro Bowler and NBC Sports analyst Rodney Harrison to discuss the team's struggles thus far.
"It's been challenging," said Mathieu. "Obviously, it's a bit of a disappointment. We're finding out who we are. Every year, you're tasked with trying to recreate identity, and I think that's what we've really been struggling with. These last couple weeks, we've been getting to the kind of defense that we really want to be."
Harrison brought up the naysayers and asked the Honey Badger his thoughts on it all. "Me being to the last two Super Bowls, I know that they only can crown champions at the end of the year," said Mathieu. "We're fortunate that we have eight games left that we can really try to put this thing together."
Tyrann Mathieu doesn't care what the doubters think. He feels that this Chiefs team has the talent to compete with anybody. He wants everyone to remember one thing.
"They're not crowning any champions in October or November."
Kansas City's playoff hopes hinge on the defense
When you have elite talents like Patrick Mahomes, Tyreek Hill, and Travis Kelce, you're always going to have a chance to win football games. The offense's woes are concerning, but not nearly as much as the defense.
Defensive coordinator Steve Spagnuolo is known for fielding tough defenses, but the 2021 version in Kansas City is anything but that.
Even with an improved performance against the Packers, the Chiefs are still ranked No. 27 in team defense. The unit is allowing 25.2 points and 381.4 yards per game to opposing offenses.
Kansas City has been prone to giving up big splash plays. Many of them have involved often-criticized safety Daniel Sorensen.
Tyrann Mathieu still believes in his teammates. He and the other defensive leaders like Frank Clark and Chris Jones will need to play at a high level consistently. The concern is that the rest of the defense isn't talented enough to play dominant defense for four quarters against an elite offense.
If the Chiefs struggle on both sides of the football, they won't reach the Super Bowl for a third straight season. Even the playoffs might be out of reach if the woes continue.
All stats courtesy of Pro Football Reference.