Tyrann Mathieu Overcame a Tragic Childhood That Included His Dad Going To Jail for Murder
Nobody has an easy road to Super Bowl glory. Still, Chiefs cornerback Tyrann Mathieu had an incredibly bumpy road to the Chiefs' historic Super Bowl. From the deaths of several loved ones to his non-relationship with his father, Mathieu had to make it out of a challenging situation while honing his football skills. This made victory in 2020 even sweeter. 
Coping with death
Mathieu has 22 crosses tattooed above his right knee. This isn't a religious message, nor is it a random reference to something else. Since early on in life, Mathieu has experienced the deaths of several friends, family members, and acquaintances. Each tattoo has a story, as Mathieu went through some of them with Men's Journal. 
"The first cross is for his grandpa Lorenzo, who took in Mathieu when his mom abandoned him at birth. 'The heroin got him, though he died of heart failure.' Beside Grandpa is Uncle Donell, dead of AIDS, 'from dirty needles.' Beside Donell is Uncle Keith, 'murdered in the street while holding his baby son in his hands.' Next to him is Aunt Trina, who 'died on Thanksgiving, when some jackass ran a red light.' Next to Trina is Uncle Andre, murdered late at night over a projects squabble. The names run together in a blur of urban carnage, their blood tide turned to cruciform squibs of ink. 'How?' I ask him. 'How are you still here when all these people are gone?'"
This tough upbringing, combined with the hard streets he grew up in, made Mathieu an at-risk youth. Several people his age ended up dead or in jail. Mathieu, however, wanted to overcome this. However, he faced a few hurdles along the way, aside from the death of loved ones. 
Tyrann Mathieu overcomes adversity 
When Mathieu was a child, his father went to prison for murder, according to Sports Illustrated. Living with his grandmother, he learned how to be an upstanding citizen, but did not always practice what was preached to him. His grandmother Marie and eventual guardian, Uncle Tyrann, tried to keep the young football prodigy out of trouble. He still found ways to get in trouble, however.
Eventually, Mathieu's promise in football paid off. LSU recruited him, where he spent two years as one of the greatest players in the country. However, this college career didn't come without adversity. After failing multiple tests after marijuana use, Mathieu was suspended for a game against Auburn and eventually dismissed from the team altogether. This helped Mathieu get on the right path. He stopped smoking and devoted himself to football. 
After going fifth in Heisman voting during his second season with the school, he declared for the 2013 NFL draft. Concerns about his conduct off the field made him fall to the third round, where the Arizona Cardinals selected him. 
Coming out on top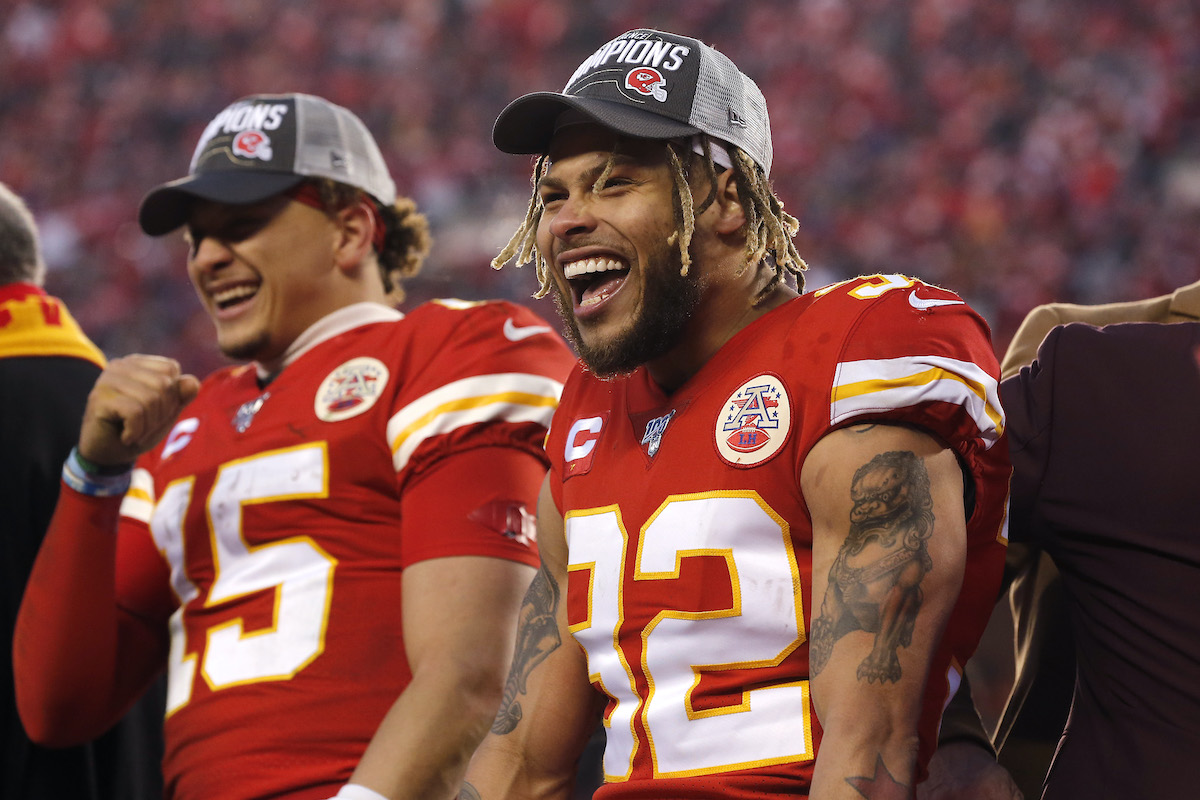 Mathieu is trying not to let his past define him. He connects with his incarcerated father and hopes to mend the bridge after having children of his own, according to MSN. After making it to the All-Pro team during just his third year in the NFL, he showed that his woes were behind him.
Mathieu spent five years in Arizona, but after a brief pit stop in Houston, his career was revitalized in Kansas City. Not only did he win the Super Bowl, but he also made his second All-Pro team. 
His woes don't define Mathieu's story. However, these woes helped him become the player and the man he is today. Whether he falls back or not remains to be seen. For the time being, however, Mathieu appears poised to be a comeback story that will hopefully have a happy ending.