Tyrann Mathieu Says He 'Bought Into the Distractions and the Hype' at LSU: 'I Felt Like Lil Wayne'
Tyrann Mathieu is a talented athlete, but he didn't have an easy path to the NFL. While at LSU, the safety's personal and legal issues made him fall to the third round of the 2013 draft. Mathieu could've been a first-round pick without his off-field troubles. But after he reached a low point, Mathieu got back on track to have a successful NFL career. And he has LSU coach Les Miles to thank, at least in part.
Tyrann Mathieu's difficult times in college
Mathieu grew up in New Orleans. So he believes attending LSU was one of the factors in the problems he had in college. According to him, LSU football is bigger than the Saints in Louisiana. He shared his thoughts with GQ, saying that being a young man on the Tigers made him feel like Lil Wayne.
Mathieu says "it was crazy" and everything he had dreamed of as a kid — "being famous, a celebrity in your space," which gets to your head and "you can lose sight of what it is you love to do." Mathieu admits that he "bought into the distractions and the hype," with what people were telling him what he was.
How he became the Honey Badger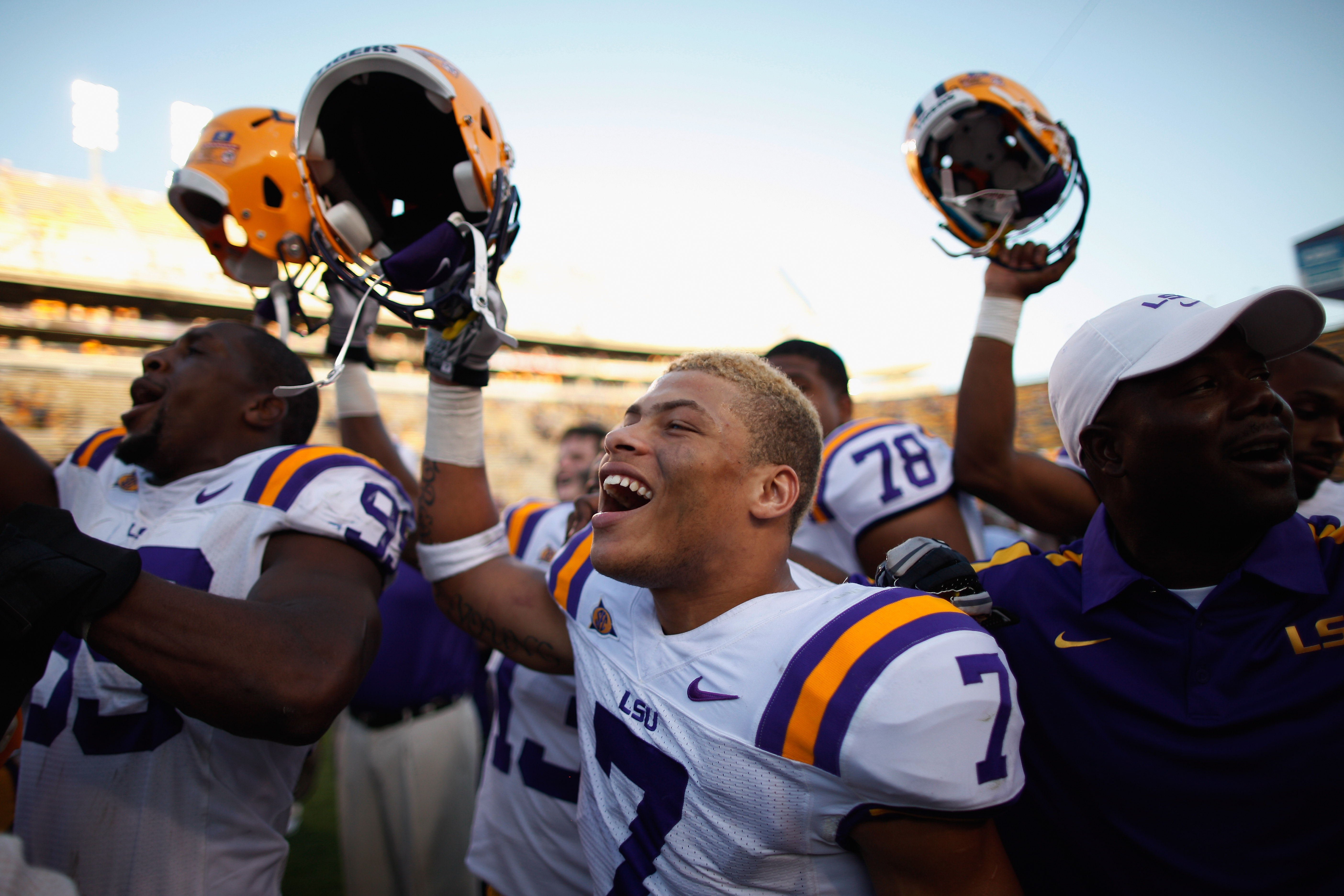 Mathieu is famous for his Honey Badger nickname. He got it from a viral video that gained notoriety around the time he began his LSU career. The video showed a small but aggressive and relentless animal confronting bigger foes. It reminded people of the way the 5-foot-9 safety had the ability to rip the football out of the grasp of larger opponents. He earned the nickname of an animal that the video's narrator noted, "Just takes what it wants."
LSU dismisses Mathieu
Mathieu dealt with drug issues while at LSU. He was eventually kicked off the team in 2012 for what was reported by ESPN as "a violation of team rules." But that may have been the best thing to happen to Mathieu. The cornerback told GQ he "wouldn't be here today if Les Miles didn't kick [him] off the team."
Mathieu says a lot of guys in his position tend to get a lot of free passes and second chances, but he's grateful for Miles making the "hard decisions" that he did because it helped get him back on the straight and narrow because, Mathieu says, he's the type of guy who will "go home at night and kind of reflect and sit on that."
What could've happened to Tyrann Mathieu
Mathieu was able to reprioritize things in his life and still make it to the NFL despite the issues he had in college. If being kicked out of LSU didn't set him on the right path, Mathieu may have ended up in jail, or even worse, if he continued to use drugs and wasn't able to stop. That was the path that Mathieu was headed down before getting clean.
If that happened, Mathieu may have ended up like Ricky Williams. Although a promising NFL star, the linebacker's substance abuse issues led to an early — and temporary — retirement. Williams eventually attempted a comeback.
Unfortunately, he was suspended for the entire 2006 season for violating the league's substance abuse policy and never reached the heights he had earlier in his career, save for a 1,121-yard season in 2008. But without his substance abuse problems, Williams could have had a much better career than he did and left a lasting legacy in the NFL.