Tyreek Hill Is Chugging Pickle Juice on the Sideline for a Good Reason, According to a Doctor
Chiefs wide receiver Tyreek Hill is having a truly spectacular season. Not only has his team made the Super Bowl for the second year in a row, but his receiving yards and touchdowns have been key to getting Kansas City there. With all eyes on Hill, it's no surprise he'd get caught chugging pickle juice on the sideline. This, of course, begs the question, why on earth would a world-class player be drinking pickle juice?
Tyreek Hill's sterling season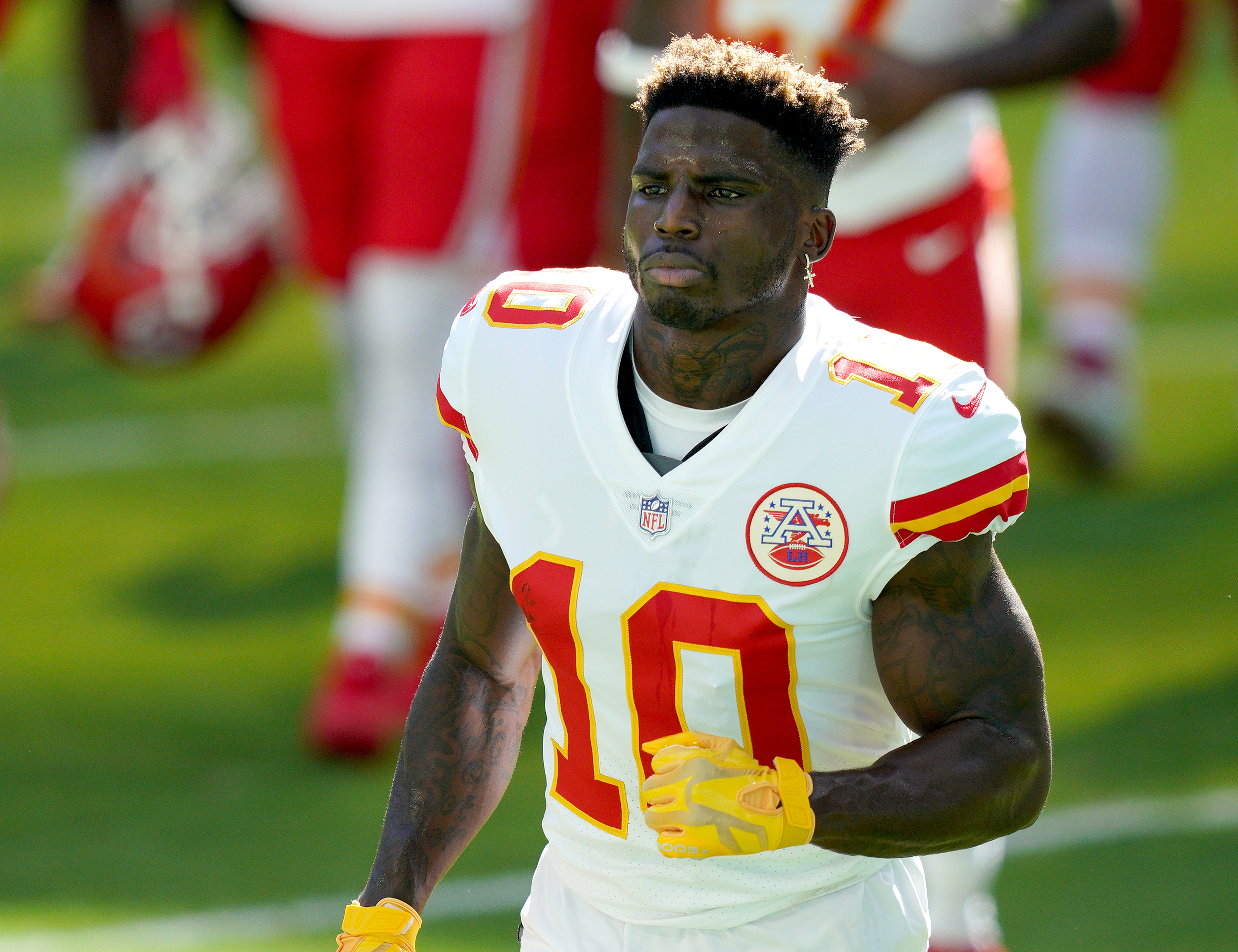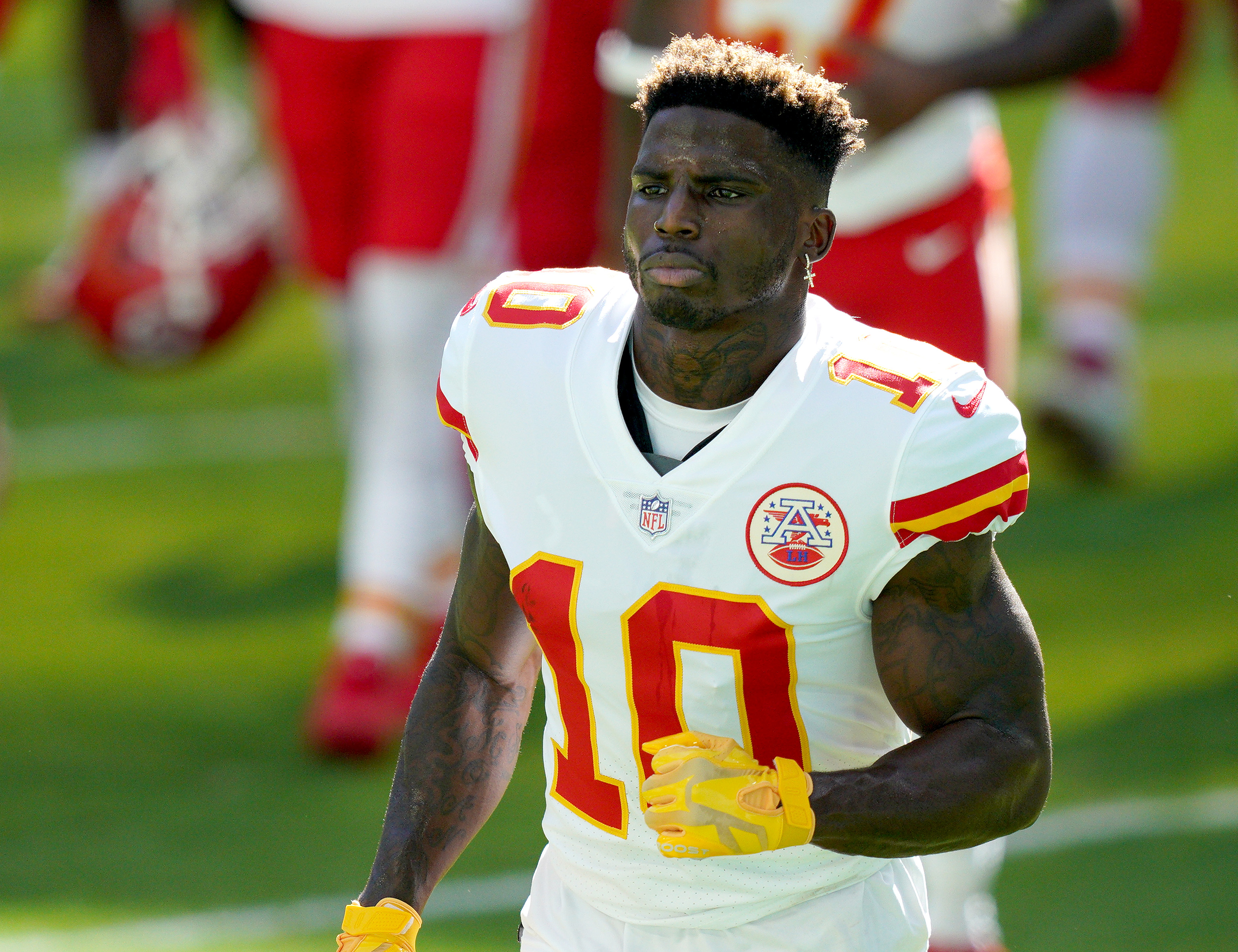 You'd think that after last year's Super Bowl win, Hill would be able to afford to drink what he wants and that after this season, he'd be extremely picky about everything he ingested. After all, the man some expect to be this year's MVP has one more big game ahead of him this year.
Hill's a big part of why the Chiefs were able to return to the Super Bowl. He started each of his first four games this season with a touchdown. In a match against the Jets, he had four receptions, 98 receiving yards, and two touchdowns as the team trounced New York 35-9. He followed this with 113 receiving yards and two touchdowns in the next game.
In Week 12, he landed in the history books alongside Lee Evans, who in 2006 became the first player to record 200 yards in one quarter. In the Week 12 game, against Super Bowl opponents the Tampa Bay Buccaneers, Hill recorded 269 yards (a career-high) and scored three touchdowns. It was another outstanding performance in a string of them this season; one that netted him the AF Offensive Player of the Week award.
Hill's dynamic offensive and impressive statistics have helped fuel the Chiefs' second championship run in as many years. And perhaps pickle juice has been fueling his performance.
The pickle juice explained
As footage of Hill's drink of choice circulated on the Internet, speculation grew, prompting Patrick Mahomes to explain it on 610 Sports Radio. The Chiefs quarterback shared that Hill was drinking it to avoid cramping, even sharing that he himself had been drinking it since high school.
And while it may seem counter-intuitive, pickle juice actually can help with cramps, according to Dr. Brian Sutterer, MD. Many assume that drinking pickle juice is done to restore electrolytes and thus prevent electrolytes. But that's not really the case. Dr. Sutterer explained on his Youtube channel:
"It turns out that different stimulations of an area of your body called the oropharynx, which is essentially that back of your throat can trigger reflexes that send signals to the spinal cord that can actually suppress and inhibit these muscle reflexes down below. Basically, pickle juice triggers a signal that closes off pathways to the nerve clusters that tells the muscles when to contract.
And so, drinking pickle juice helps keep the muscles from contracting and thus alleviate cramping. Which, as much as Hill has been running this season, is a good thing.
Tyreek Hill: future MVP?
In a few short days, we'll know whether the Chiefs will knock off Tom Brady and reclaim the Vince Lombardi trophy. If they do, Hill will undoubtedly be a part of the success. Both the Buccaneers and Chiefs — two franchises with only three Super Bowl wins between them — will give it their all to win. And the duo of Mahomes and Hill will have to make serious plays to overcome the Tom Brady-led Buccaneers.
Hill has 1,276 receiving yards this season — putting him on the top 250 Receiving Yards Single-Season leader list, alongside names like Antonio Brown and Jerry Rice. And he'll need to put some more yards away to win. But even if he doesn't, Hill, also nicknamed "Cheetah" for his incredible speed, has a bright future ahead of him. At only 26, he's got many more yards to run.
And if pickle juice keeps him running injury-free, then he should definitely keep chugging shots.