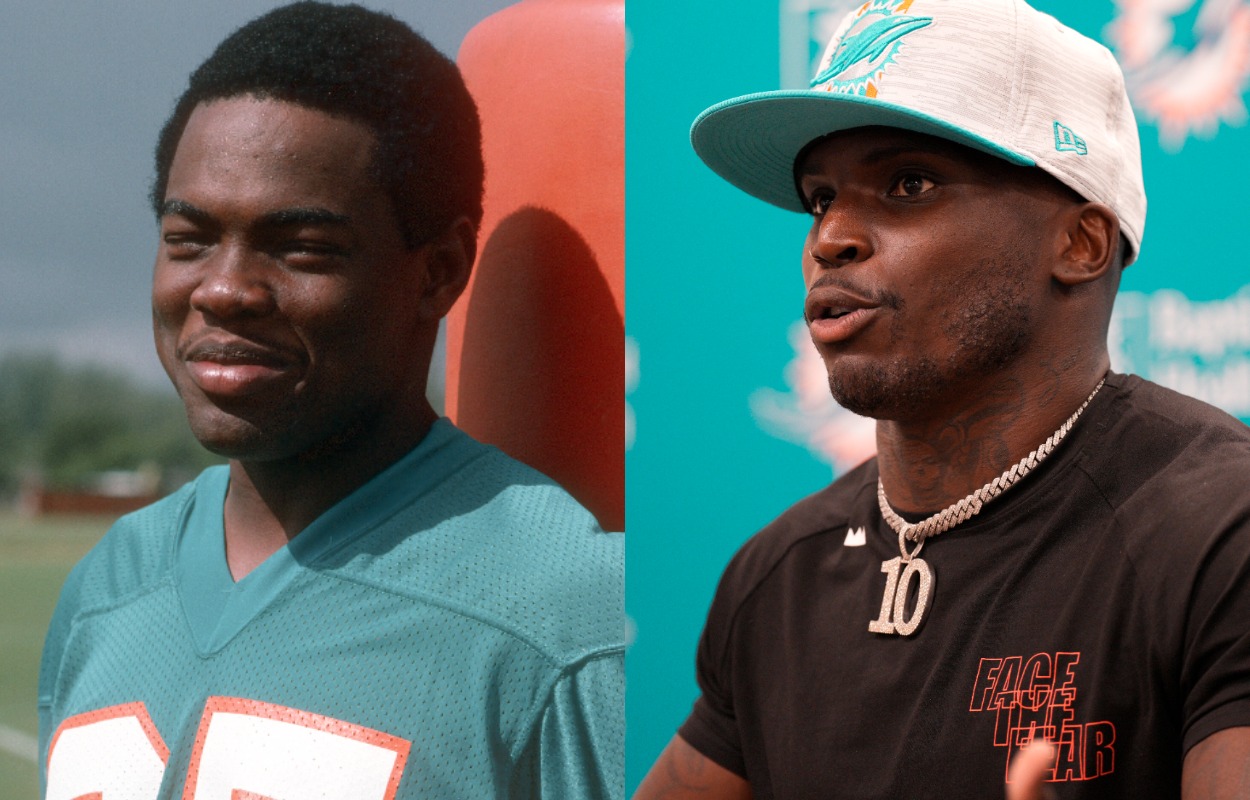 Tyreek Hill Trade: Dolphins Legend Mark Duper Is Ecstatic About Miami's Risky Move
Count Miami Dolphins legend Mark Duper among those who love the team's decision to pair Pro Bowl receiver Tyreek Hill with quarterback Tua Tagovailoa.
The Miami Dolphins went all-out to acquire Kansas City Chiefs star Tyreek Hill, and former Pro Bowl receiver Mark Duper couldn't be happier.
Duper, who earned two first-team All-Pro nods in 11 seasons with the Dolphins, has waited patiently to see his former team either land or develop a legitimate No. 1 receiver. Whether or not that player will be Hill, a six-time Pro Bowler, remains to be determined, especially given quarterback Tua Tagovailoa's history of inconsistency.
Don't count Duper, who spent almost his entire NFL career catching passes from Dan Marino, among those who might be cynical about the Tagovailoa-Hill partnership.
Dolphins legend Mark Duper is ecstatic about the team's Tyreek Hill trade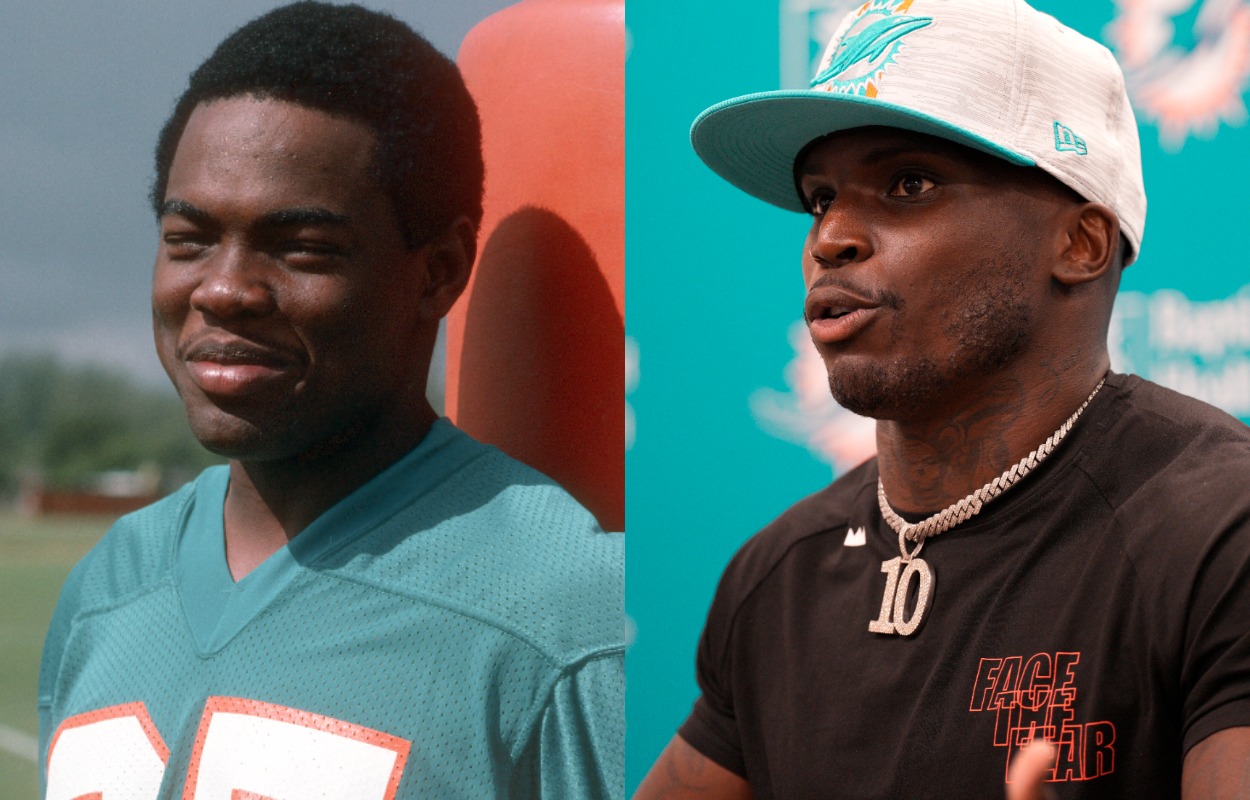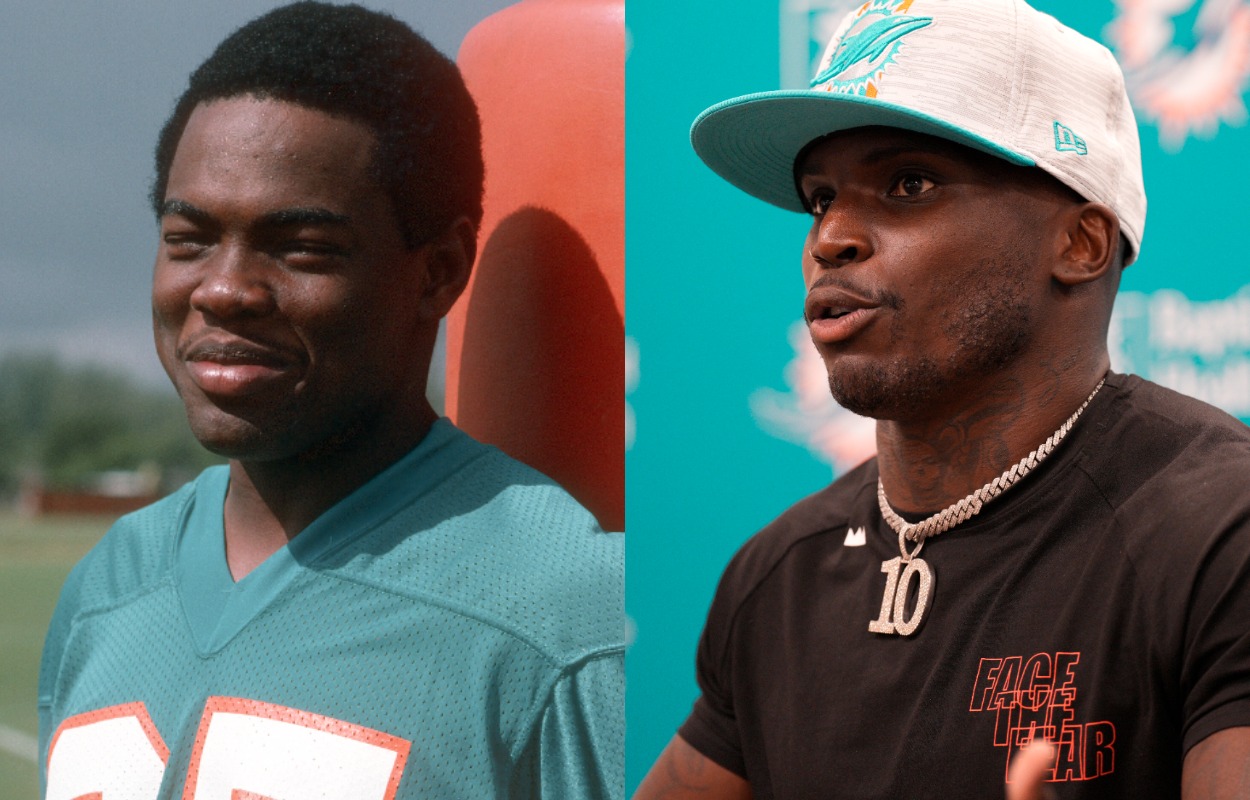 By giving up five draft picks, including their first two selections in the 2022 NFL Draft, in order to bring Hill to Miami, the Dolphins made it clear they're ready to start contending again.
All of that is excellent news for Duper, who earned Pro Bowl honors when Miami last reached the Super Bowl after the 1984 season. In an interview with The Palm Beach Post's Joe Schad, the Dolphins great said he's excited to watch Hill, a three-time first-team All-Pro selection, suit up in the Aqua and Orange.
Duper implied that Hill, a speedy and electric dangerous weapon, reminded him of himself as a young player.
"It's not just the speed. He's a playmaker. He can catch. There are a lot of fast guys in the NFL that are not consistent. When you've got a fast guy like him that can catch the ball, he can turn a defense upside down."

Mark Duper
Hill averaged 80 catches, 1,105 yards, and nine touchdowns in his six seasons with the Chiefs. In a 17-game season, those averages jump to 89 receptions, 1,239 yards, and 10 touchdowns. The 5-foot-10, 185-pound receiver is already among the most prolific receivers in playoff history, owning 84 catches, 1,081 yards, and five touchdowns to his name in 13 career playoff outings.
"I've never seen some players do some of the things he was doing in Kansas City," Duper said.
Duper's enthusiasm doesn't change the fact the Dolphins risked too much by partnering Hill with Tua Tagovailoa
No one will dispute Hill was an unstoppable force in his six seasons with the Chiefs, especially after Patrick Mahomes became the starting quarterback in 2018. There's a reason why the Chiefs won the AFC West in all of Hill's six campaigns and have reached each of the last four AFC Championship Games.
Respectfully, going from Mahomes is Tagovailoa like going from the penthouse pool to the linen closet.
In fairness to Tagovailoa, very few quarterbacks are on Mahomes' level. The problem is instead that the Dolphins still don't know what they have in the Alabama product. Is Tagovailoa a legitimate franchise quarterback, or is his ceiling as a game-manager? Or, will the Dolphins ditch Tagovailoa and go all-out in the 2023 offseason for a new quarterback, whether it's a proven veteran — a 46-year-old Tom Brady, perhaps? — or the next notable quarterback to seek a trade?
Forget Mahomes for a second. If Miami had an established franchise quarterback like Deshaun Watson, Joe Burrow, or Justin Herbert already in place, the only risk here would be the typical ones regarding potential injuries down the line. Instead, the Dolphins gave up the farm and a couple of Wingstop franchises to acquire a receiver who, while among the best in the sport, is going to catch passes from a quarterback with an uncertain future.
The Game Day NFL tweeted out numerous analytics suggesting Tagovailoa is actually a perfect fit for Hill, and maybe the quarterback's average depth of completion will work in his new receiver's favor. But sports aren't always that simple. Just because New York Yankees outfielder Joey Gallo is a left-handed hitter and a perfect fit for Yankee Stadium's short porch in right field doesn't mean he won't strike out less.
The jury is still out on Tagovailoa, and that isn't necessarily a bad thing. But the Dolphins went 19-17 from 2020-21 and 13-8 in the left-handed quarterback's starts during that time. Teams almost always acquire a player of Hill's caliber when they have the franchise quarterback in place. The New England Patriots had Brady when they added Randy Moss in 2007. Say whatever you want about Derek Carr, but the Las Vegas Raiders wouldn't have given up a first-round pick and signed Davante Adams to a five-year, $141.25 million if they didn't trust the veteran quarterback.
At least for now, the Dolphins trust Tagovailoa, and they trust what he'll be able to do with Hill. Maybe Duper is onto something after all.
 Like Sportscasting on Facebook. Follow us on Twitter @sportscasting19