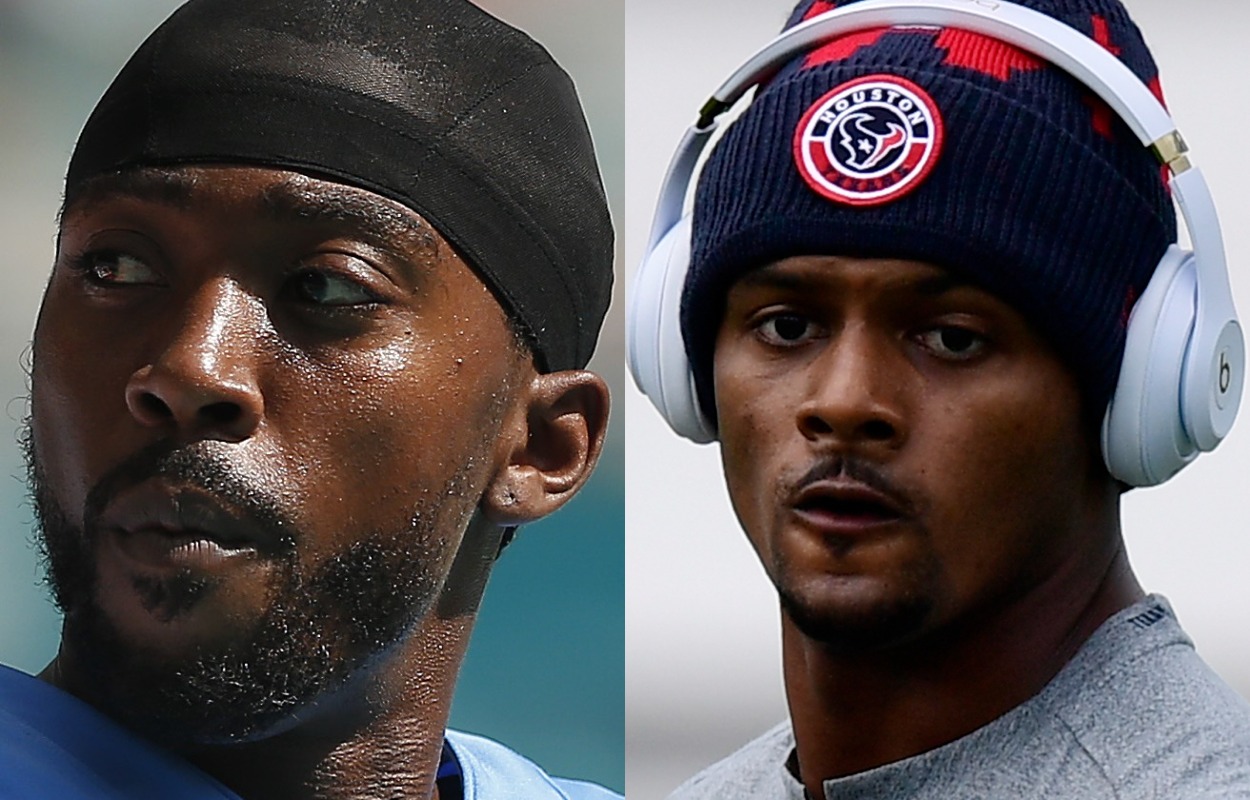 Tyrod Taylor Is Embracing the 'Wonderful Opportunity' He Has Amid Deshaun Watson's Uncertainty
Houston Texans quarterback Tyrod Taylor is excited about the 'wonderful opportunity' he has, especially with Deshaun Watson out.
The Houston Texans have an unresolved situation with Deshaun Watson, and Tyrod Taylor is ready to take advantage.
Watson, the Texans' Pro Bowl quarterback, remains away from the Texans amid his legal problems and a desire to be traded. That opens a spot for Taylor, once a Pro Bowl quarterback in his own right, to try reviving his career in Houston.
Tyrod Taylor says he has a 'wonderful opportunity' with the Texans
Tyrod Taylor saw no reason to lie about the Houston Texans' current quarterback situation.
The Texans signed Taylor, a veteran backup with 47 career starts in the NFL, earlier this offseason. Given Deshaun Watson's ongoing legal issues and his request to be traded, Taylor could realistically open the 2021 season as the Texans' starting quarterback.
According to the NFL's official website, the veteran dual-threat recently expressed how grateful he is for the "wonderful opportunity" he has in Houston. He said he is very motivated about potentially starting after only throwing 121 passes in the last two seasons.
"I'm more so thankful and grateful for the opportunity to be able to lace the cleats up, put the helmet on and go out and make plays. It starts, of course, this time of year and then will carry on into the season. But yes, definitely more motivated than I've ever been."

Tyrod Taylor
With Watson away from the team, the Texans' current quarterback room also included Davis Mills, a rookie from Stanford, and veteran backup Jeff Driskel.
Taylor is the perfect bridge quarterback if Deshaun Watson can't play
The Texans had plenty of holes and questions about the 2021 season even before Watson's current predicament. With that said, one can't fault the Texans for hoping Taylor brings relative stability and competency with him to Houston.
It is easy to forget how productive Taylor was as the Bills' starting quarterback from 2015-17. He completed 62.6% of his passes for 8,857 yards, 51 touchdowns, and only 16 interceptions in 44 games. An explosive dual-threat quarterback, he also ran for 1,575 yards and 14 touchdowns on 5.6 yards per attempt.
Taylor opened the 2020 season as the Chargers' starting quarterback. A fluke incident involving a doctor and a punctured lung pushed Justin Herbert into the starting lineup in Week 2, and the rookie never returned to the bench.
In a situation where Watson either cannot play or he voluntarily sits out the 2021 season, Taylor is the perfect bridge quarterback. He is a proven signal-caller with plenty of starting experience, which is exactly what a rebuilding team desperately needs in its quarterback room.
Even if Watson is cleared to play later this season, there is no guarantee that he'll want to suit up for the Texans. A team-first quarterback like Taylor will be important for first-year head coach David Culley and his new staff as they establish a new culture.
Taylor is also already mentoring rookie quarterback Davis Mills
No one can ever accuse Taylor of lacking awareness. He understands that, as of now, he isn't the Texans' long-term answer at quarterback, and he very may well be looking for another team in 2022.
That isn't stopping him from taking Mills, the rookie from Stanford, under his wing. According to Fox 26 in Houston, the Texans' first-year quarterback recently praised Taylor and his presence.
"I look up to him, and I definitely look forward to the opportunity to learn from him," Mills told reporters.
The Texans begin their 2021 season on September 12 against Trevor Lawrence and the Jacksonville Jaguars. Fans shouldn't be surprised if Taylor, and not Watson, is the Texans' starter that day.