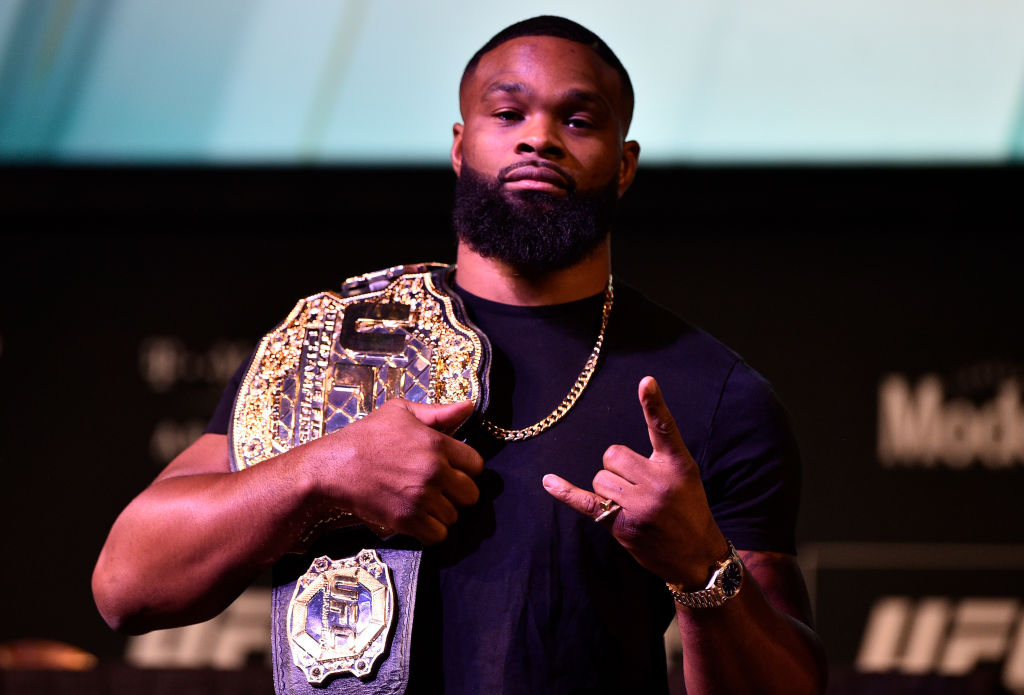 Tyron Woodley's Excellent Career Has Helped Him Rack up a Nice Net Worth, Even With Losing His Title Belt
Tyron Woodley has had a great UFC career, despite losing his title belt. That loss, however, has not kept him from having a nice net worth.
Tyron Woodley has a big fight against Gilbert Burns on Saturday. This is Woodley's first fight since losing to Kamaru Usman in March 2019. While he probably hopes to get his career back on track on Saturday, Woodley has already proven that he is an excellent fighter throughout his UFC career. His impressive MMA career has also helped him rack up a pretty healthy net worth.
Tyron Woodley is a great MMA fighter
Starting his professional MMA career in 2009, Tyron Woodley showed that he was a talented fighter very quickly. Woodley ultimately won the first 10 fights of his career. He defeated guys who had a good number of fights already under their belts too, like Paul Daley and Jordan Mein, according to Tapology.
Woodley suffered his first professional loss in July 2012 to Nate Marquardt. He then, however, made his UFC debut at UFC 156 in February 2013. Woodley defeated Jay Hieron in that fight but lost his next one to Jake Shields at UFC 161.
After that, though, Woodley then won eight of his next 10 fights, defeating guys like Carlos Condit, Dong Hyun Kim, Robbie Lawler, and Darren Till. He, however, lost his UFC welterweight belt to Kamaru Usman at UFC 235 in March 2019. Woodley has not fought since. 
Woodley is 19-4-1 in his professional MMA career. He has seven wins by knockouts and four title defenses, according to the UFC. He is the No. 1 ranked welterweight fighter, and the 14th ranked pound-for-pound fighter, according to UFC's rankings. 
Woodley struggled after losing to Usman
Tyron Woodley recently revealed that losing his title to Usman in 2019 was tough on him. 
"I went into a state of depression for a while," Woodley told reporters on Thursday, according to MMA Junkie. "I really wasn't talking to many people, I was eating terrible, I wasn't training, and I just really didn't expect – I felt like all my competition before Kamaru Usman was my stiffest competition. I felt like all the great welterweights I beat before then would be my toughest competition. I didn't take anyone lightly. I didn't think it was going to be cruise control at that point, but I felt like I had those five rounds mapped out so well. I felt like my strategy, my gameplan, my studying, my coaches, my team, I felt like I had everything in position to win. So I really had to deal with that, and it took longer than any other fight in my career."

Tyron Woodley
Woodley also said that he feels like he is a better person and fighter now and that it was necessary for his journey, according to MMA Junkie. He said that he has planned on making a lifestyle change since then too. 
He seems to certainly be motivated to win this weekend. No matter what happens, though, Woodley's great career has helped him become a rich man. 
Having a healthy net worth because of his great career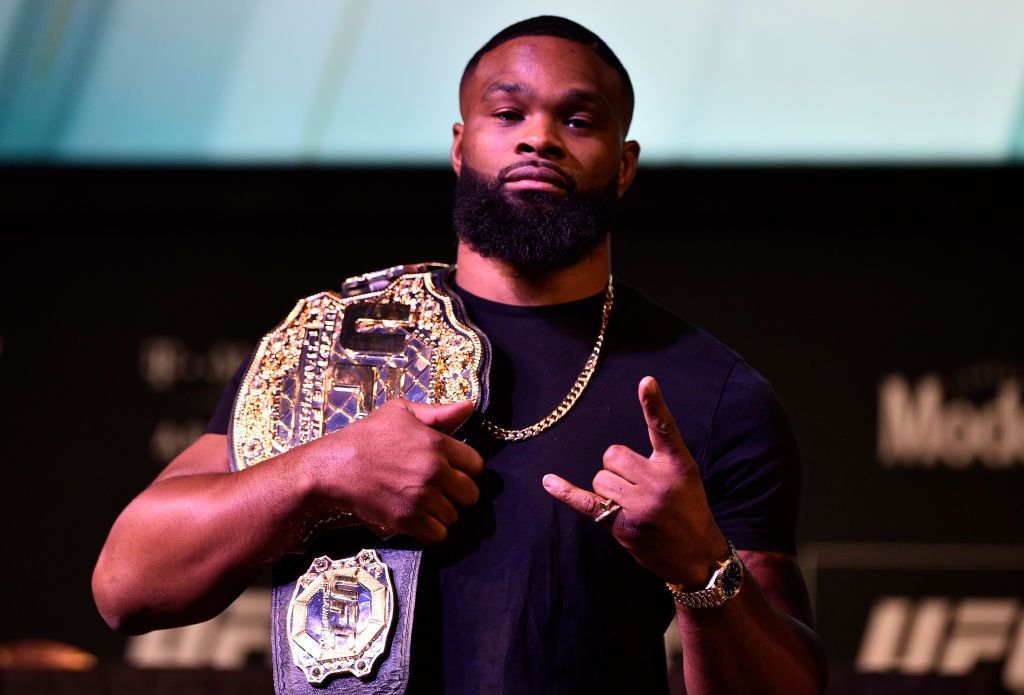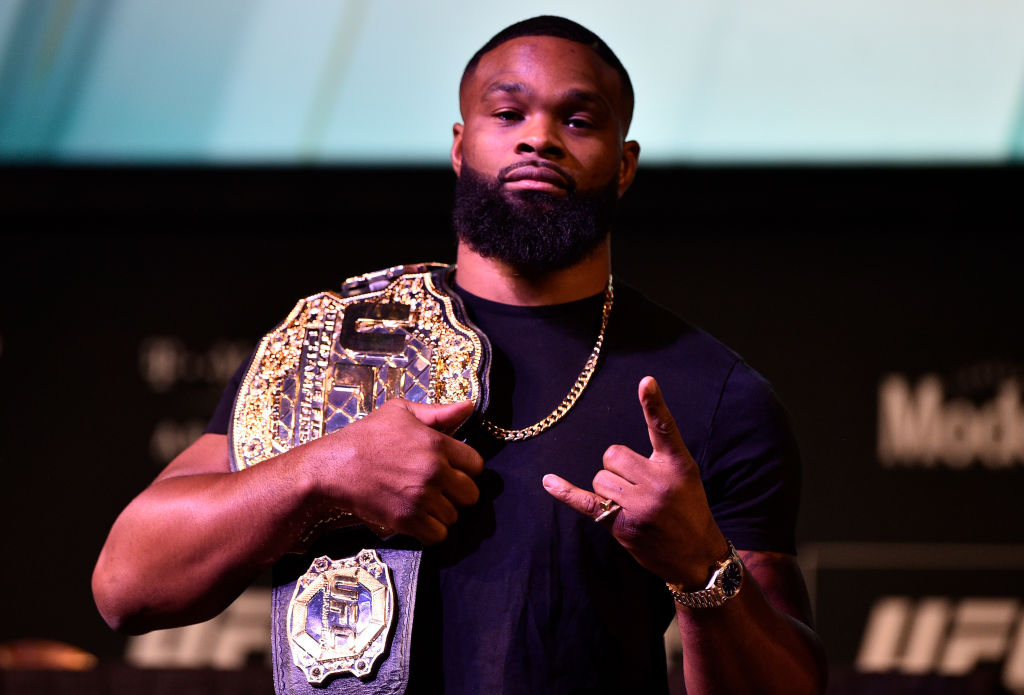 Tyron Woodley might have lost his title belt. He has, however, still been an absolutely great fighter and has proven himself. His excellent career has ultimately helped him earn a lot of money and rack up a nice net worth.
Celebrity Net Worth estimates that Tyron Woodley has a $4 million net worth. That is a good amount of money, even with the loss to Usman on his resume. 
However, Woodley hopes that a win this weekend can help him get a rematch with Usman so that he can avenge his loss. 
"I think just winning in dominant fashion is going to set up a lot of things for me," Woodley said, according to MMA Junkie. "It could be fighting Usman or it could be anything, but I think going out on Saturday and focusing on that first and not looking so far down the road is going to help me in this situation."
Whether Woodley wins on Saturday or not, though, his net worth is already massive, and he is already a rich man.
Stats courtesy of Tapology