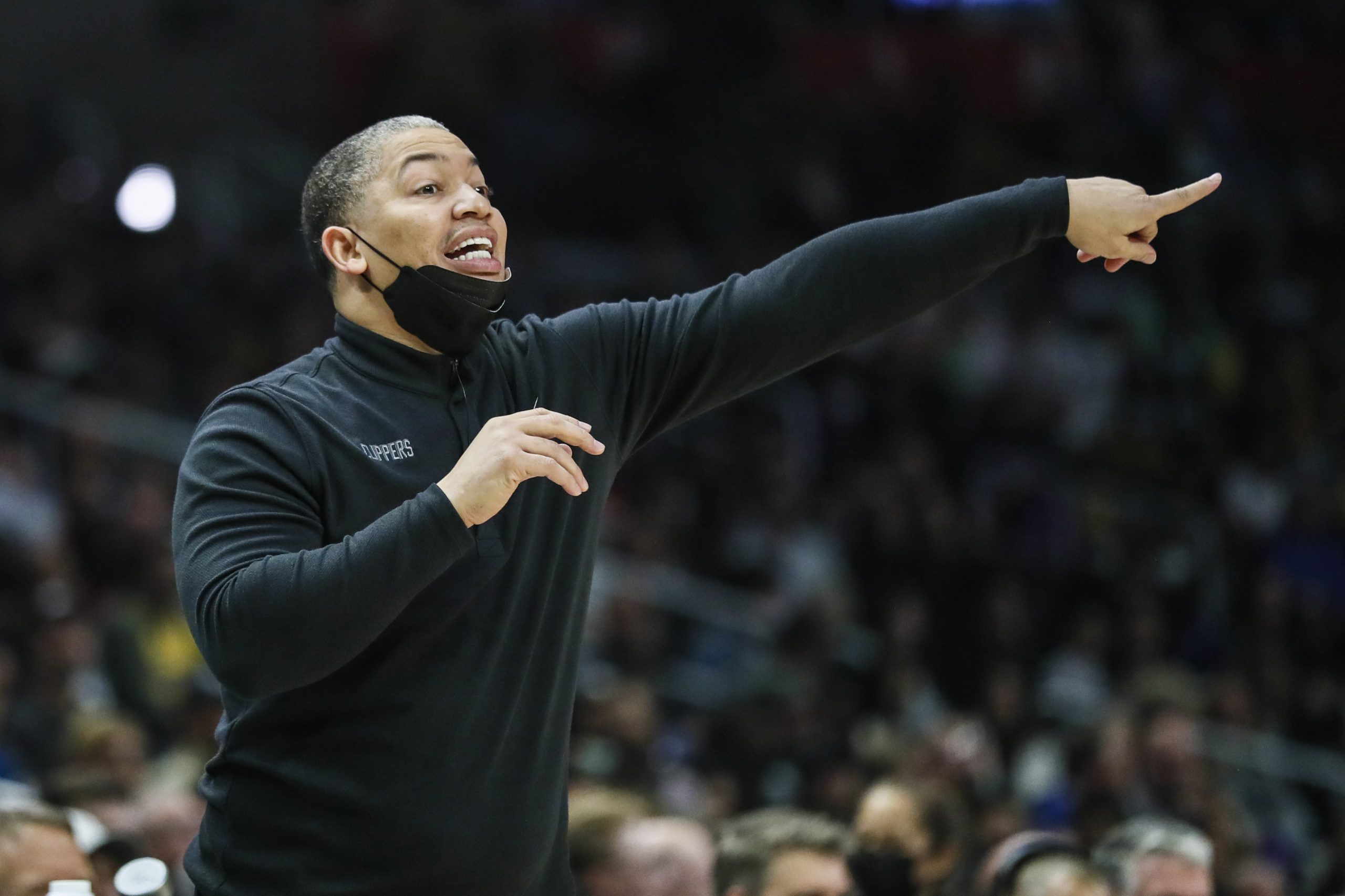 Tyronn Lue Won't Win NBA Coach of the Year but No One Has Done More With Less
Tyronn Lue has an NBA title, three Finals appearances, and has the short-handed Los Angeles Clippers solidly in the playoff hunt. Coach of the Year voters won't care.
The vote for the NBA Coach of the Year is a tough one. Monty Williams of the Phoenix Suns probably should have won last year (but 41 wins in New York is greater than 51 anywhere else, apparently) and is in the mix again. Erik Spoelstra of the Miami Heat should already have one or two trophies; maybe this is his year. Taylor Jenkins of the Memphis Grizzlies and J.B. Bickerstaff of the Cleveland Cavaliers did remarkable work. It's likely the biggest overachiever of the bunch, Tyronn Lue of the Los Angeles Clippers, won't get a sniff.
That's a shame because what Lue has done in LA is remarkable. Yes, the Clippers were Western Conference finalists a year ago. But this is a team built on the star power of Paul George and Kawhi Leonard, who have contributed slightly more than nothing. Yet the Clips didn't go careening into the lottery. At least not yet.
The Los Angeles Clippers lost their stars early
Leonard returning this season was a dicey proposition from the start. During the playoffs, he partially tore his ACL. The postseason, remember, was delayed last season by Pandemic 2: Electric Sneeze-At-You. The Claw played his last game on June 14, and he's not likely to play at all this season.
George hurt his right elbow and hasn't played since Dec. 22. So for a pair of matching $39.3 million salaries, coach Tyronn Lue got 26 games and 924 minutes combined from his superstars.
Put another way, among players qualified for the league lead, LA's leading scorer is Reggie Jackson. Excellent player, a veteran, does some good things. And should never, ever be the No. 1 option for a potential playoff team. Their No. 2 option is 32-year-old Marcus Morris.
Anyone that dared to claim last fall that Jackson and Morris would be LA's go-to guys probably wouldn't have picked that team to be in the playoff hunt.
But there are those plucky Clips, 34–32 and solidly eighth in the West, three games behind Minnesota for seventh place and homecourt in the 7-8 play-in game. They shouldn't fall out of the top eight with a five-game cushion over the Lakers.
Much of what the Clippers have accomplished is because of Lue. Tom Thibodeau, a two-time Coach of the Year, pointed out some reasons why.
Tyronn Lue is all about the result
Thibodeau was an assistant coach when Tyronn Lue played for the Houston Rockets, and they were together on Doc Rivers' staff with the Boston Celtics. Thibodeau's Knicks ended the Los Angeles Clippers' five-game winning streak with an emphatic 116–93 win on March 6. But Thibs had nothing but good things to say about his counterpart, per Clippers beat writer Tomer Azarly via Twitter.
"Ty's always stayed true to himself," Thibodeau said. "He's not afraid to try things. As a player, he was a little bit of a gambler; we used to have to sit on him a little bit. He's a risk-raker, and it's served him well. That's his personality."
Lue didn't dispute that assertion, per Azarly's Twitter account:
"I try anything, man, because I don't care. I don't care what people think; I don't care what y'all write and what y'all say. I just do what I believe that's gonna work and what's right."
Lue has Luke Kennard thriving in a sixth-man role. The five-year veteran leads the NBA in three-point shooting (45.0%) and averages 11.6 points in 27.5 minutes a night. Ivica Zubac gets 10 points and 8.2 boards per game.
Lue's used 23 different starting lineups this season; the Clippers have eight players with at least 1,000 minutes played but no one with more than 2,000. They are the epitome of a plug-and-play team. Even Nicolas Batum, thought to be close to the end of the line, is a key contributor.
The 44-year-old is in his fourth full season as a head coach (he worked parts of two more with the Cleveland Cavaliers) and has already been in three NBA Finals. He led the Cavs to the title in 2016 after replacing David Blatt at the campaign's halfway point.
The next Coach of the Year vote Tyronn Lue gets will be the first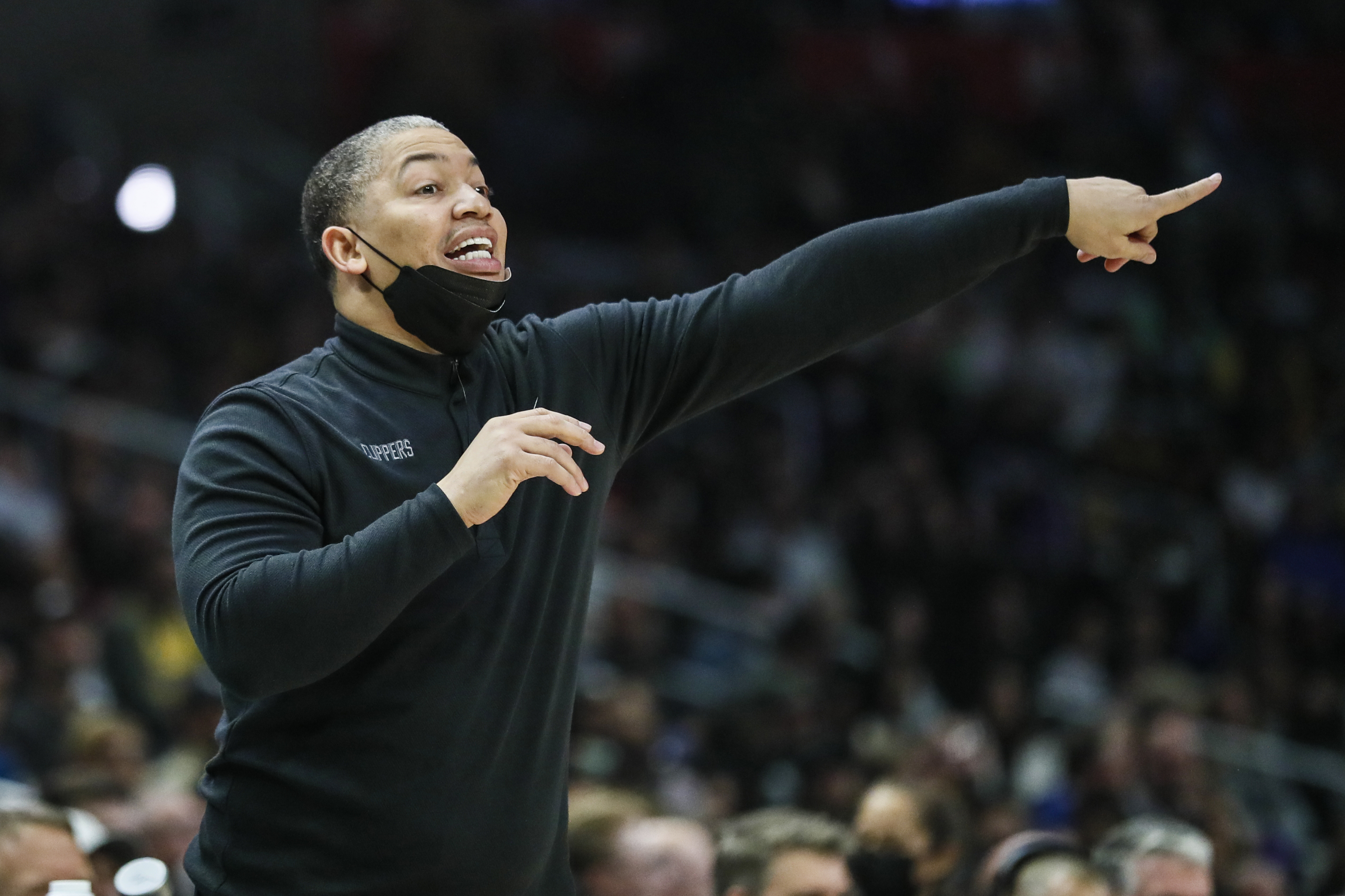 Tyronn Lue is 209–140 as an NBA head coach in parts of six seasons. That's a .599 winning percentage.
But despite two 50-win seasons and on pace for a third in the shortened 2020–21 campaign, he's never picked up a single vote in the Coach of the Year balloting.
With the Los Angeles Clippers hovering around .500, that isn't likely to change this season. Voters look for gaudy win totals. Before Thibodeau last season, the previous COY winner with less than 50 wins was Sam Mitchell of the Toronto Raptors in 2006–07.
Instead, Coach of the Year is more of an indication your team finished among the top two or three in the standings. Not to cast aspersions on Golden State Warriors coach Steve Kerr but his win in 2015-16 was for less than half a season. Assistant Luke Walton got the Dubs off to a 39–4 start while Kerr recovered from back surgery.
Yes, Golden State set a record with 73 regular-season wins. But Kerr only coached 39 of those games. And they were the defending champions, so it was sort of hard for Kerr to exceed expectations.
As the voters showed with Thibodeau, they will occasionally reward a coach for winning more than expected without contending for a title. In a fair world, Tyronn Lue would receive similar consideration this season. But he probably won't.
Statistics courtesy of Basketball Reference. Contract information courtesy of Spotrac.