Pittsburgh Steelers DT Tyson Alualu Signed For Two Different NFL Teams in One Month Thanks to COVID-19
In what has been a strange, strange NFL offseason, Tyson Alualu's story may be the strangest of them all. He was all set to return to the team where he started his NFL career, the Jacksonville Jaguars. A positive COVID-19 test changed everything, however. Ten days later, he changed his mind, and he remains a Pittsburgh Steeler.
Tyson Alualu has a last-minute change of heart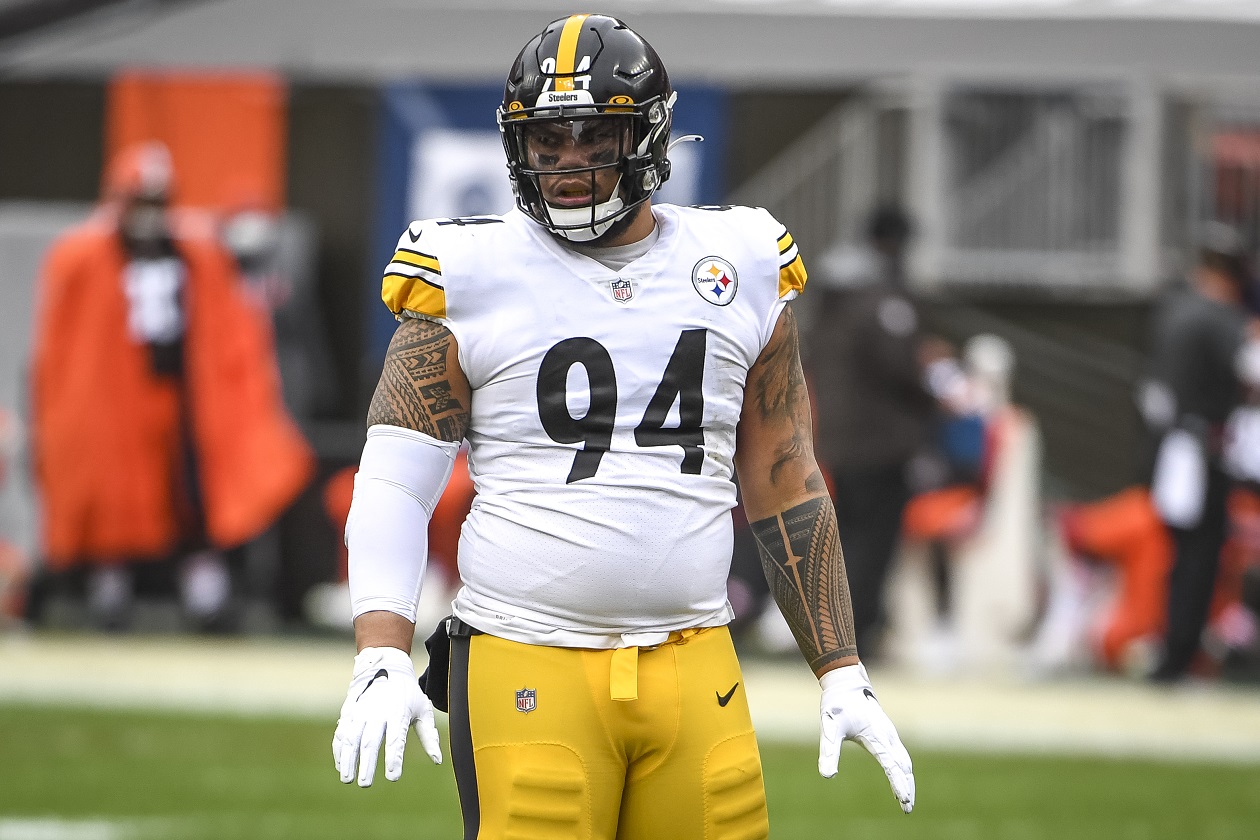 RELATED: The Tragic Death of Jock Sutherland Set the Pittsburgh Steelers Back 25 Years
According to NFL Network's Tom Pelissero, free agent defensive tackle Tyson Alualu has re-signed with the Pittsburgh Steelers on a two-year deal. This would normally not be that much of a surprise, except for one thing. Earlier this month, Alualu had already agreed to a deal with another team.
A week and a half ago, Alualu had seemingly signed a two-year, $6 million deal with his original team, the Jacksonville Jaguars. According to ProFootballTalk, his agent publicly announced the deal through Twitter on March 16, although that tweet has since been deleted. Alualu even did an interview about his impending arrival in Jacksonville.
"Just blessed to have this opportunity to go back where it all started and play for the Jaguars, play for the city," he told KHON in Honolulu.
Somewhere along the way, plans changed. Just before he was due to fly to Jacksonville to officially sign the contract, Alualu tested positive for COVID-19, which prevented him from boarding the plane for 10 days. During that time, he had a change of heart. According to Pelissero, he'd already built up too much in Pittsburgh to consider leaving.
"He'd built his dream home in Pittsburgh, has kids in school, and with 10 days to think, he decided to stay," wrote Pelissero.
Tyson Alualu has a history with both the Jaguars and Steelers
RELATED: Ex-Atlanta Falcons Defender Tim Green Has ALS and Is Under Attack in His Own Hometown
Had Tyson Alualu not reneged on his agreement with Jacksonville, it would have meant a return to the team that originally drafted him. The Jaguars selected him with the 10th overall pick of the 2010 NFL Draft.
Alualu spent seven seasons in Jacksonville, starting all 16 games in the first four of those. Although the Jaguars missed the playoffs in all seven of those seasons, it was through no fault of Alualu, who was a solid performer. Over that time he accumulated 17.5 sacks and 177 tackles.
Since coming to Pittsburgh in 2017, Alualu has yet to start more than 10 games in a season. However, whenever he does start, he plays an important role in the Steelers' run defense. That role would have been hard to fill had he followed through with his original plan to leave for Jacksonville. According to ESPN, teammates such as fellow lineman Cam Heyward openly pushed for Alualu to stay in Pittsburgh.
The Pittsburgh Steelers have lucked out this offseason
Alualu reportedly took the Steelers' original offer, which is reportedly less than what Jacksonville had offered. For Pittsburgh, this is deja vu all over again. They now have three key players that have decided to stay for the 2021 season when they could have made more money elsewhere.
On March 4, Ben Roethlisberger signed a restructured contract which guaranteed him at least one more year with the Steelers. This saved Pittsburgh roughly $15 million against the salary cap near the end of the league year. It also gave Roethlisberger a $5 million pay cut.
Perhaps even more crucial and surprising was the re-signing of wide receiver JuJu Smith-Schuster. Despite more lucrative offers from other teams, including the division rival Baltimore Ravens, the Pro Bowl wideout signed a one-year deal to remain in Pittsburgh. Because of these three signings, the Steelers have kept much of their core together in what looked like a painful and bloody offseason.